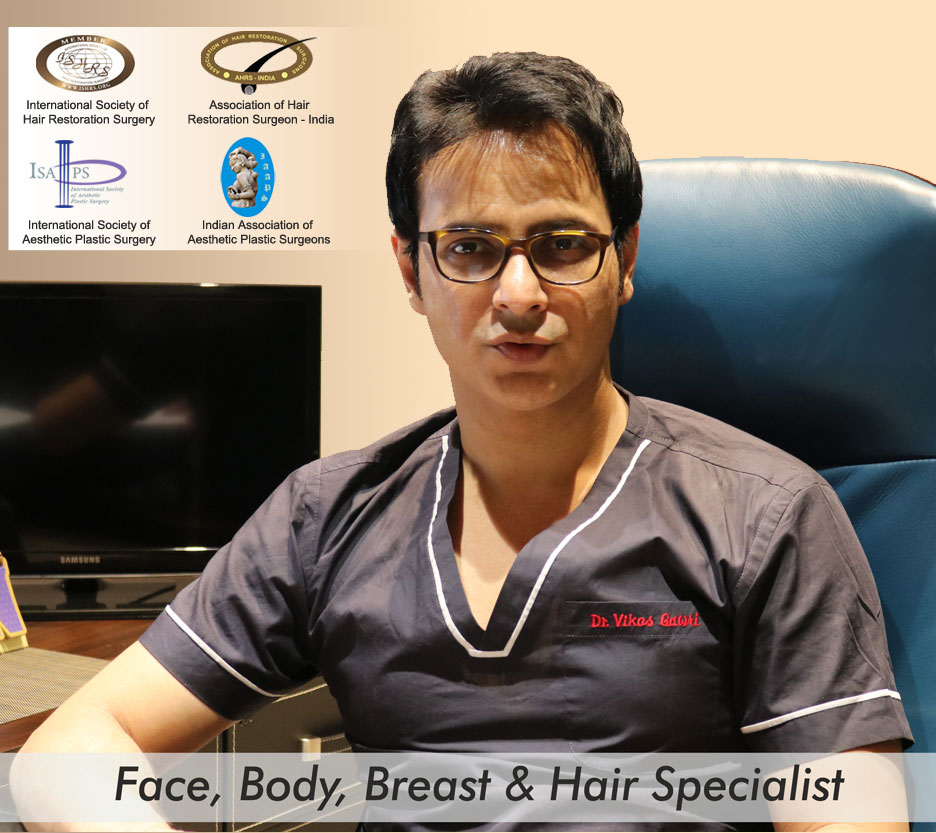 He has been awarded
"India's Most Admired Cosmetic Surgeon"

by white page India
Meet Dr. Vikas Gawri
Board Certified Aesthetic Plastic Surgeon
Dr. Gawri is born in 1975 in a family of doctors in Amritsar. He graduated from Government Medical College, Amritsar and did his M.Ch Plastic Surgery from Dayanand Medical College, Ludhiana. He completed his advanced fellowship in Aesthetic Surgery from Germany.
"He has the eyes and hands of a sculptor".
His main focus is on Aesthetics Surgery of nose, face, eyes, body & breast
He is also internationally trained and expert in non surgical cosmetic procedures for facial rejuvenation, filler , injection, laser treatment, thread lifts, etc
15+ YEARS OF EXPERIENCE
3000+ CASES OF COSMETIC SURGERY
SATISFIED CLIENTELE – WORLDWIDE
STATE OF ART CLINIC
NATIONAL & INTERNATIONAL CERTIFICATIONS
Dr Rajni, Cosmetologist
She is the backbone of Cosmetology wing & Hair Restoration procedures at Kyra Aesthetic Clinic. She did her graduation MBBS and post graduation MS from Government Medical College, Amritsar. She completed post graduation in 2003 and has extensive experience of 20 years.
She is famous among her clients for her sincere advice.  She has an International training's  Laser treatment for Pigmentations, PRP treatment for Facial Skin, Non surgical Face Lift & Fat Reduction. She is extending her service at Kyra Aesthetic Clinic for last 8 years. She is always there for her clients and does not hesitate to attend any query.
Dr Gurdas Singh, Chief Anesthetist
One of the most renowned anesthetist in Ludhiana. He is an expert to administer any suitable anesthesia for wide range of patients operated at Kyra Aesthetic Clinic. He and his team administers anesthesia with latest medical equipment and all safety measures.
At Kyra clinic, many of our patients are life-long patrons. They come to us to look their best, and our commitment to them is infinite.

We offer comprehensive care for every stage of life: Skin Care, Facials, Injectables, Laser & Light treatments, non-surgical Body Contouring, Wellness services, medical and cosmetic Dermatology, and Cosmetic Surgery with Dr. Gawri when the time comes.

Our integrative approach is just one of the reasons our patients are so loyal and why they recommend us to so many of their friends and family members.
Our Team incorporates Plastic Surgeon, Hair Transplant Surgeon, Dermatologist, Medical Aesthetician, Laser Treatment Experts, Anesthesia specialist, Reception staff, Travel desk & OT technicians.
Our Core Team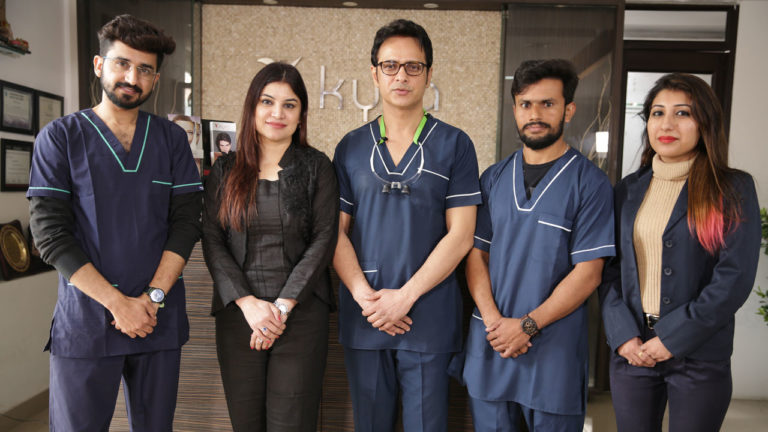 Relax in Our State of Art Clinic
Whether you are considering outpatient Cosmetic Surgery or a Medical Spa Service, one of the most important decisions you will make is a relaxed and comfortable atmosphere. 'Kyra Aesthetic Clinic is beautifully designed, keeping in mind that all our clients should feel at home and not in a clinic. '