Fat grafting is also called facial fat rejuvenation, fat tra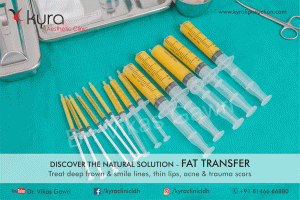 nsfer, free fat transfer, autologous fat grafting or transfer, micro-lipoinjection, and fat injections. For simplicity, we'll just call it fat grafting. Fat grafting is really two procedures – first the fat is harvested from one part of your body and then it is injected into the treatment area.
As an injectable filler, your own fat is almost perfect. It is soft and feels natural, it does not cause immune problems. Fat grafting is an office-based procedure that is usually performed under local topical anesthesia. The main downside to fat grafting is that your body tends to absorb it at least to some degree. There have been a lot of improvements in harvesting, treating, and injecting the fat with very good, lasting results.
Fat grafts are used for breast augmentation, which is a natural procedure to create a fuller look. However, this procedure offers natural results, without any extreme enhancement. The procedure is minimally invasive and the fatty tissues are acquired from the patient's thighs, hips, butt or tummy. The fat is strategically transferred to the breasts, which improves the size and shape.
After  our face, hands are the most visible part of the body. And, like any other body part, our hands lose their attractiveness as we age. But, countering the symptoms of aging is possible nowadays with advanced fat transfer techniques. Plastic surgeons can increase the volume of fat in hands to achieve a perfect, wrinkle-free skin.
Kyra Aesthetic Clinic is the finest facility where people receive the fat transfer to hands. We have experienced surgical skills to revitalize the appeal of your hands. That too, with techniques that are minimally invasive. Our surgeon can improve the shape, volume, and looks of your hands with precise fat transfer techniques.
Fat Transfer to Buttocks is a specialized procedure where excess fat is removed from other body parts with liposuction to inject it strategically into the buttocks, ultimately to augment the shape and size of the buttocks without implants.
With the fat transfer to the buttocks, patients can overcome the limitations of genetics and reshape the buttocks and their surrounding areas. The procedure allows them to –
Enhance the curves of the body
Get rid of unnecessary fat pockets
Attain a more aesthetically appealing shape
Improve overall body proportions
As the women ages, there are atrophic changes leading to loss of fat tissues and loosening of skin from Face, Breast and also from the Vulval and Mons Pubis area. This gives a sunken or hollowed look and a particular area appears aged and wrinkled.
A Cosmetic procedure of Female Genitalia comprises of Fat Grafting and injection of PRP (Platelet rich Plasma) at Vulva and Mons Pubis area. The procedure gives fuller, firm and rejuvenated look to these areas.
Before & After