Types of Rhinoplasty
There is a misconception that Rhinoplasty only serves as cosmetic surgery. The truth is that it can help with health conditions, as well. Medically, surgeons use it to improve breathing. Therefore, the plastic surgeon undertaking any Rhinoplasty surgery should understand the role of different parts of the nose.
Functional vs. Cosmetic Rhinoplasty
Examples of Functional Rhinoplasty are:
Rectification of congenital defects that are preventing proper breathing.
Rectification of the effects of any physical trauma that affects breathing.
Rectification of septum (the central bone plus cartilage) problems affecting breathing by blocking air.
Rectification of the swollen turbinates (small bony structures on sides), which may be obstructing breathing.
Decreasing the width of the nose.
Therefore, Functional Rhinoplasty is essentially for improving breathing, whereas Cosmetic Rhinoplasty is essentially for enhancing looks.
Dr. Vikas Gawri is qualified to perform Cosmetic as well as Functional Rhinoplasty. Some surgeries may have a bit of both.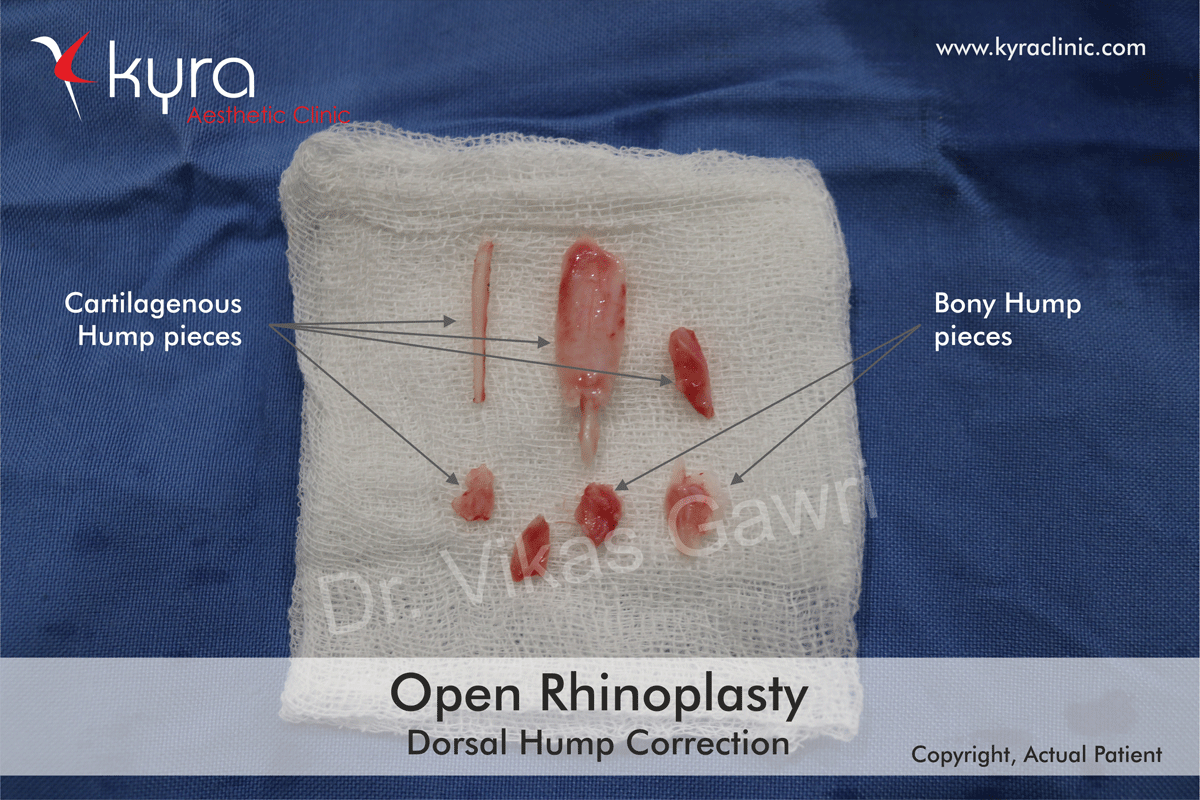 To BOOK AN APPOINTMENT
Call us or Whatsapp us at +91 80548 02500 – Dr. Rajni or +91 81466 66880 – Dr. Shareen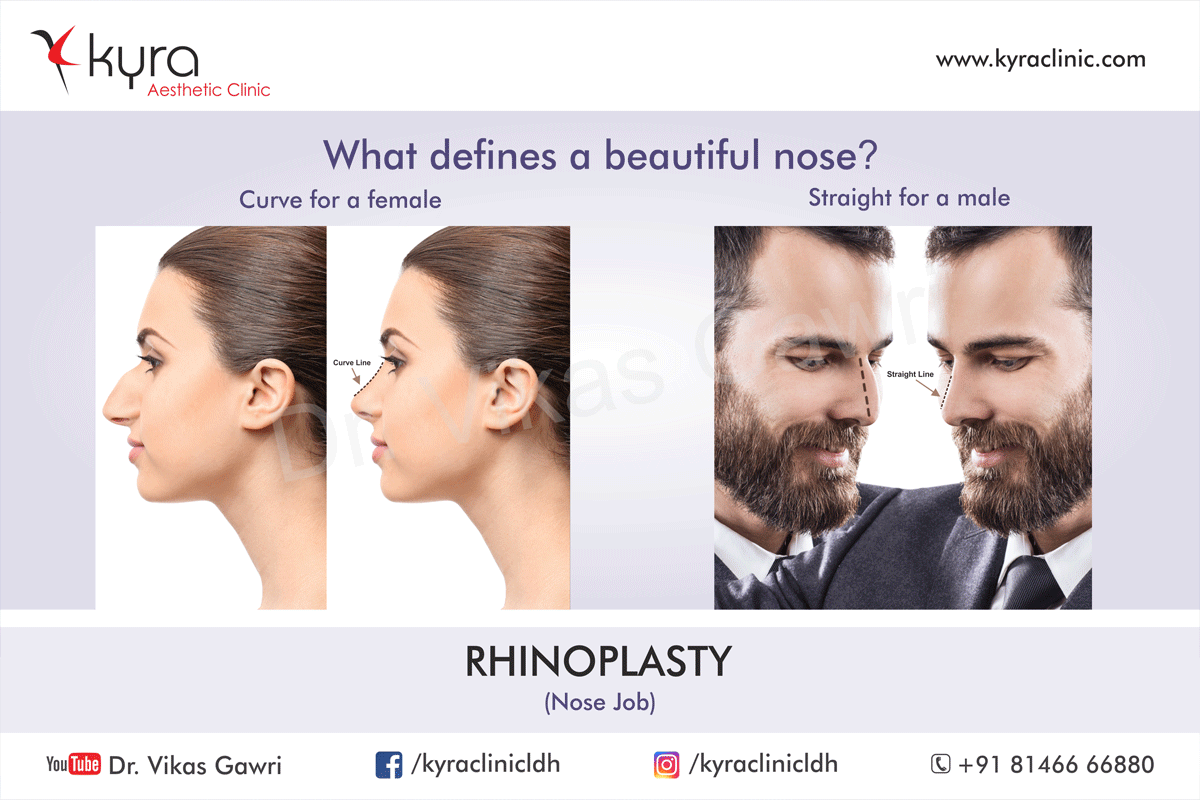 Examples of Cosmetic Rhinoplasty are:
Rectification of radix, i.e., the nose's bony upper part between the eyes, and the cartilage under it.
Straightening any crookedness in the nose.
Manipulation of the tip of the person's nose either upward or downward.
Adjustment of the distance and angle between the upper lip and the nose tip.
Decreasing the width of the nose.
Reduction of the flared nostrils.
Types of Rhinoplasty
Rhinoplasty entails sculpting the cartilages, skin, muscles, and bone tissue in the nose to get the desired shape. Such shaping is needed both in functional as well as cosmetic Rhinoplasty. Sometimes fat grafts and fillers are also used for achieving such objectives.
Rhinoplasty surgeries are of four different types. These types are:
1. Filler Rhinoplasty:
Filler Rhinoplasty requires no incision. Instead, filling material is injected at selected positions in or near the nose for changing the shape of the person's nose. Usually, these fillers have hyaluronic acid in them. Therefore, Juvederm and Restylane are some of the fillers. Radiesse or calcium hydroxyapatite is another alternative for this procedure.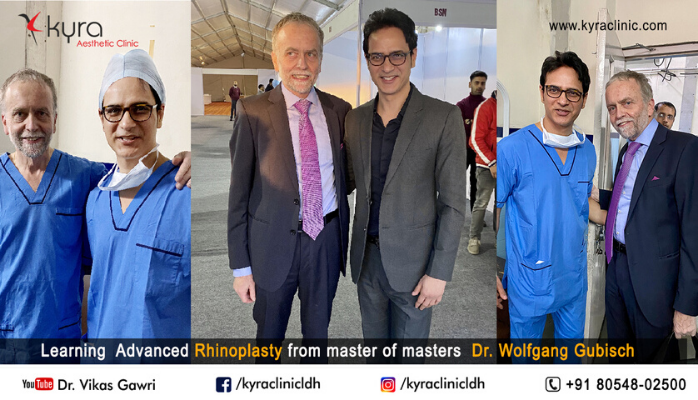 2. Closed Rhinoplasty:
Main characteristic of Closed Rhinoplasty is that the incisions are made inside the nose. Therefore, the scars are not visible externally. After the incision, the plastic surgeon carves the undesirable bone and cartilage from the inside. The procedure, however, is not confined to merely carving the bones or cartilages. Dr. Vikas Gawri opts for this type of Rhinoplasty when the desired outcome can be achieved with only small changes. Insertion of any grafts or cartilages in this type of surgery is rare, if at all. The risks are lower too.
The changes possible with this type of Rhinoplasty include nasal bridge refinement, nasal bridge elevation, and hump removal at the rear part of the nose.
Most of the Cosmetic Rhinoplasty surgeries are of this type.
3. Open Rhinoplasty:
In this type of Rhinoplasty, the surgeon makes incisions outside as well as inside the nose. Consequently, the scar is visible. The external incisions coalesce with internal incisions at the base of the Columella, which is the central part of the nose between the two nostrils. Linking of internal and external incisions enables the surgeons to lift the nasal muscles and the skin, isolating them from the frame, effectively "opening" the nose.
The "opening" offers the surgeon a decent size visual field, which makes any alteration to nasal anatomy easier, and even more complex manipulations are now possible.
The plastic surgeon opts for this type of Rhinoplasty when insertion of any fat grafts or cartilages is necessary. Therefore, this type of Rhinoplasty is for major asymmetries and other deviations. Functional Rhinoplasty procedures are essentially Open Rhinoplasty surgeries.
4. Secondary Rhinoplasty:
Secondary Rhinoplasty is a corrective procedure, following a previous Rhinoplasty, which may have been dissatisfactory. It may have both internal and external incisions.
It is for the person to define the change in appearance or health condition. Thereafter, it is the plastic surgeon's call on the suitable type of Rhinoplasty. A good plastic surgeon goes an extra mile to explain the process to his/her client. If the procedure is likely to affect the breathing or other functions of the nose, then plastic surgeons do collaborate with surgeons, who are good in functional Rhinoplasty. With Dr. Vikas Gawri, you can leave all the worries behind. He is one of the topmost cosmetic surgeons in North India with more than 12 years of experience and 2000 satisfied clients from across the globe vouching for his skills and techniques.
To BOOK AN APPOINTMENT
Call us or Whatsapp us at +91 80548 02500 – Dr. Rajni or +91 81466 66880 – Dr. Shareen
TESTIMONIALS – COSMETIC SURGERY
I always desired for a sharp nose , which could give me confidence with good looks. I got my rhinoplasty surgery done from Dr. Gawri and the result is amazing. Initially there was swelling but it gradually reduced to show the well defined nose.
My face always looked very old and gloomy. I consulted at Kyra Aesthetic Clinic and met a Skin Specialist and plastic surgeon. They advised me Fat grafting cosmetic procedure. I saw the previous cases and made up my mind.
Today, i get many compliments for my new look. Thanks Dr. Gawri
I always wanted to have a fuller Breast since my college days. I wanted to wear dresses and look attractive. I met Dr. Vikas Gawri for my Breast Implant surgery. I got the desired result and am happy to make this decision.
I was advised for Facelift surgery by a doctor in Canada. When I came to India, I contacted Dr. Vikas Gawri. Some of my friends in Punjab recommended his name. He is a expert plastic surgeon with good reputation. He did my Facelift surgery and it changed my looks. I look 10 years younger now,… thanks to Kyra Clinic Read more "Facelift"
I always wanted a muscular chest and flat tummy. I met Dr. Gawri for Liposuction procedure. He explained everything clearly and I could talk to few of his clients. Just 1 week after the procedure, I was happy to see the result. He gave me good shaped chest and abdomen by Ultrasonic Liposuction .