Submental Fat/ Double Chin
Enhance your look, enhance your life

A double chin, also known as submental fat, is a common condition that occurs when a layer of fat forms below your chin. A double chin is often associated with weight gain, but you don't have to be overweight to have one. Genetics or looser skin resulting from aging may also cause a double chin.
If you have a double chin and want to get rid of it, there are several things you can do.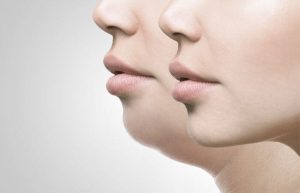 Causes
A double chin is caused by an extra layer of fat that develops beneath the chin.
A few different factors combine in the body to create a double chin. Understanding these factors may help with understanding ways to get rid of the double chin itself.
Age
The skin can start to lose its elasticity as the body ages, which can lead to the appearance of extra or saggy skin that may contribute to a double chin.
Diet and weight
While weight gain is not always the cause of a double chin, it can contribute to it. A diet high in calories, processed foods, and unhealthful fats may influence weight gain and a double chin as well.
Genetics
Genes may play a role in people developing a double chin. Anyone with a family history of skin with little elasticity or double chins might be more likely to develop one themselves.
Posture
Poor posture can weaken the muscles of the neck and chin. This may contribute to a double chin over time, as the surrounding skin loses its elasticity when the muscles are not used.
Treatments for a double chin
If your double chin is caused by genetics, tightening up the area with exercise may help. It's unclear whether weight loss will help. In this case, your doctor may recommend invasive procedures such as:
Lipolysis
Also known as liposculpture, lipolysis uses liposuction or heat from a laser to melt away fat and contour the skin. In most cases, a local anesthetic is all that's needed during lipolysis to treat a double chin.
Lipolysis only treats fat. It doesn't remove excess skin or increase skin's elasticity. Side effects of lipolysis may include:
Mesotherapy
Mesotherapy is a minimally invasive procedure that delivers small amounts of fat-dissolving compounds through a series of injections.
In 2015, the Food and Drug Administration approved deoxycholic acid (Kybella), an injectable drug used in mesotherapy. Deoxycholic acid helps your body absorb fats.
It may take 20 or more injections of deoxycholic acid per treatment to treat a double chin. You can have up to six treatments total. You must wait at least one month between treatments.
Deoxycholic acid may cause serious nerve damage if injected improperly. Only a dermatologist or a doctor with plastic surgery experience who is knowledgeable about the drug should perform these injections.
Potential side effects of deoxycholic acid and other mesotherapy injectables include:
swelling
bruising
pain
numbness
redness
Delhi, India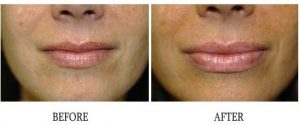 I underwent lip augmentation from kyra clinic. After surgery now my lips have become very beautiful. Thanks to Dr. Vikas.
I am 38-year-old women. I wanted attractive lips so I want to get treatment for my lips. My relative told me about the Kyra Clinic and its reputation in Punjab . Dr. Vikas Gawri convinced me with the way he explained the procedure .The staff was also very kind and professional. They provided me better facility and the treatment went smooth and painless. After surgery now my lips have become very beautiful. Thanks to Dr. Vikas.