Pre-operative INVESTIGATIONS
Blood Investigations
CBC (Complete Blood Count)
PTI/INR
FBS (Fasting blood sugar) or RBS (Random blood sugar)
Viral Markers-HIV, HbsAg, HCV
If age is more than 35 years
Chest X-ray and ECG
Optional Blood Test
LFT (Liver Function Test), RFT (Renal Function Test), Thyroid Profile T3,T4,TSH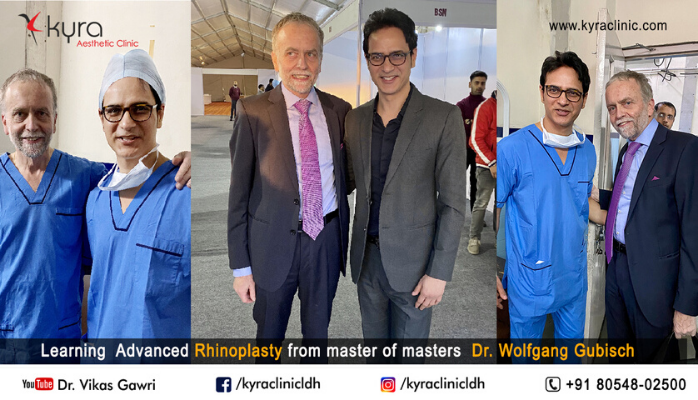 To BOOK AN APPOINTMENT
Call us or Whatsapp us at +91 80548 02500 – Dr. Rajni or +91 81466 66880
Pre-operative INSTRUCTIONS
Avoid tablet Aspirin, aspirin-containing products, warfarin, Heparin, Vit. E, Omega 3, Fish oil etc for 1 weeks prior to and 1 week following your surgery. (Chances of bleeding during surgery increases with these medicines.)
Avoid smoking 1 week before and 1 week after the surgery. Smoking delays the healing process. This may be a chance for you to give up the smoking.
Illness – If you have got recent cough, sore throat or running nose, please call our clinic for advice.
Inform doctor if you have any chronic medical condition as diabetes, hypertension, asthma, epilepsy, cardiacproblem, if you are taking any medications etc.
Nasal History – any nasal blockage or obstruction, any nasal medicines or spray, any nasal procedure or Rhinoplasty in the past.
Fasting- You have to reach our clinic, empty stomach in the morning at 9:00am. You are required to be fasting or Nil by mouth for 6-8 hours before surgery. Don't take anything to drink or eat after 12 o' clock last midnight Don't drink water or tea or eat in the morning.
Dress-up- Wear loose and comfortable clothing. Do not wear any jewellery, watch, nail polish, make-up etc.
Caretaker- There should be one attendant (family member, friend etc.) to accompany you. You are not allowed to drive same day after surgery.Arrange for someone to stay with you for the first 48hrs after surgery.
Phone Call – On day before surgery, you will receive a phone call from the clinic to inform you the exact time to report, to explain you all these instructions and to help you with the direction to reach our clinic. In case you do not receive a call by noon please call us at +91 80548-02500 or +91 81466-66880.
Discharge- You will be sent home in the same evening. No hospital stay is required.
Payment due has to be cleared at reception in morning, before starting the surgery. GST tax 18% is applicable. You can pay by cash (any currency) or by Credit Card (2% service charges).
Eating- You should be fasting since midnight. Don't even drink water, tea etc. in the morning. Essential medications can be taken with a sip of water.
Brushing- You can brush teeth but do not drink water.
Shower- Take shower and shampoo your hair the night before or in the morning of surgery.
Clothing- Wear loose and comfortable clothes on the day of surgery.
Shave or trim your moustache.
Jewellery- Remove jewellery or any other costly belongings at home.
Contact lenses- Remove contact lenses and wear glasses.
Photo ID– Must bring the photo ID as Aadhaar card, Driving licence etc. for address and photo proof.
Arrival- Kindly reach our clinic at scheduled time (usually 9:00 am).You will get a call from our clinic, a day prior to your surgery for timings, directions and instructions.
Transportation- There should be one attendant accompanying you and to drive you back to home/hotel.
One of our staff will greet you at the clinic and make you comfortable in a private room. You'll be given OT dress to change.
Consent Form- You are required to sign a consent form for Rhinoplasty.
Meet Dr. Vikas Gawri- Dr. Gawri will meet you, to discuss your expectations and the surgical plan, one more time, with you.
Photographs- He will take photographs of your nose/face from different angles.
Operation Theatre- One of our staff will proceed you to operation theatre. You will be administered General Anaesthesia by our consultant anaesthetist.
Duration- Rhinoplasty surgery takes 2-3 hours to complete.
Immediate Recovery- After surgery you will be awake and shifted to recovery room.You will be kept under observation for next 4-6 hours.
In the evening, Dr.Gawri will meet you to brief about post-op instructions and give you prescription for medicines to be taken in next 1 week.
POST OPERATIVE INSTRUCTIONS
Pain- You might feel some discomfort or soreness at nose. The pain in recovery period is often of the mild grade and easily relieved by medication.
Breathe with mouth open- as your nose is packed with a nasal pack.Your mouth will become dry due to mouth breathing and it is advised to take sips of liquid regularly.
Diet- You can take liquid or semi solid diet, which does not require excessive chewing, for one week.
Daily Activities- From the next day onwards, you can do all the routine activities at home like watching TV, talking on mobile phone, internet surfing, walk around to washroom kitchen etc.
Oozing- There can be slight oozing from the nostrils for first 2-3 days. It is normal and you can absorb the fluid with a clean gauze provided by clinic.
Cold Compresses- You can apply cold compresses (a cloth dipped in ice water and wrunged out) at under eye & cheek area for first 3 days to minimise swelling and discolouration.Do not use direct ice or ice pack of any kind.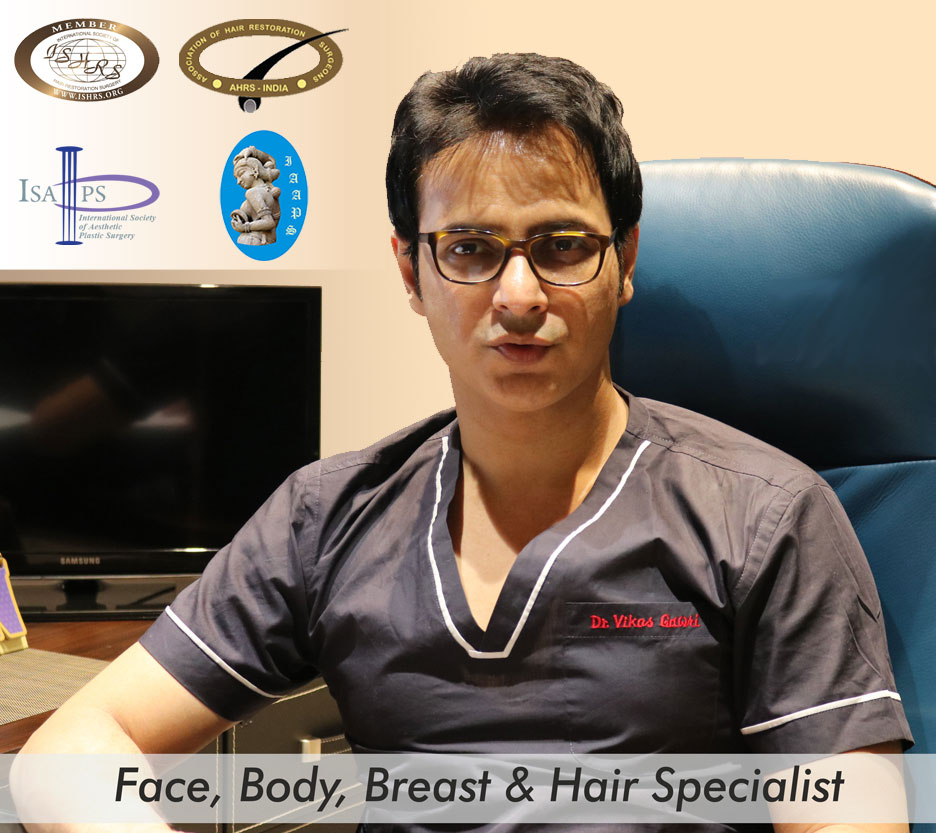 Sleep- You are advised to sleep with the head elevated taking two pillows for 3-4 days to prevent swelling after Rhinoplasty.Sleeping on a recliner works well.
Blowing of Nose- Avoid blowing of nose for 2 weeks after surgery as it can hinder proper healing and cause bleeding.
If you get a sneeze, sneeze with your mouth open.
Saline Spray- Keep inside of your nose moist with a saline spray, two puffs in each nostril four times a day. It will provide comfort and promotes healing.
Neosporin ointment- Use a cotton tipped bud to apply Neosporin ointment to stiches inside your nostril and to the skin stiches at columella.( twice a day )
Exercise- Dr.Gawri encourages all his clients to be active from the next day only. You can do all routine activities at home. You can go for:
A stroll or walk outdoors at 3-4 days,
Brisk walk at 2 weeks,
Jogging at 3 weeks,
Weight training or swimming can be resumed at 4 weeks.
PRESCRIPTION
Tab. Augmentin 625 mg, 3 times a day, for 5 days
Tab.Combiflam, 3 times a day, for 5 days. It is mandatory to take these medicines in full doses, for 5 days
VitaminC 500 mg, once a day, start one week before surgery and continue for 2 weeks after the surgery. It helps to prevent any general illness and speeds up skin healing at incisions.
Multivitamin– begin taking one tablet per day, 1week before surgery and continue for 4 weeks after surgery.
Arnica- Arnica in the form of a pill or cream helps to decrease bruising (if any)and speeds up the healing process.
Neosporin ointment- it is applied at incision sites to help prevent infection.
Silicone Gel- It is important to prevent hypertrophy of scars at incision sites. Start applying the gel at 4 weeks after surgery,twice a day, for 6 months.
First visit will be after 2 days, for nasal pack removal.
Second visit will be on 7th day , for suture removal
Swelling after Rhinoplasty
50 percent of swelling resolves in 7 to 10 days
80 percent at 6-8 weeks
but swelling especially at nasal tip will take 6 to 9 months to resolve.
Scar is usually hidden inside the nostril and minimally visible at collumella skin.
Start applying silicon gel 3 weeks after rhinoplasty for better scar healing.
The scar matures to a very thin line by 6-9 months.
NOTE: The quality of results may be affected if you do not abide to instructions and schedule follow up visits as advised by doctor.
For any query or unusual change, don't hesitate to call us at
+91 80548-02500-Dr Rajni
(between 10 am -6 pm ,Sunday off )
To BOOK AN APPOINTMENT
Call us or Whatsapp us at +91 80548 02500 – Dr. Rajni or +91 81466 66880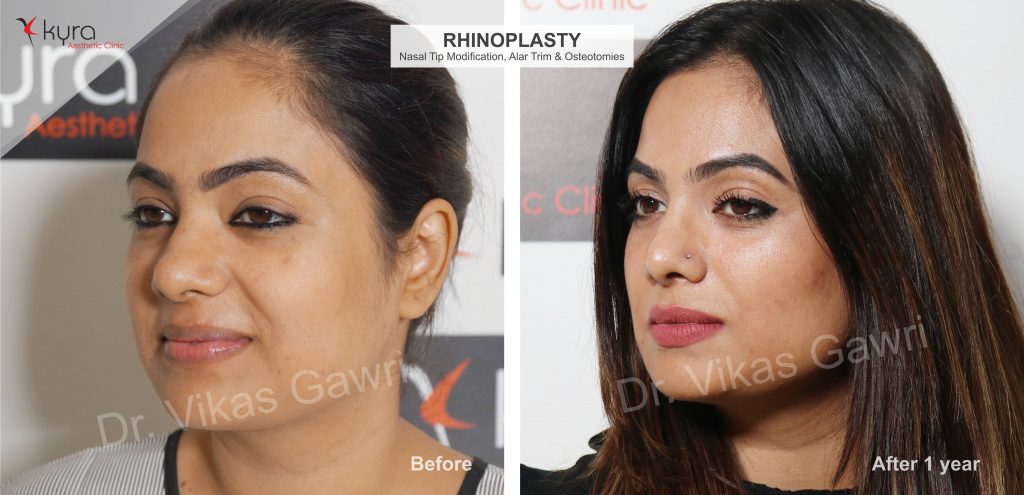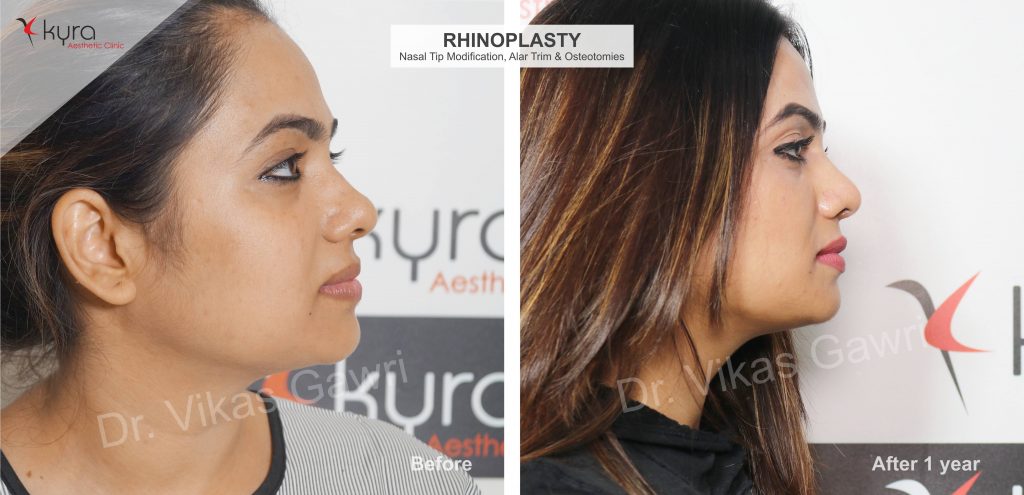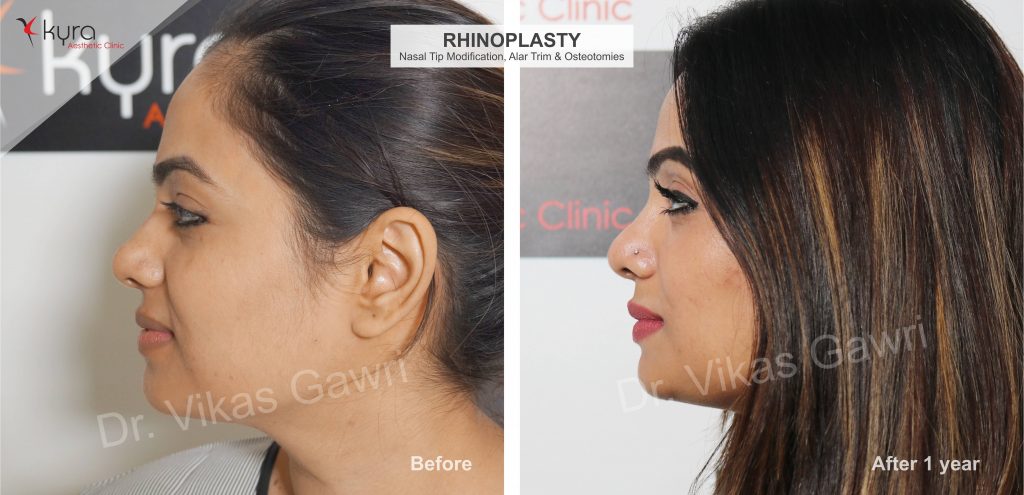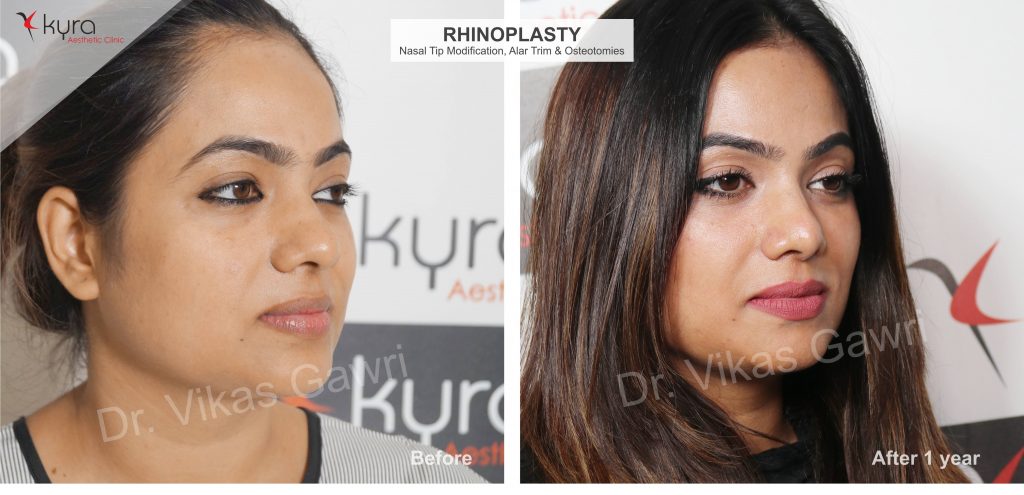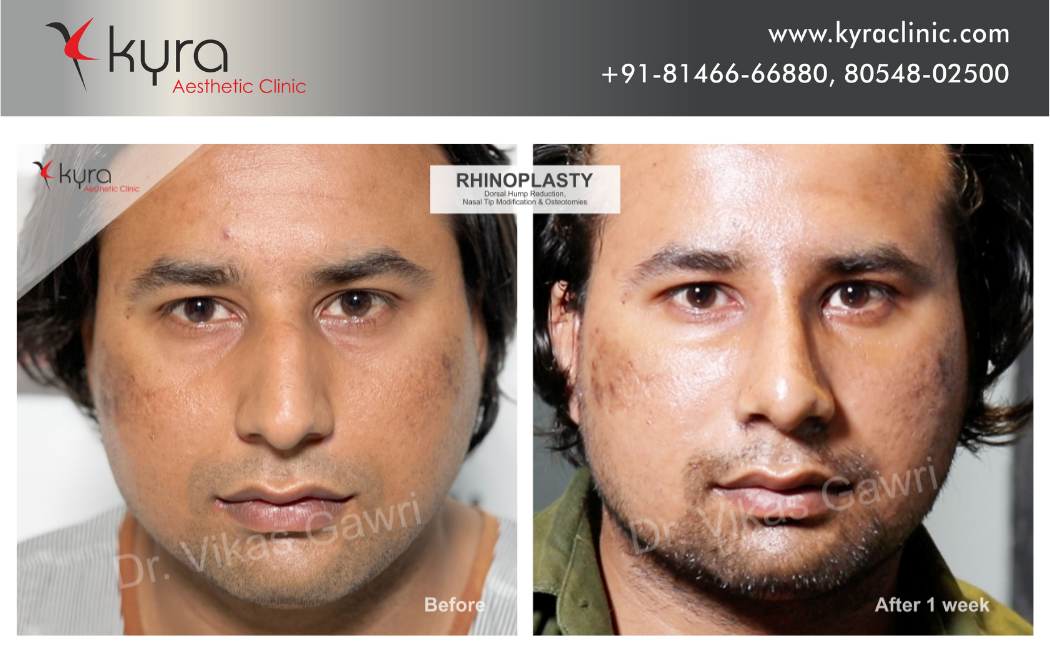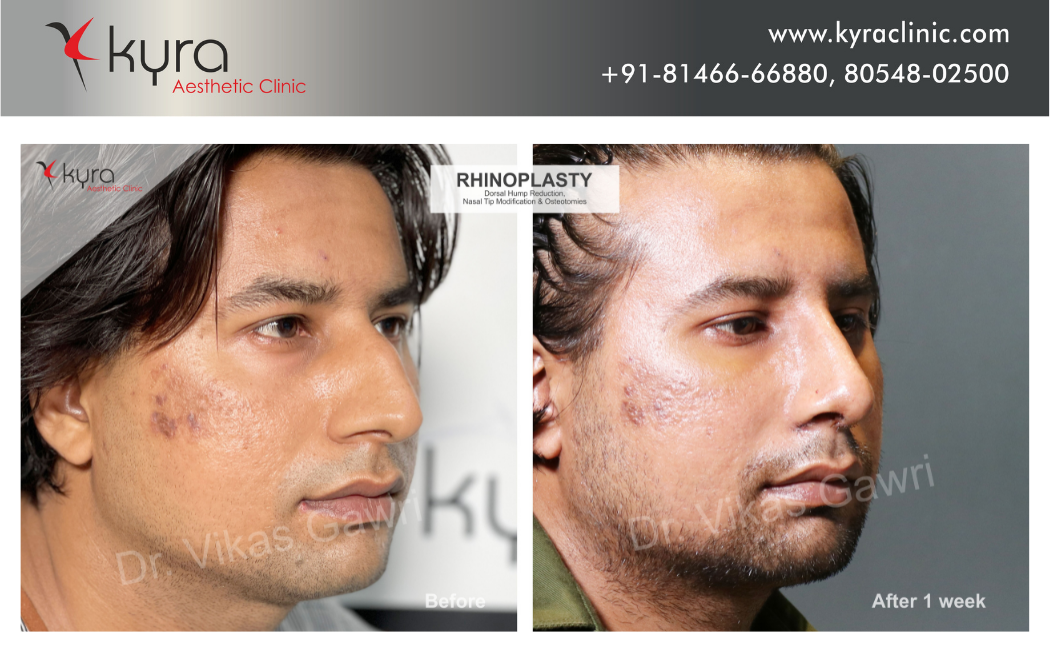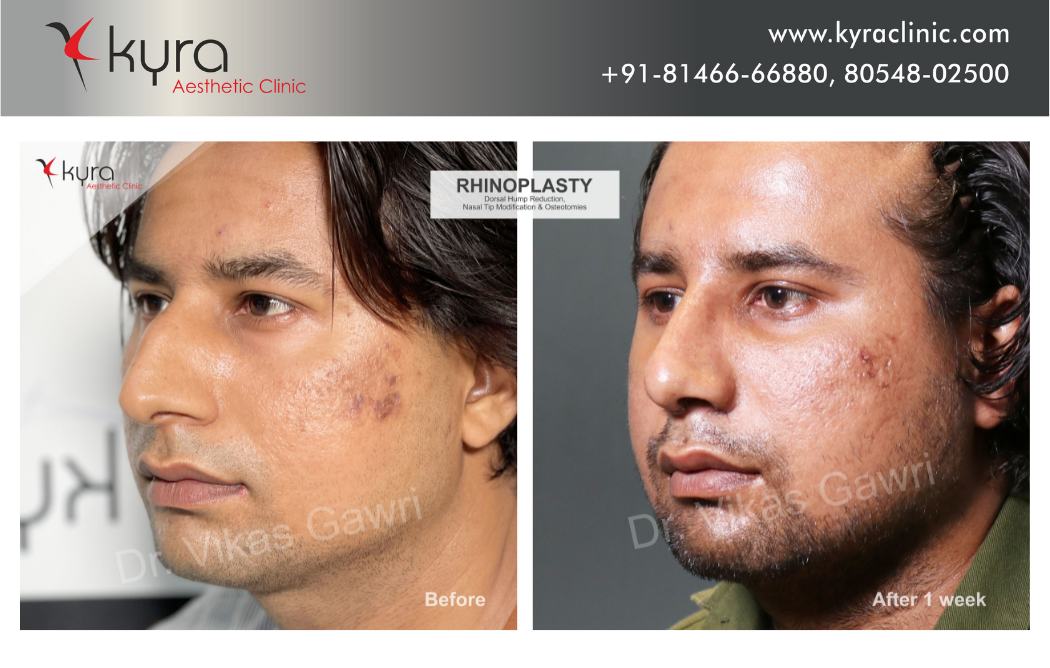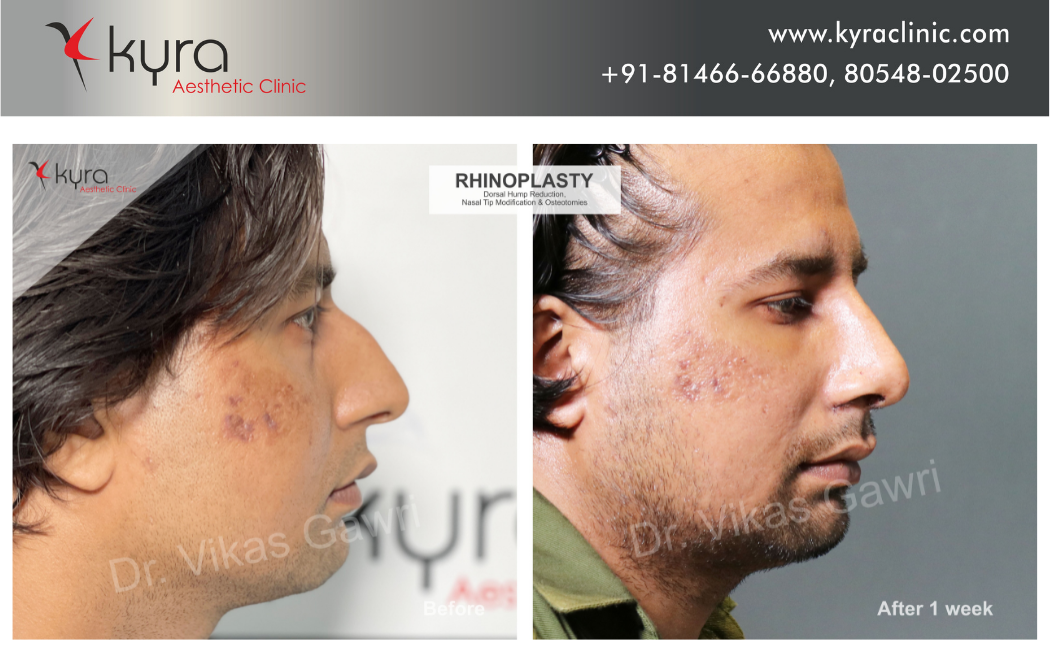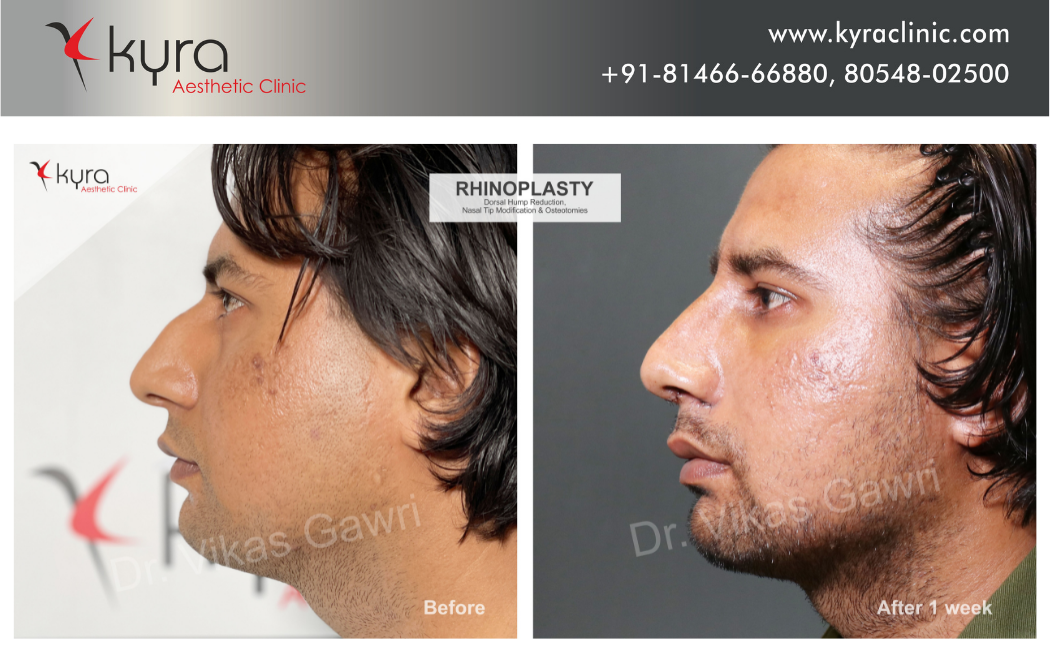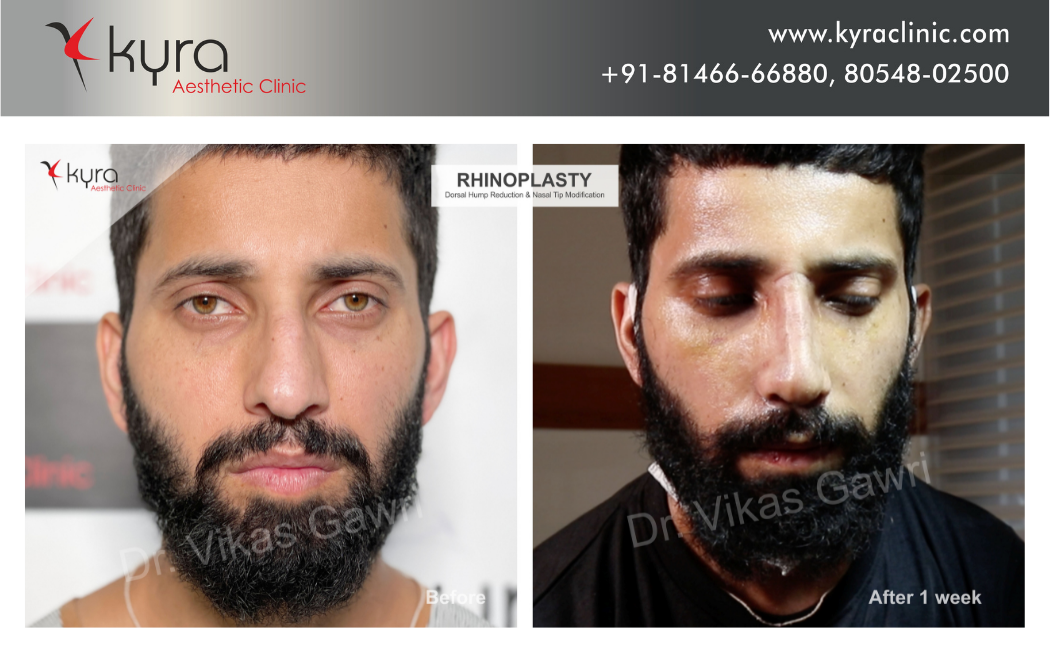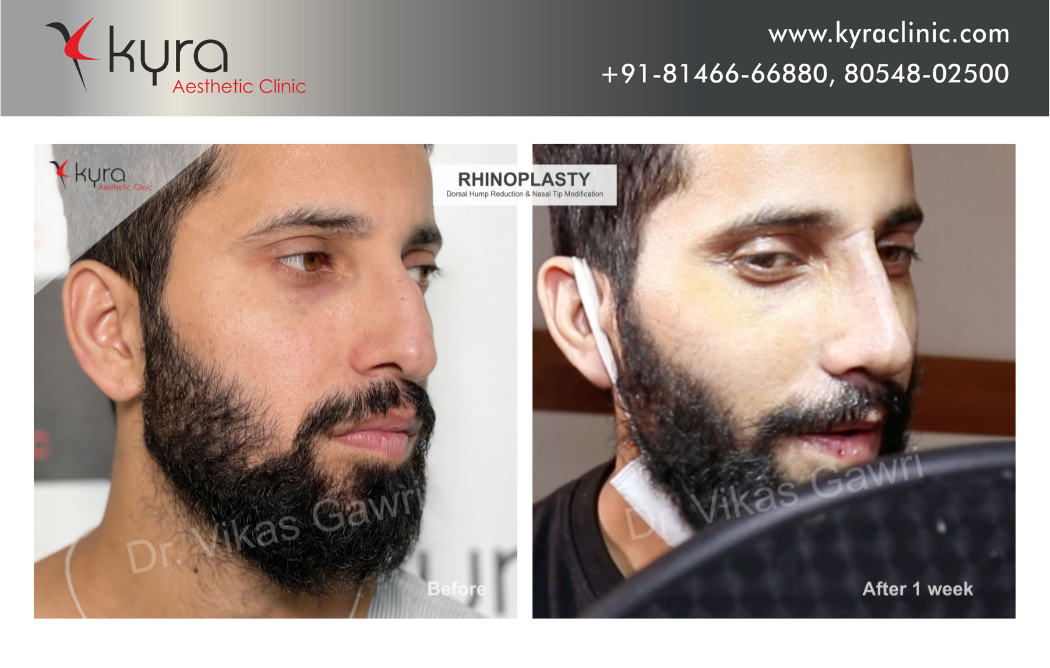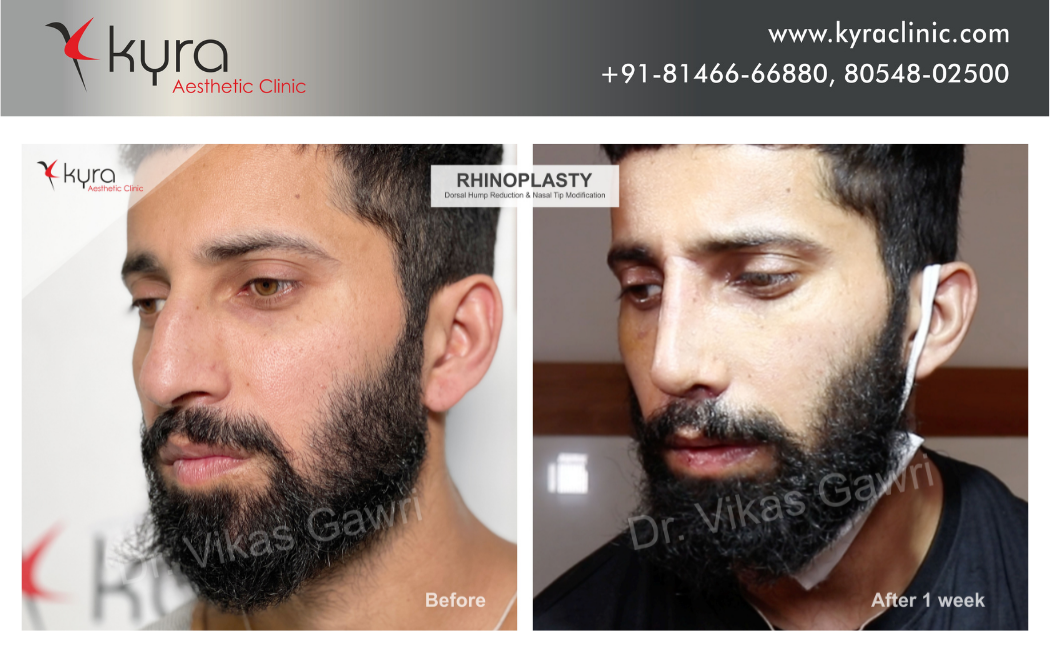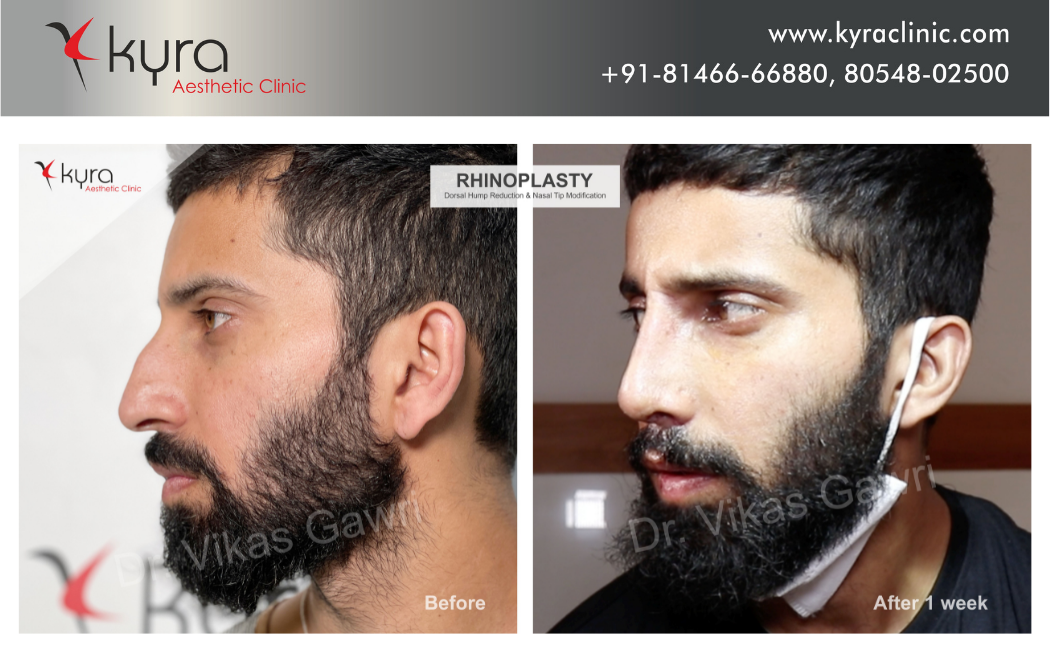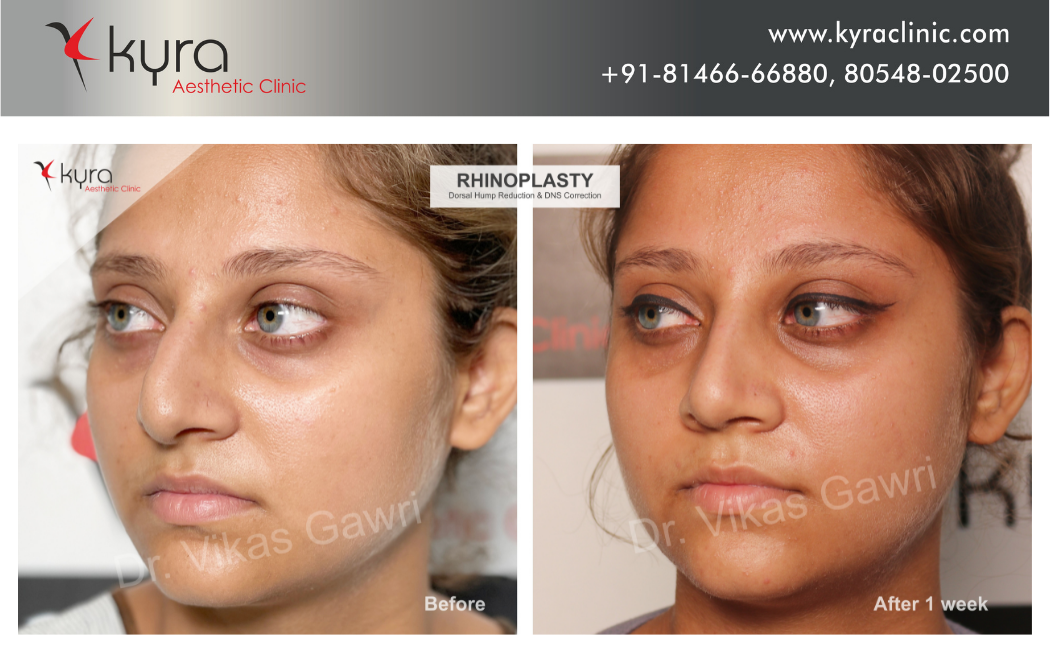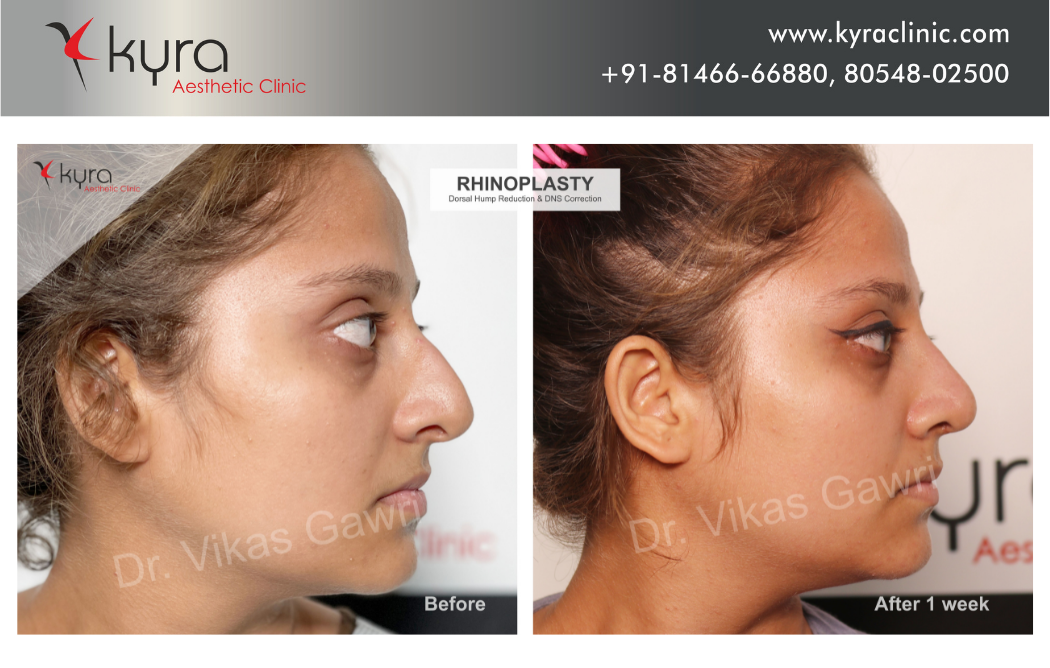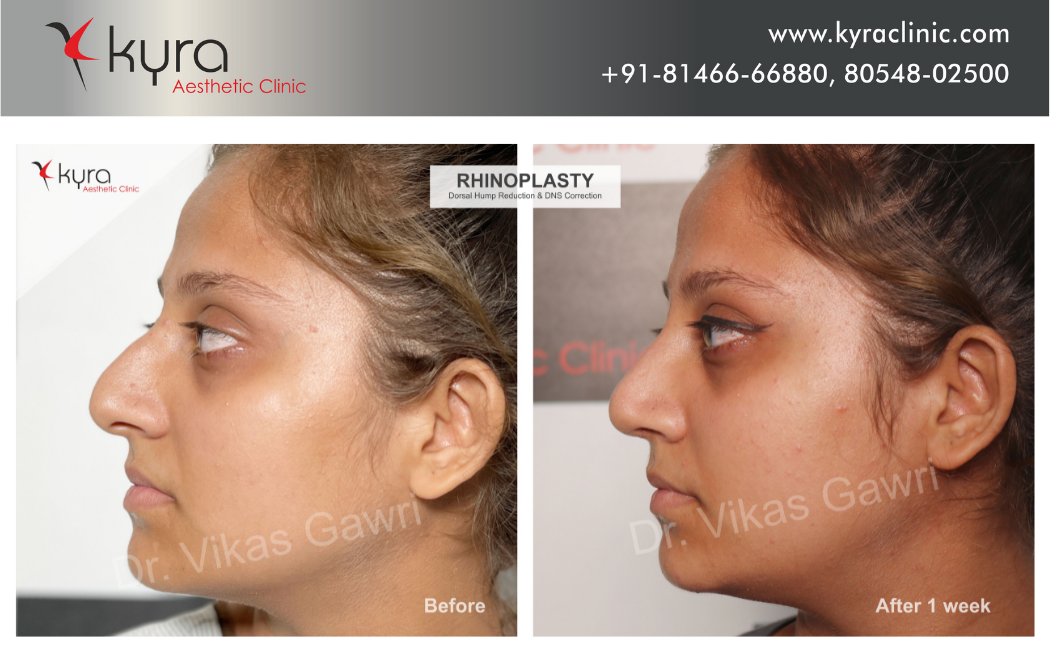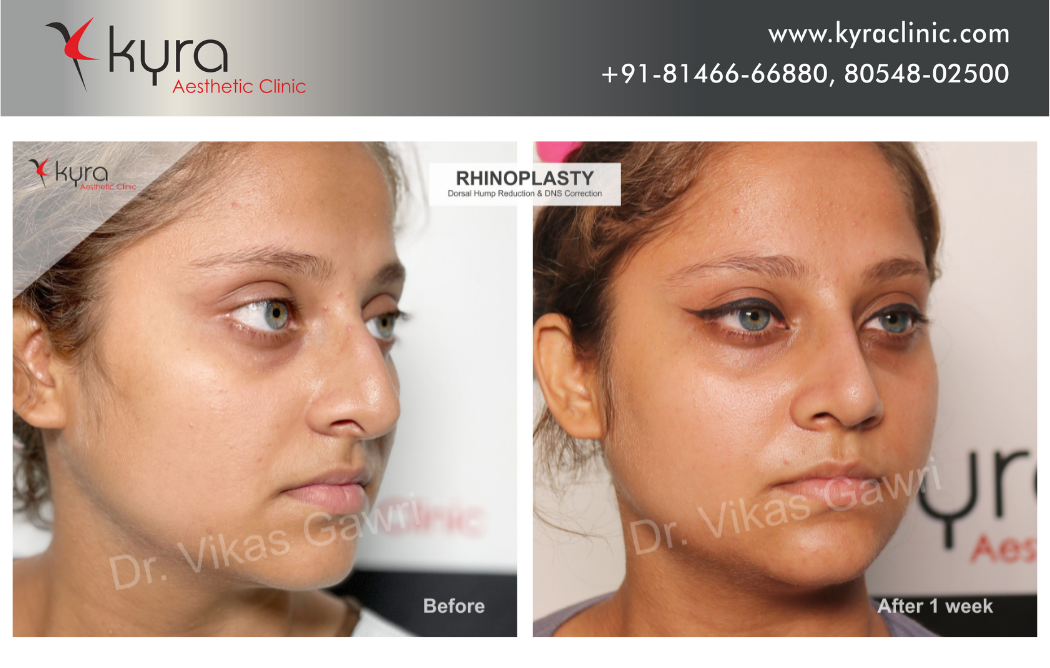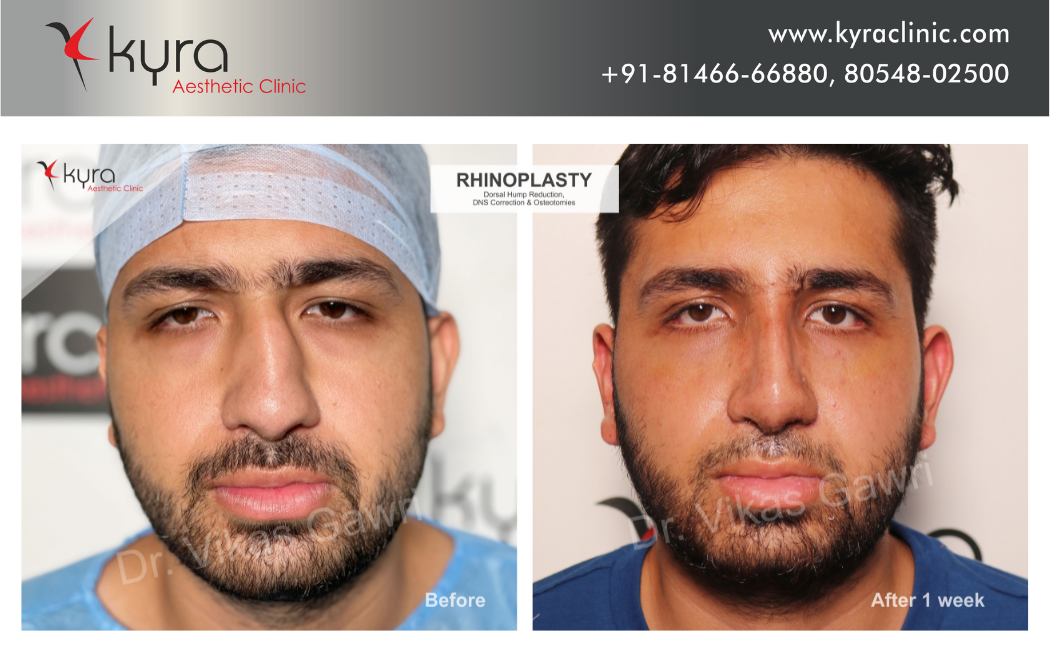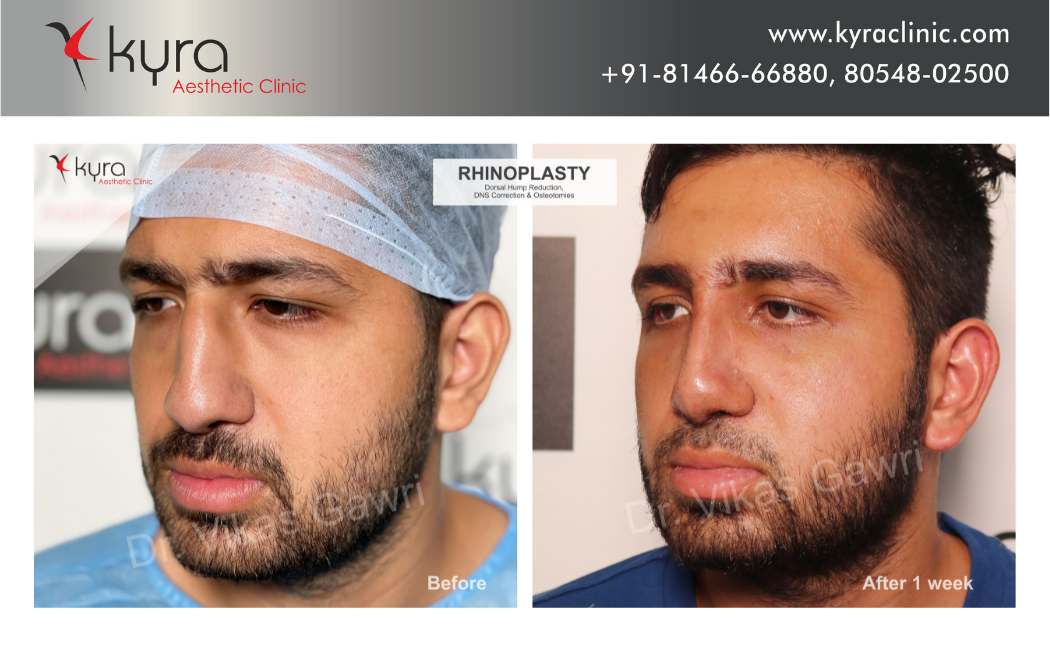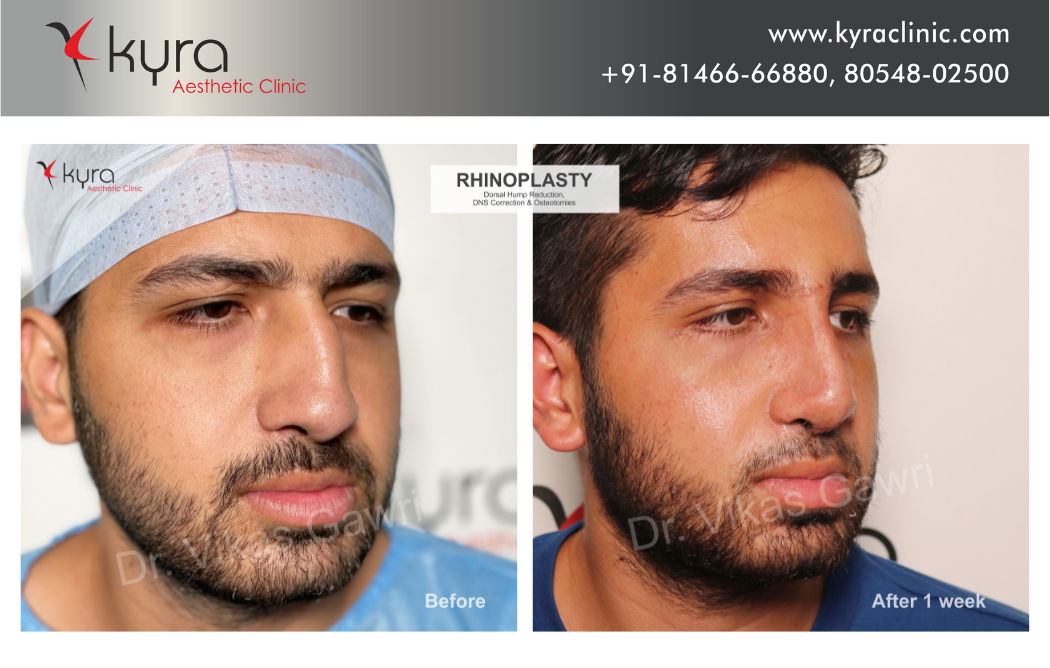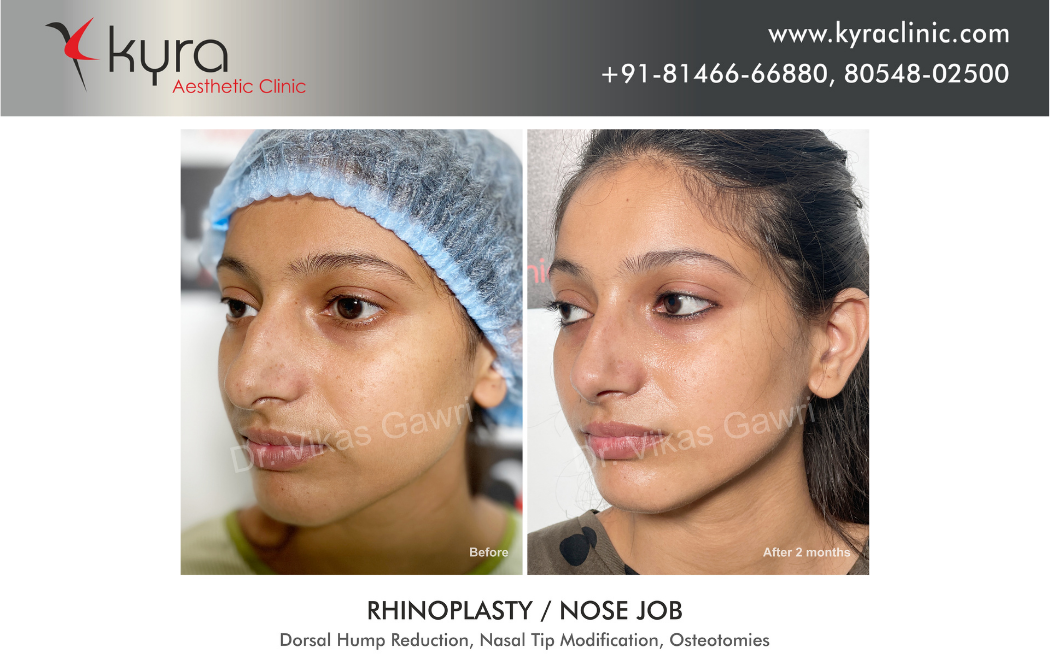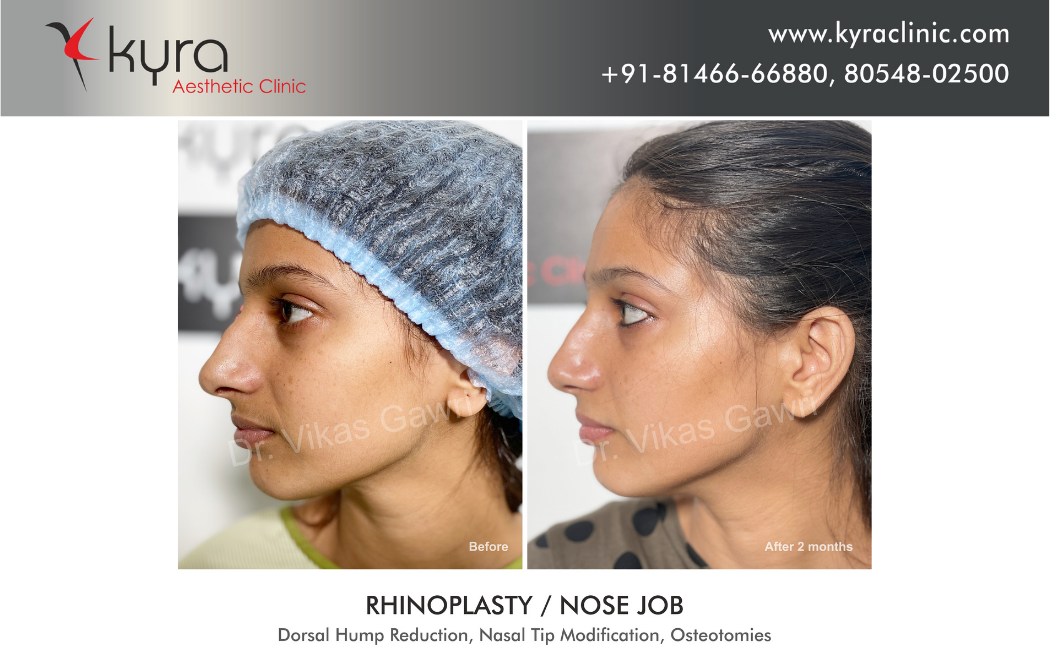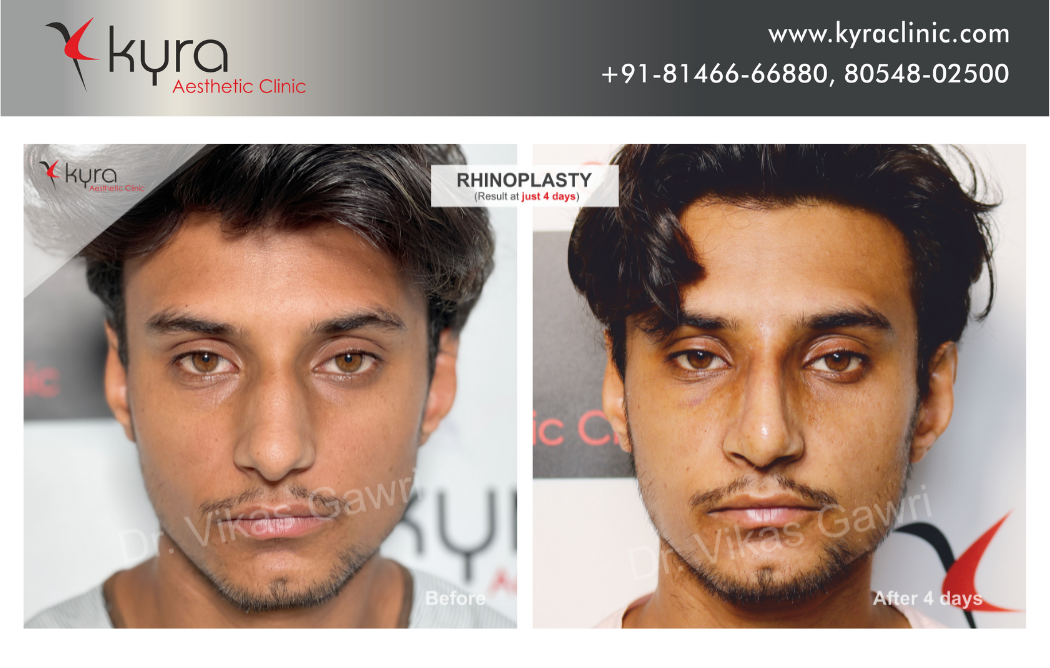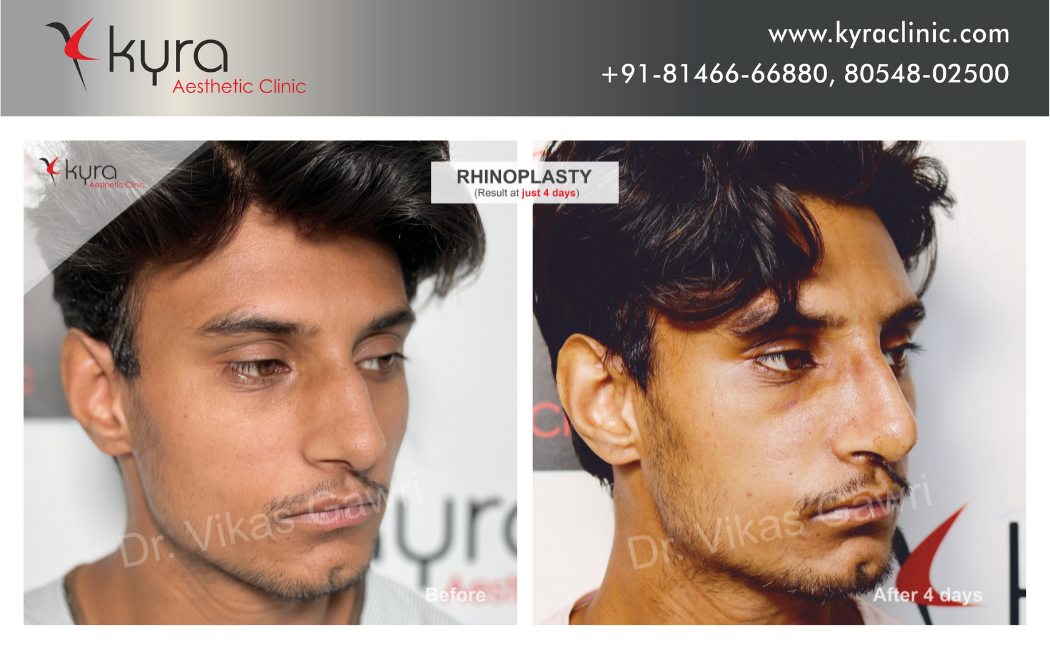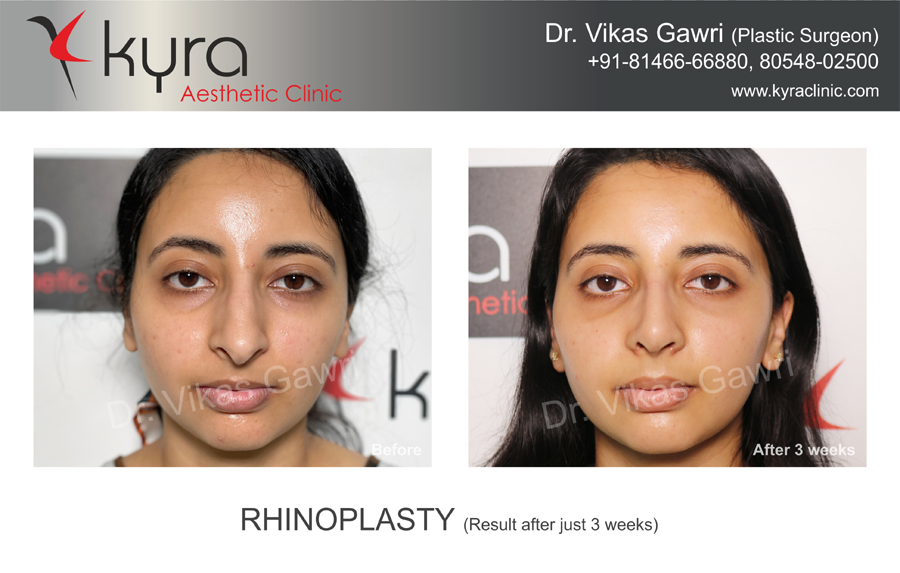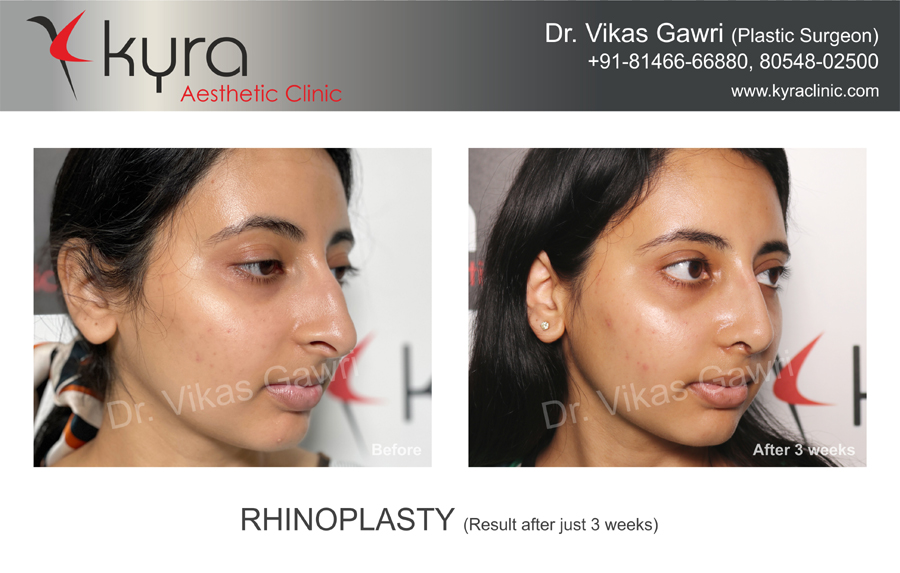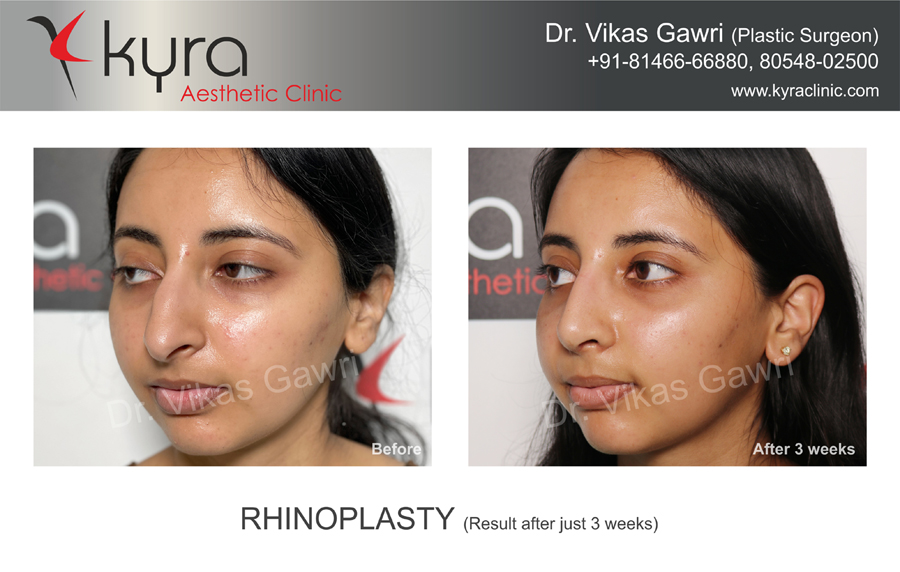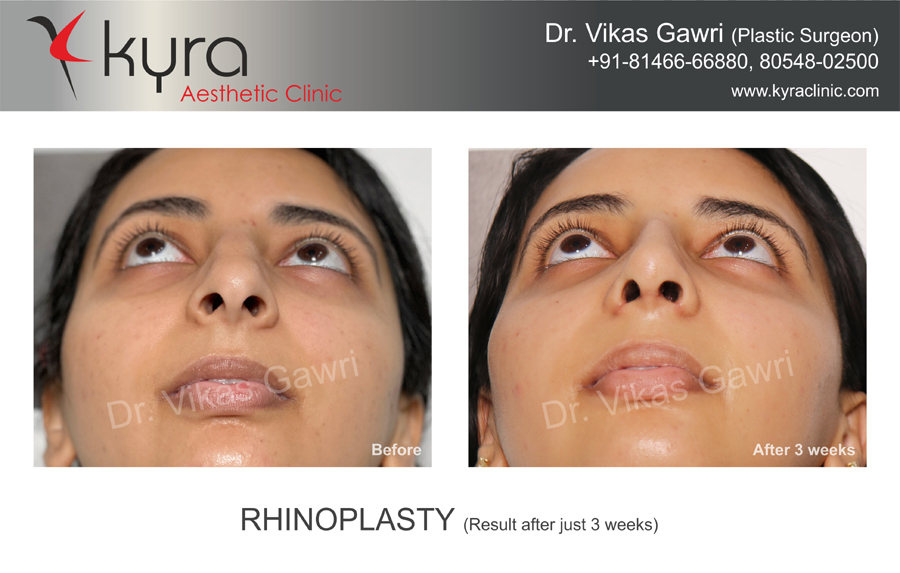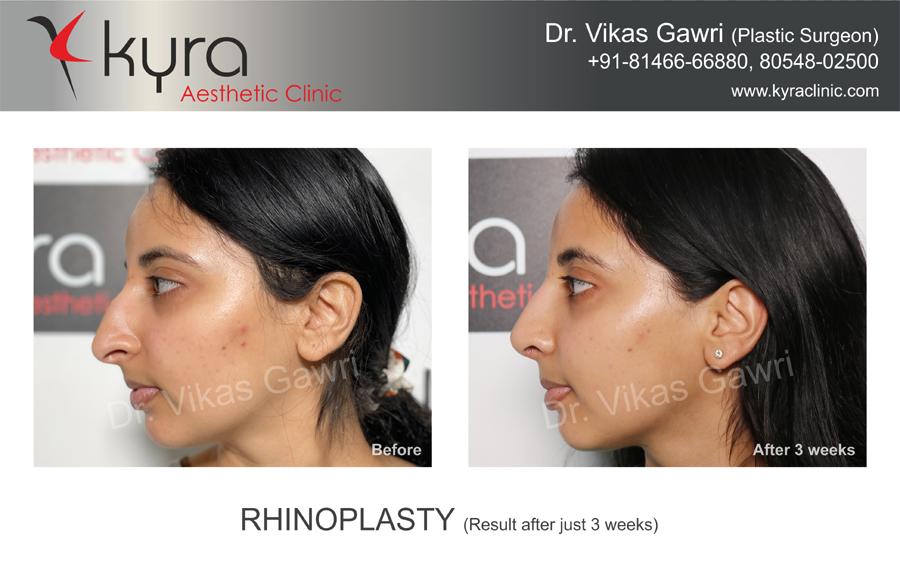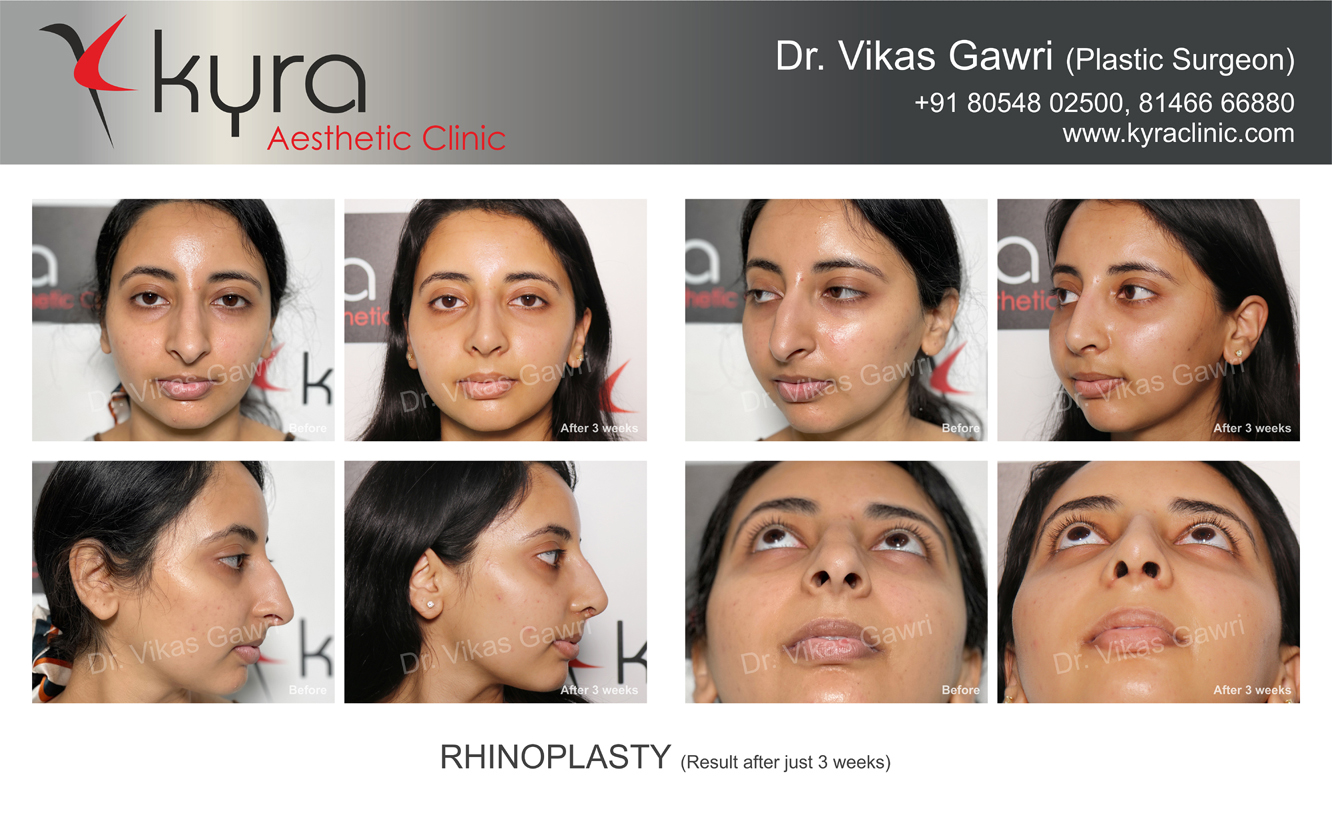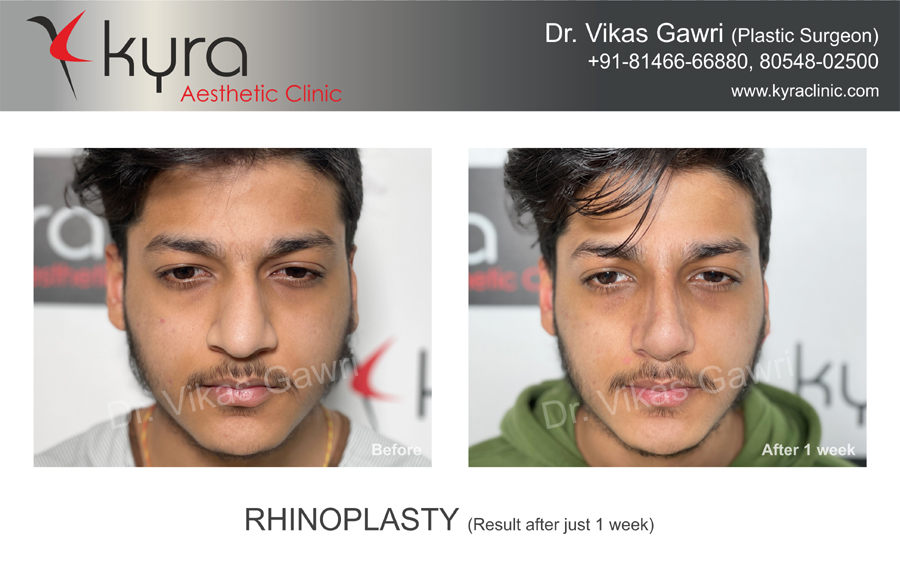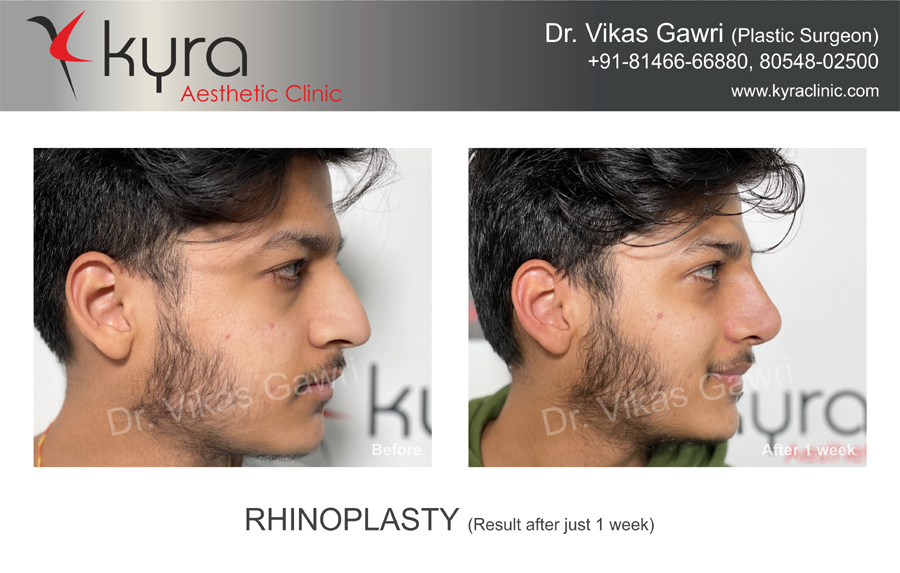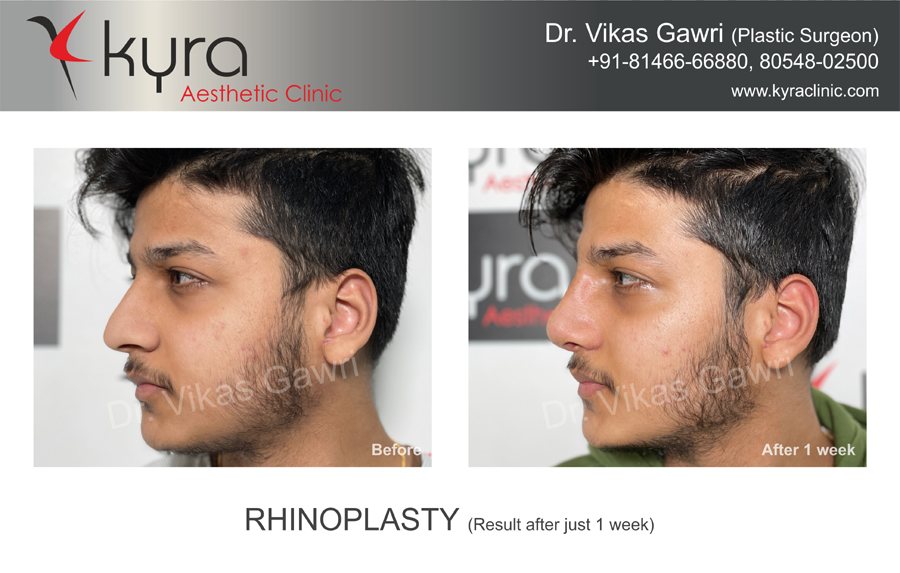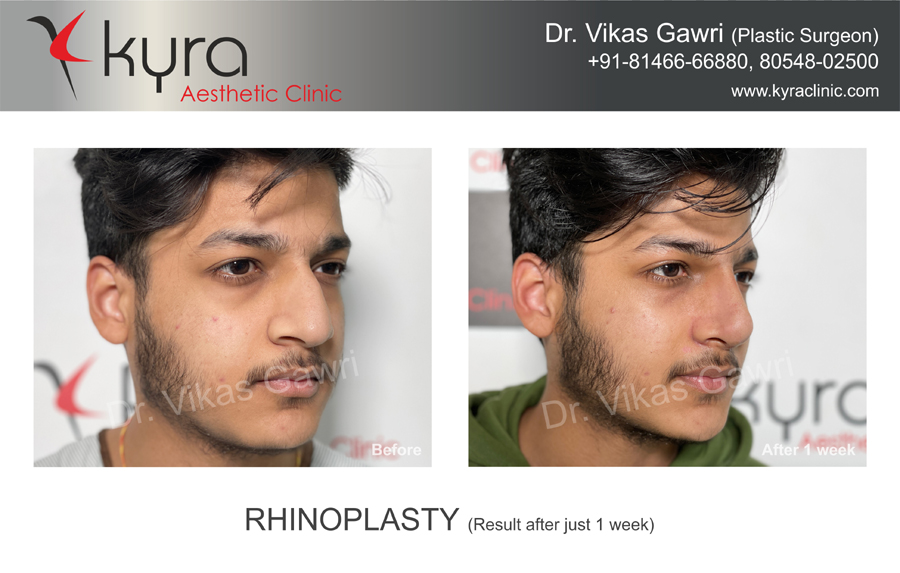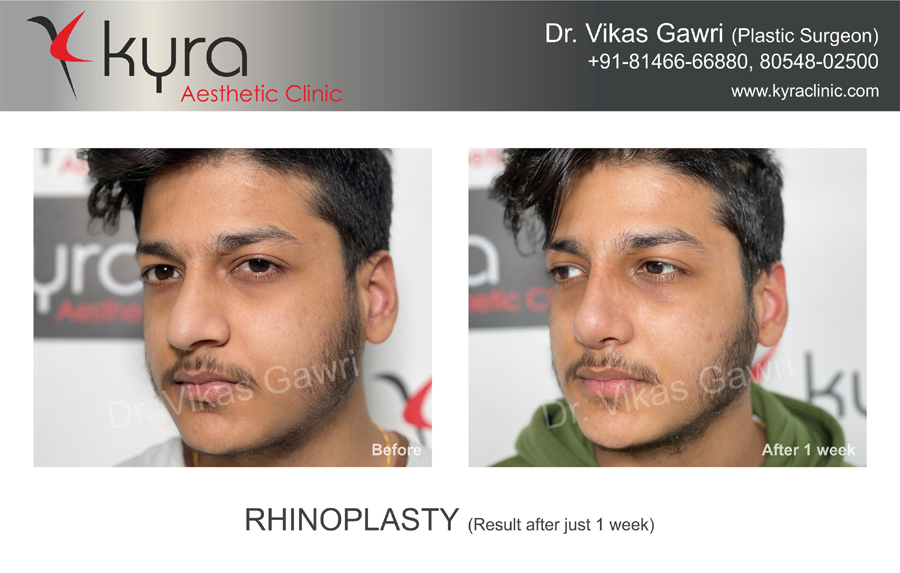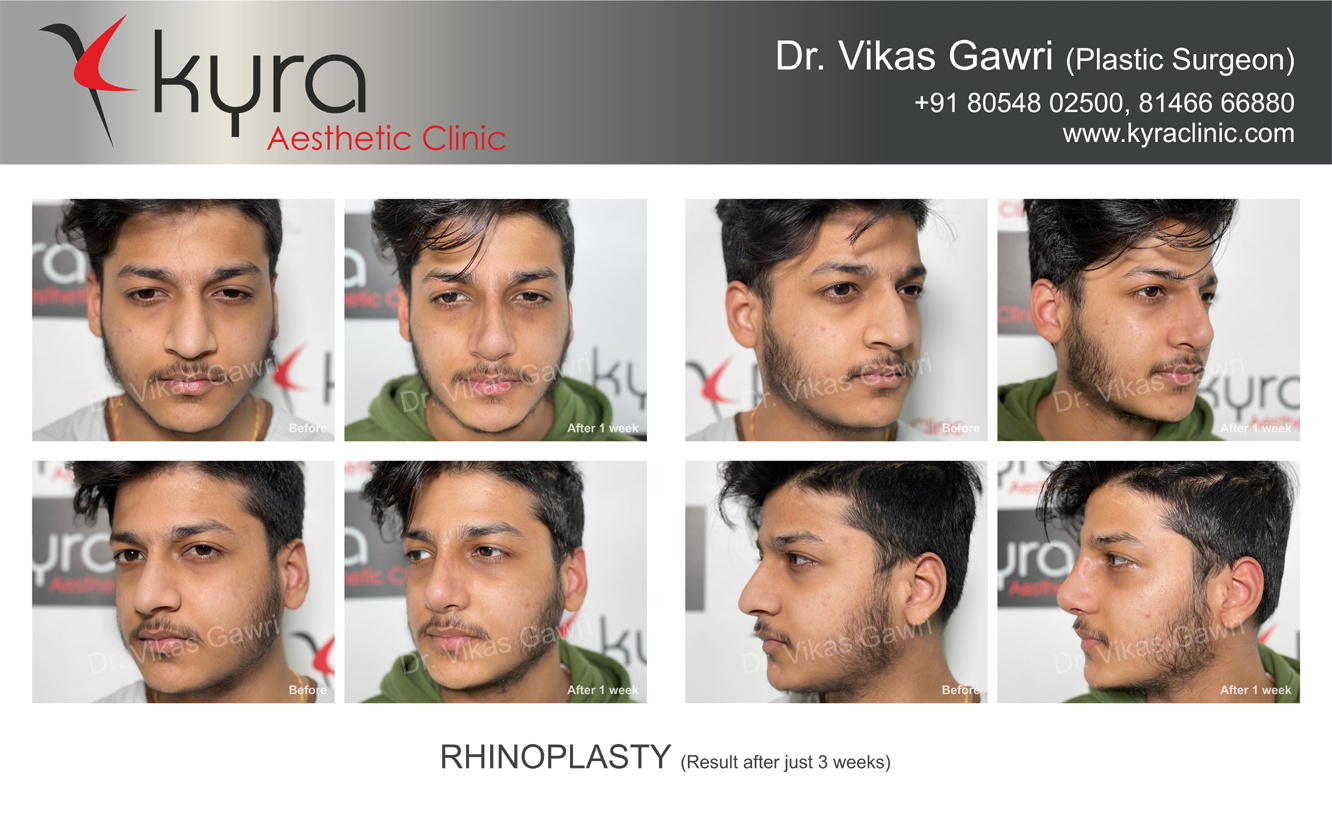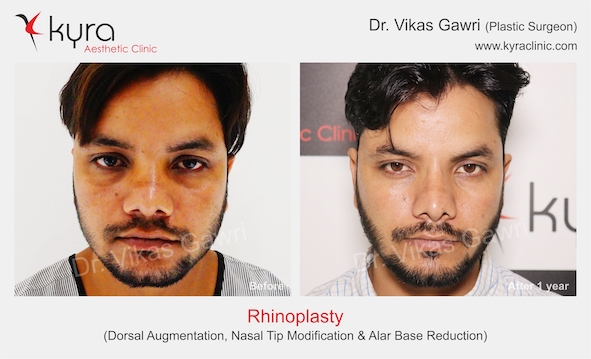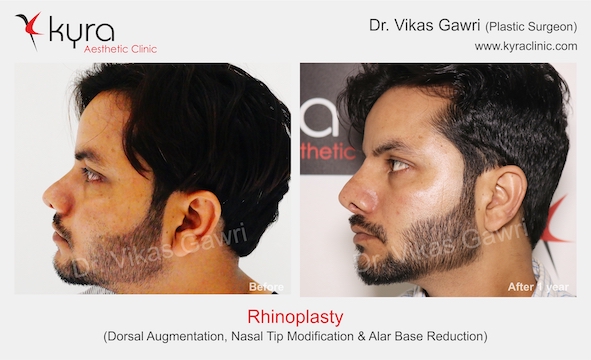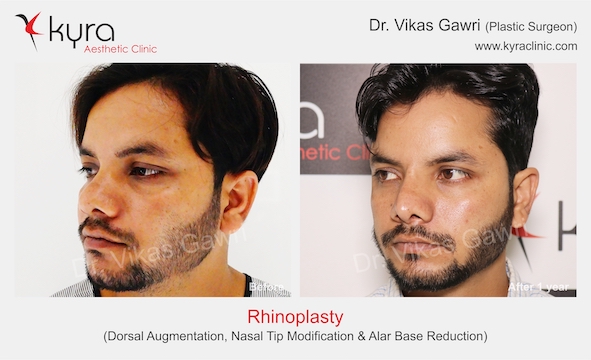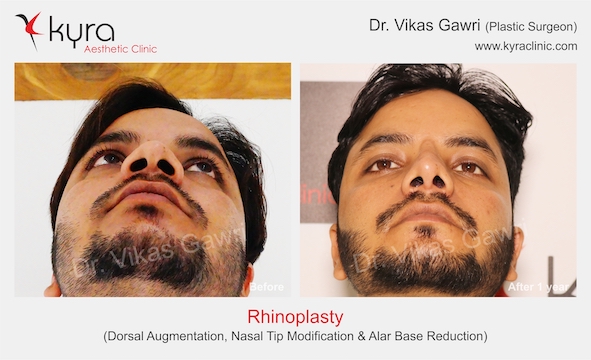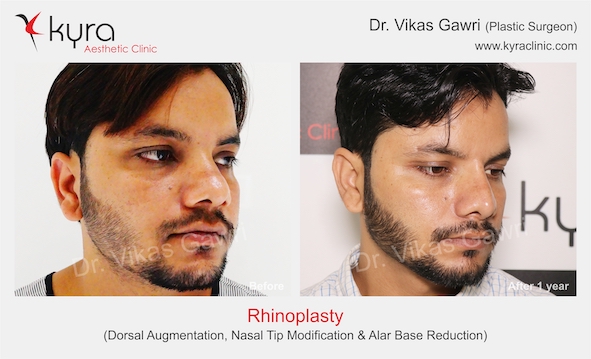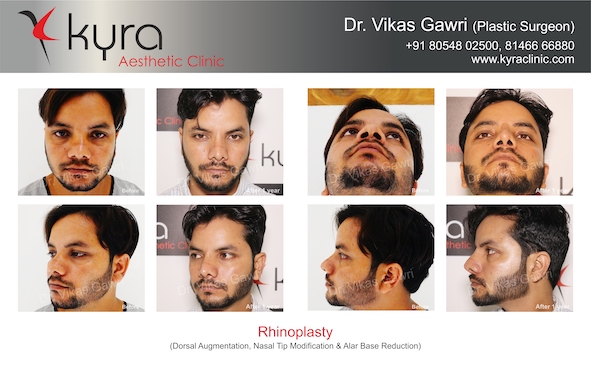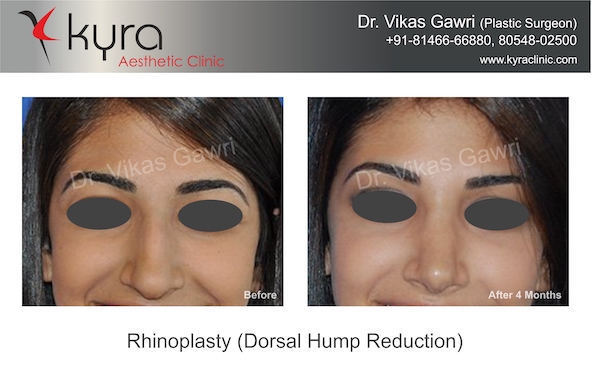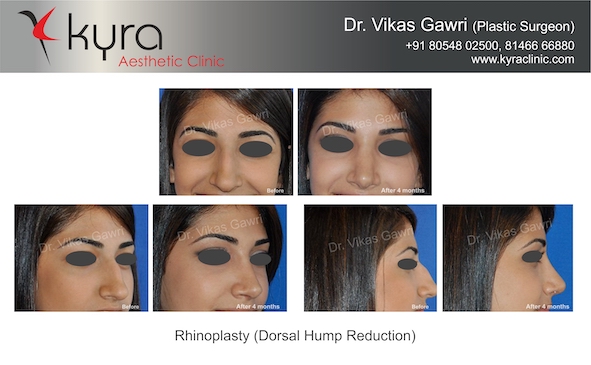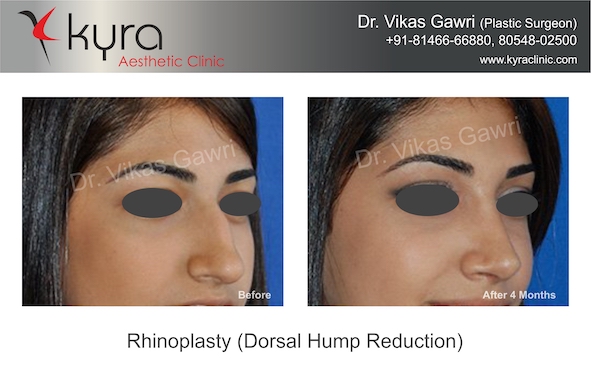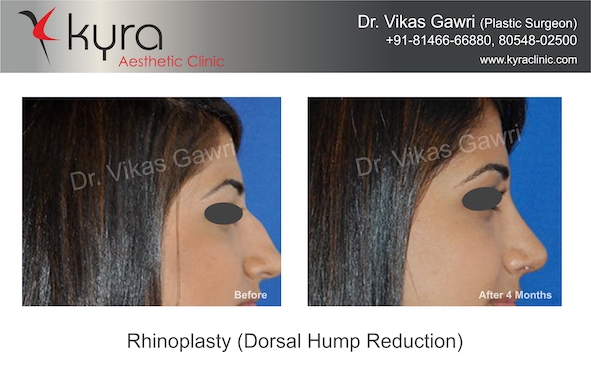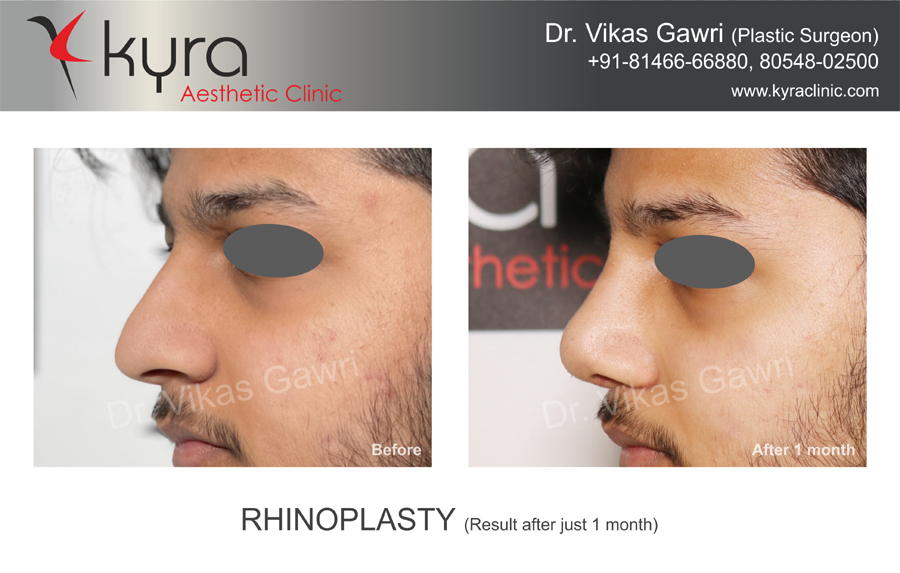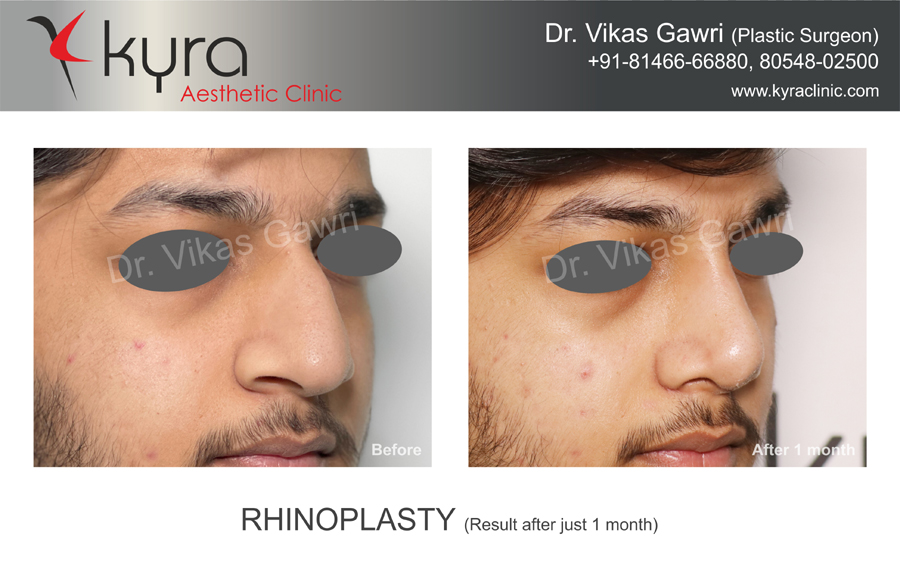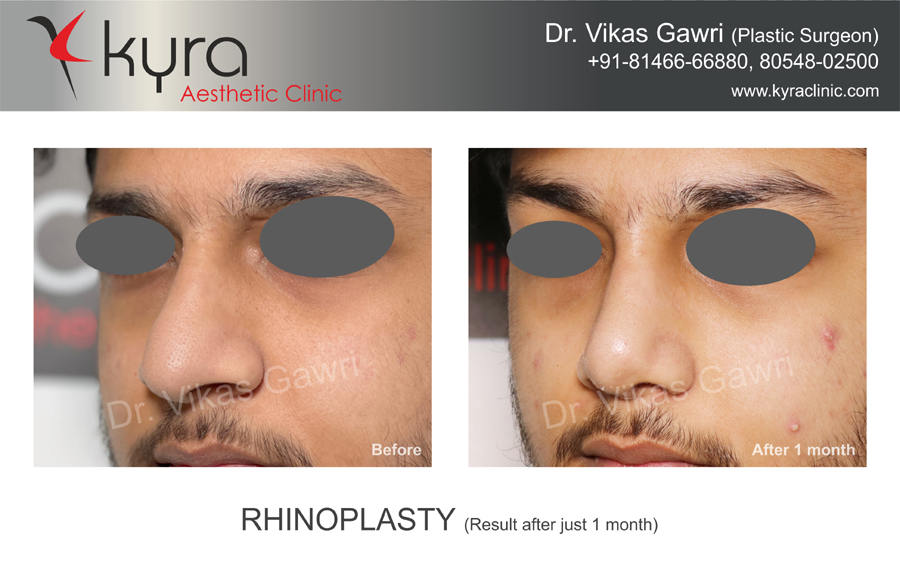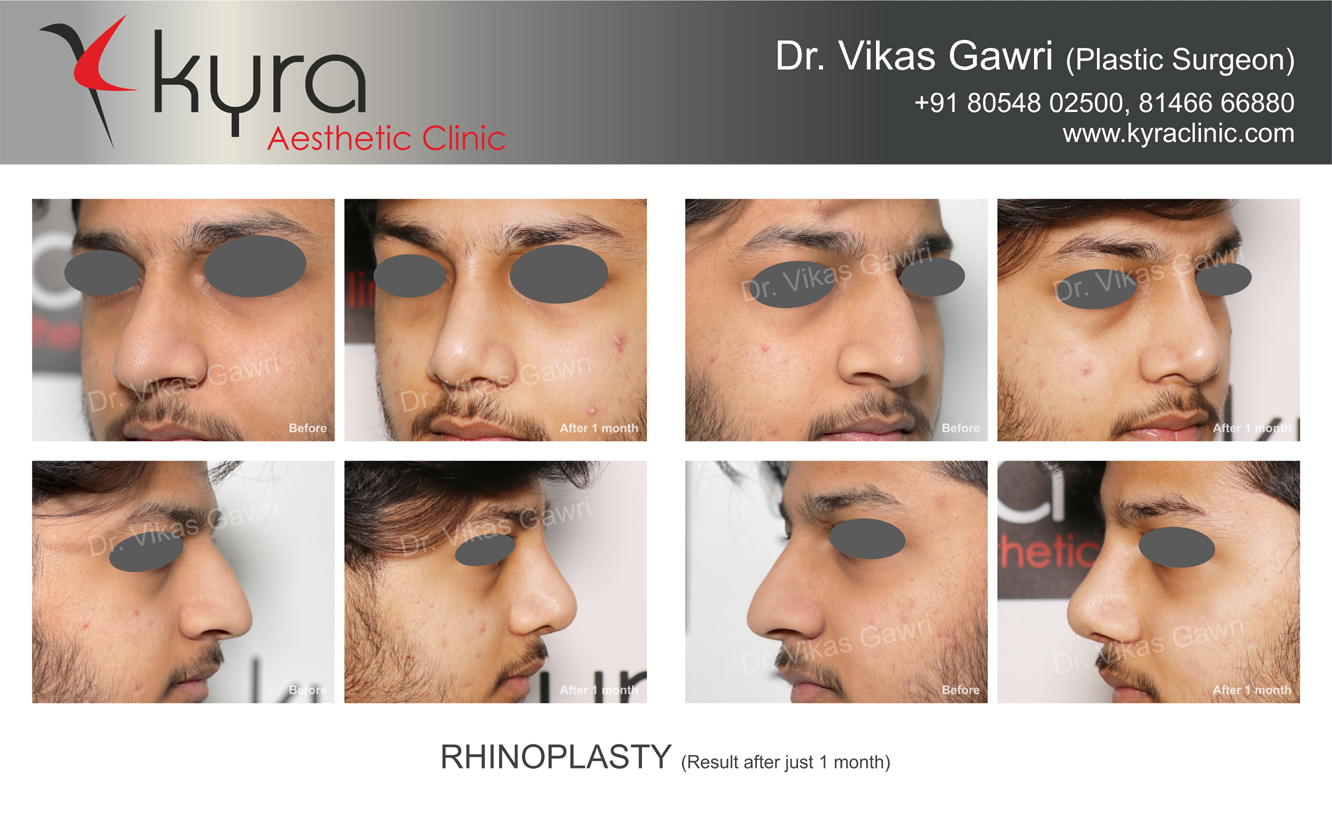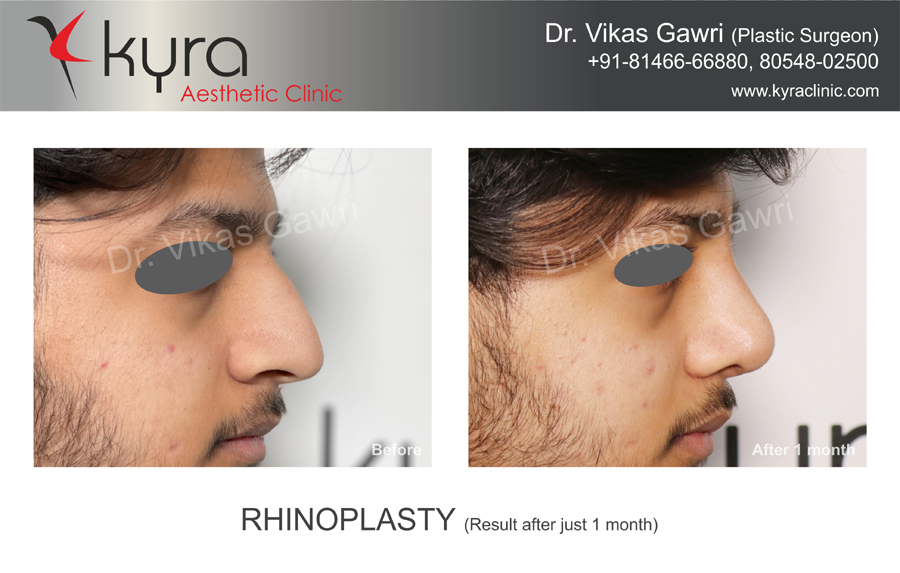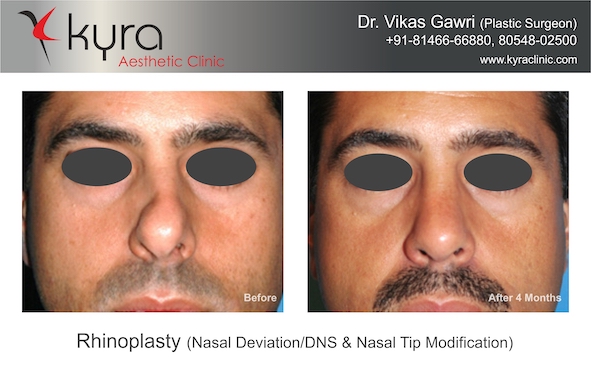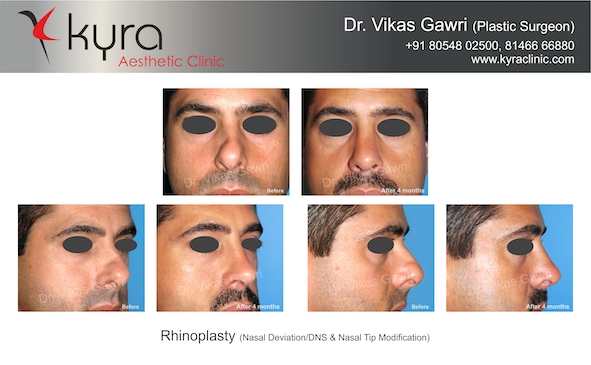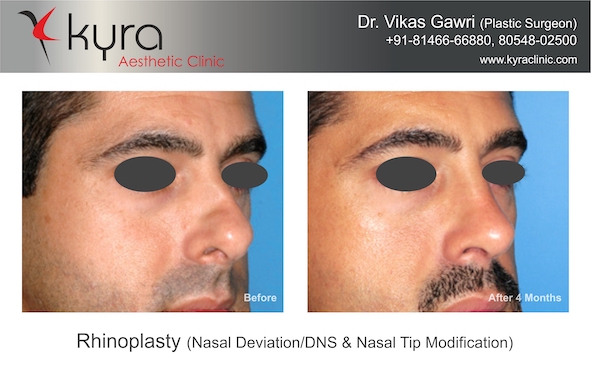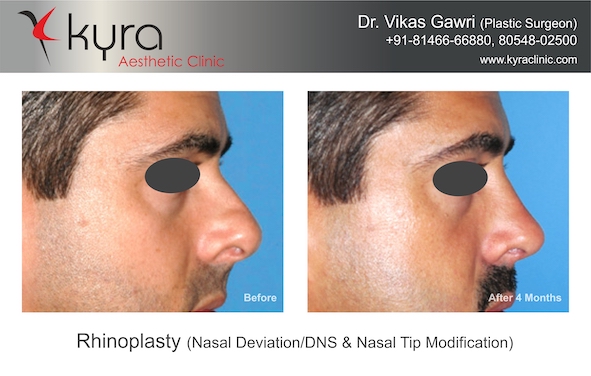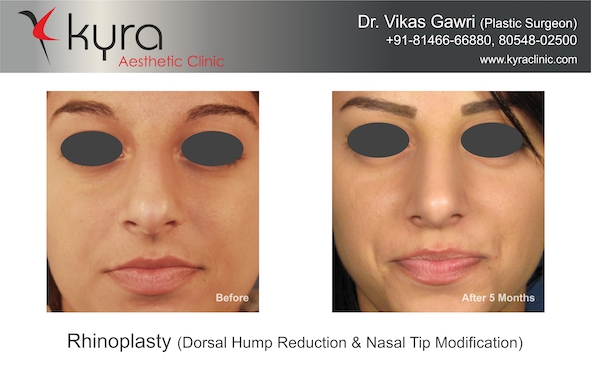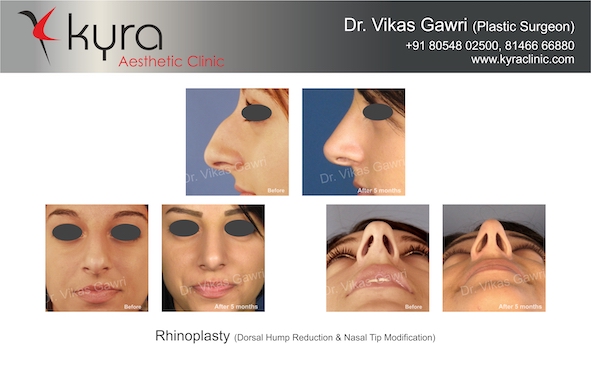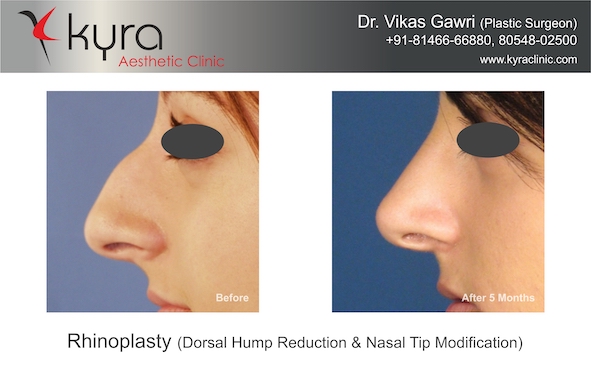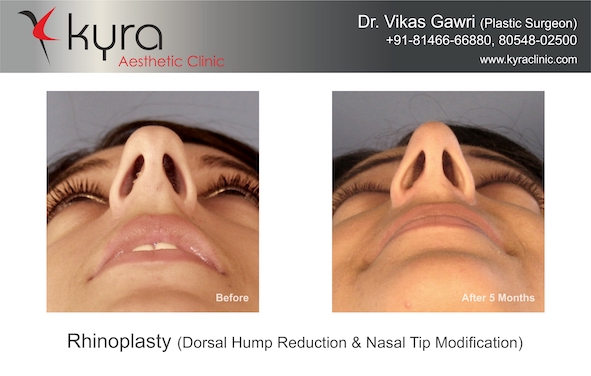 TESTIMONIALS – Rhinoplasty
Rhinoplasty-Ravi
Would like to share my Experiance as Kyra clinic is an amazing place to get cosmetic surgery .I visited the centre for my rhinoplasty and dr vikas faerie explained me all thin to thick of the surgery as I had DNS and broad nose .he provided the best result of surgery .i can now live
…
Would like to share my Experiance as Kyra clinic is an amazing place to get cosmetic surgery .I visited the centre for my rhinoplasty and dr vikas faerie explained me all thin to thick of the surgery as I had DNS and broad nose .he provided the best result of surgery .i can now live my life happily and i m very confident about my looks now .
Thanks to all Kyra people
😀