Pre-operative INVESTIGATIONS
Blood Investigations
CBC (Complete Blood Count)
PTI/INR
FBS (Fasting blood sugar) or RBS(Random blood sugar)
Viral Markers-HIV, HbsAg, HCV
If age is more than 35 years
Optional Blood Test
LFT (Liver Function Test), RFT (Renal Function Test)
Thyroid Profile T3,T4,TSH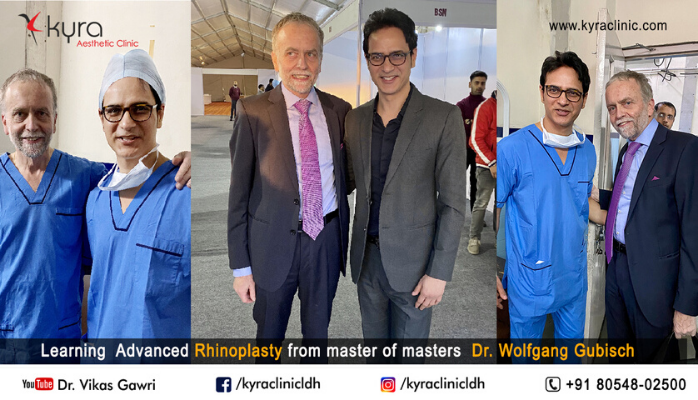 To BOOK AN APPOINTMENT
Call us or Whatsapp us at +91 80548 02500 – Dr. Rajni or +91 81466 66880 – Dr. Shareen
Pre-operative INSTRUCTIONS
Avoid tablet Aspirin, aspirin-containing products, warfarin for 1 weeks prior to and 1 week following your surgery.
Stop any multivitamins or similar supplements for one week before the surgery.
Our Anaesthetist may advice you to stop smoking for 1 week before and 1 week after the surgery.
One of our doctor's will call you for pre-operative instructions a day prior of your surgery.
You have to reach the clinic empty stomach in the morning at 9:00am. You have to be NBM (Nil by mouth )for 6-8 hours before surgery. That means don't take any thing to drink or eat after 12 o' clock midnight No water, tea etc in the morning.
You have to wear loose and comfortable clothing.
You will be sent home on the same evening. No hospital stay is required.
Do not wear any jewellery, watch, nail polish, make-up, hair oil etc.
There should be one attendant (family member, friend etc.) to accompany you. You are not allowed to drive same day after surgery.
Due Payment
The payment due has to be cleared at the reception in the morning, before starting the surgery.
18% GST tax as applicable.
You can pay us in cash (any currency) or by Credit Card (2% service charges)
Kindly reach the clinic on time, usually at 9:00am
You should be fasting since midnight. Don't even drink water tea etc. in the morning.
You can call us at 0161 4646042 or
8146666880 — for assistance in the directions of the clinic.
One of our staff will greet you at the clinic and make you comfortable in a private room.
You'll be given OT dress to change.
You are required to sign a consent form.
Dr. Vikas Gawri will meet you to discuss your expectations and the surgical plan with you.
He will take photographs of your nose/face and will proceed you to operation theatre.
You will be administered General Anaesthesia and surgery takes 2-3 hours to complete.
After surgery you will be awake and will be shifted to a recovery room.
You will be resting and under observation for next 4-6 hours.
In the late evening, one of our doctors will explain you the instructions and the prescription of medicines to be taken for next 1 week.
POST OPERATIVE INSTRUCTIONS
Take antibiotic and painkiller tablets as prescribed for 1 week.
Follow-up visits First visit will be after 2-3 days, for nasal pack removal. Second visit will be on 8th day for suture removal
You have to sleep with the head elevated taking two pillows for 1 week to prevent swelling after Rhinoplasty.
Should not blow your nose for two weeks after surgery as it can disrupt proper healing and cause bleeding.
Avoid strenuous activity such as bicycle riding, jogging, weight lifting or aerobic exercise for 3 weeks .
Swelling after Rhinoplasty
50 percent of swelling resolves in 7 to 10 days
80 percent at 6-8 weeks
but swelling especially at nasal tip will take 6 to 9 months to resolve.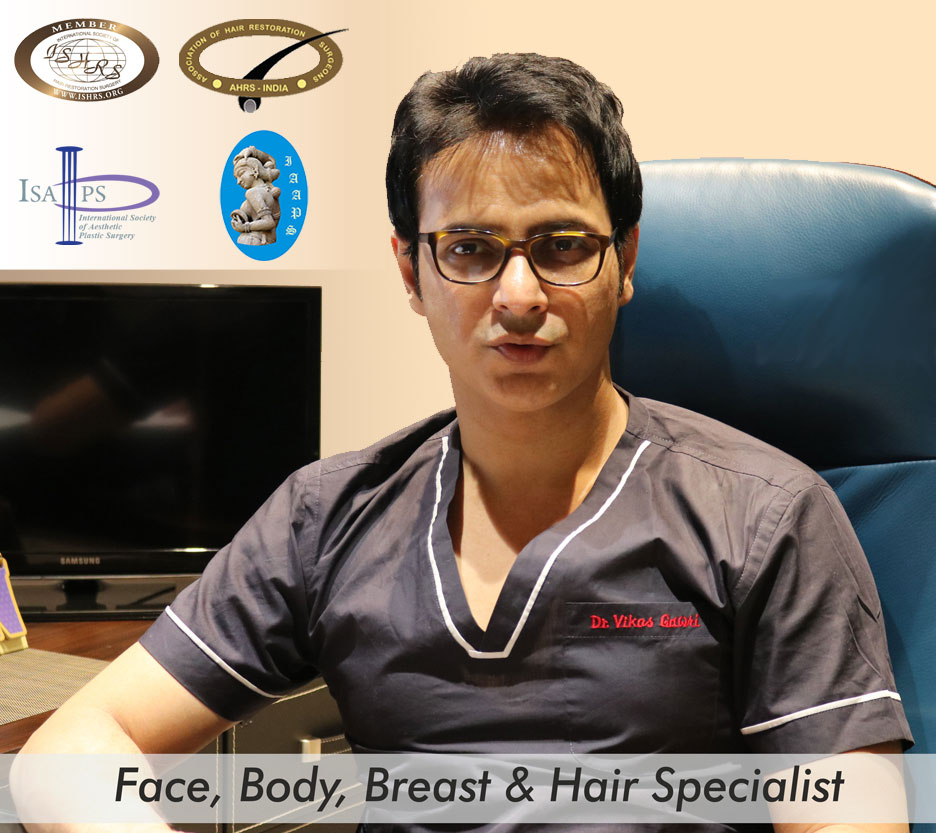 Scar is usually hidden inside the nostril and minimally visible at collumella skin.
Start applying silicon gel 3 weeks after rhinoplasty for better scar healing.
The scar matures to a very thin line by 6-9 months.
Anaesthesia risks
Infection
Poor wound healing or scarring.
Change in skin sensation (numbness or pain)
Nasal septal perforation (a hole in the nasal septum)
Difficulty in breathing
Unsatisfactory nasal appearance
Skin discolouration and swelling.
To BOOK AN APPOINTMENT
Call us or Whatsapp us at +91 80548 02500 – Dr. Rajni or +91 81466 66880 – Dr. Shareen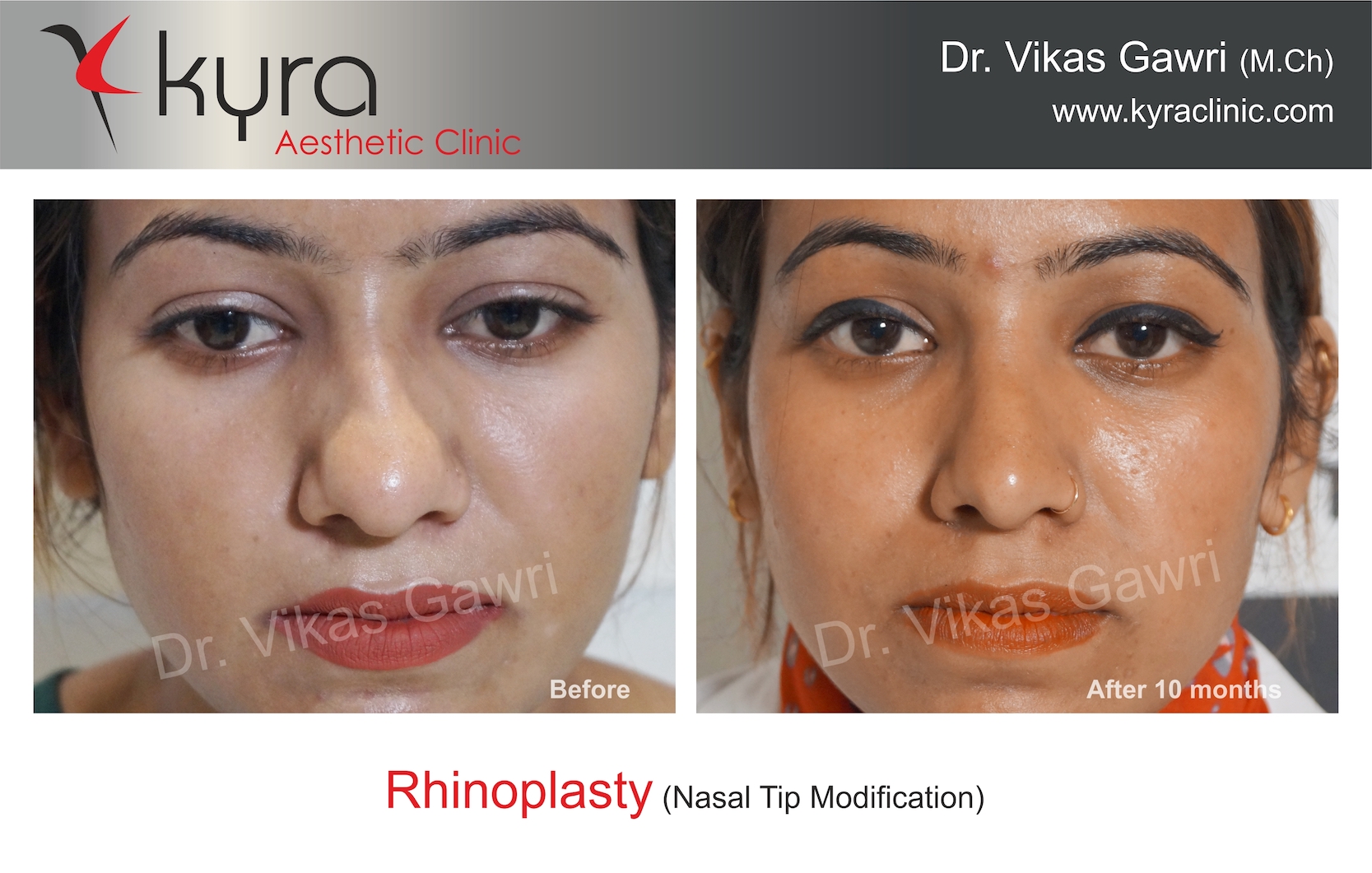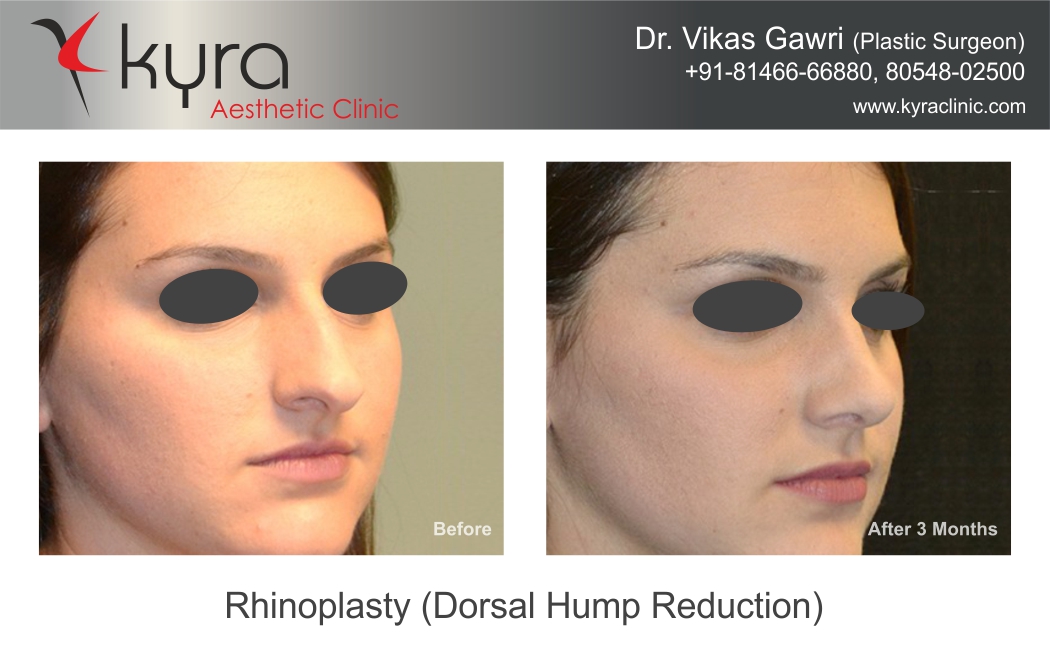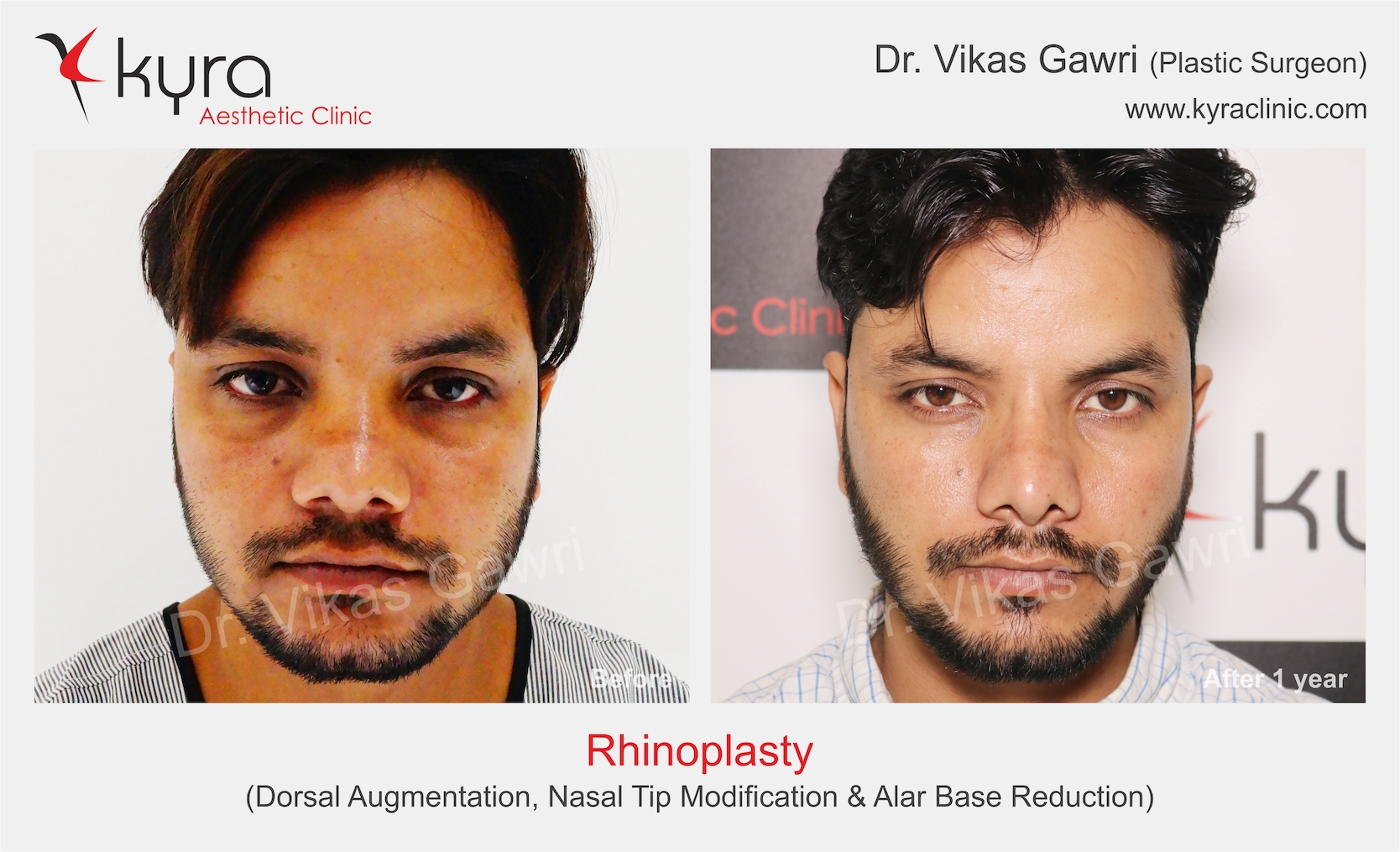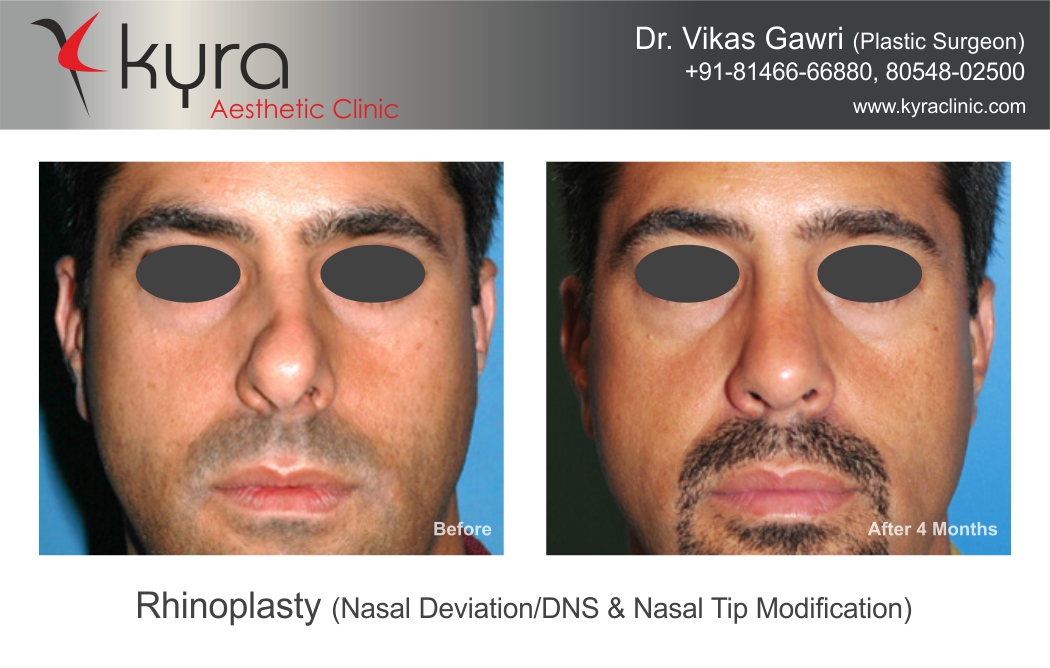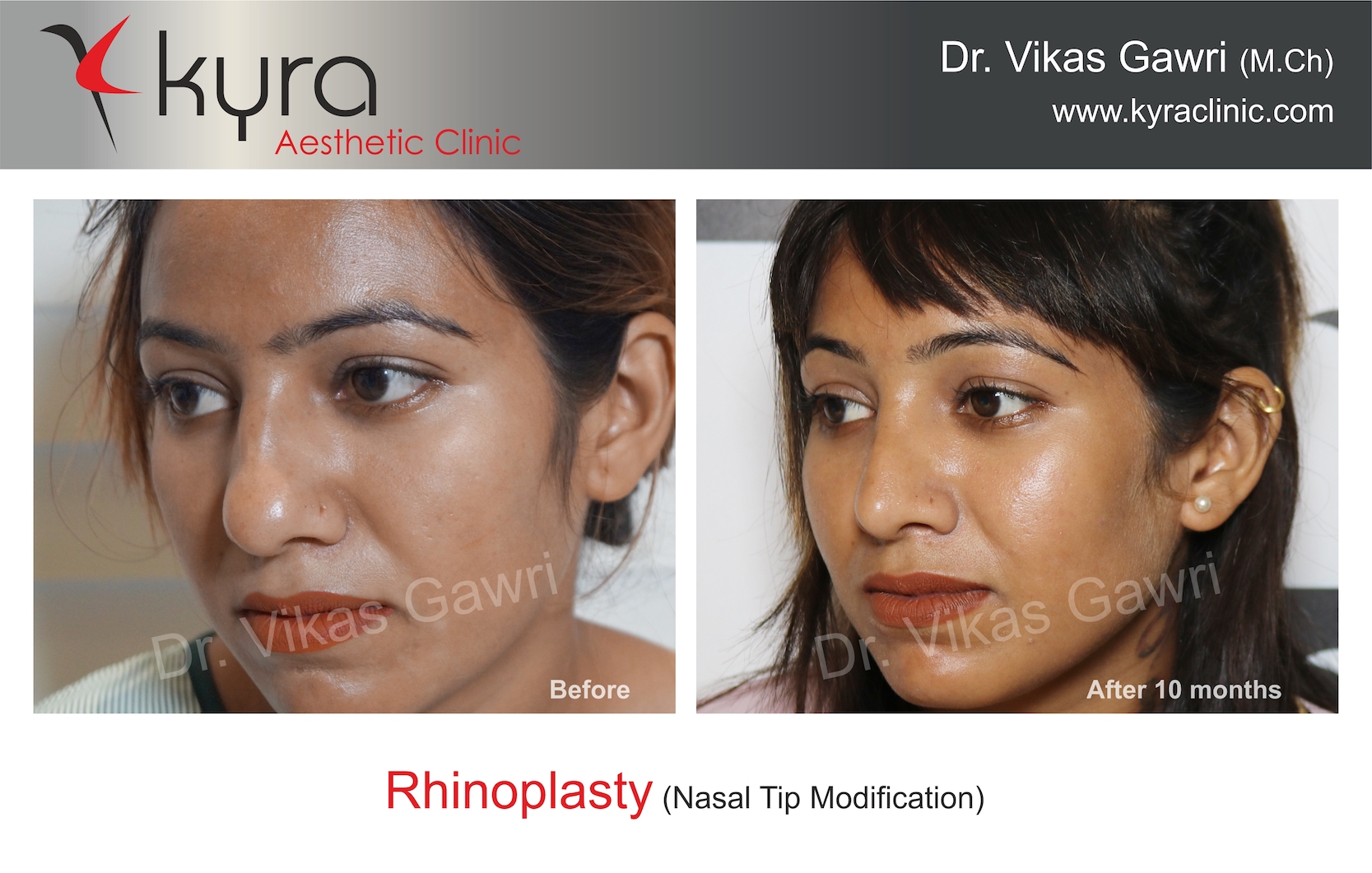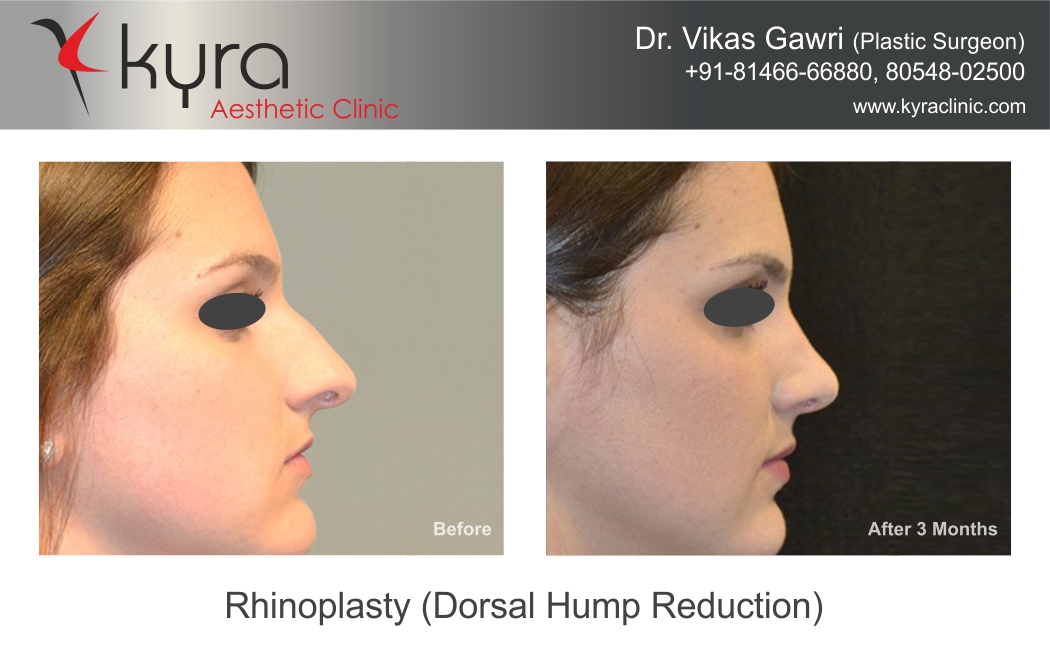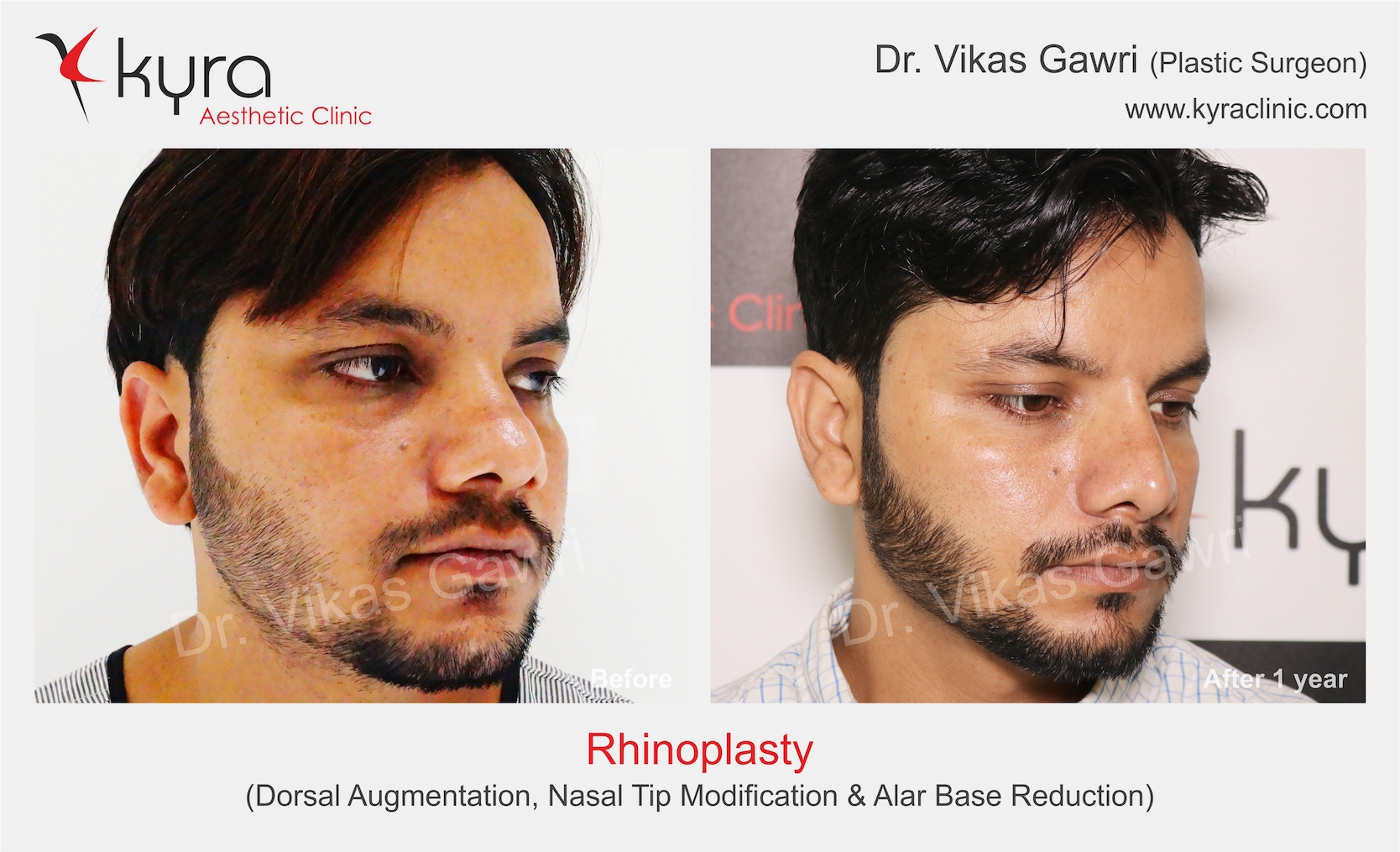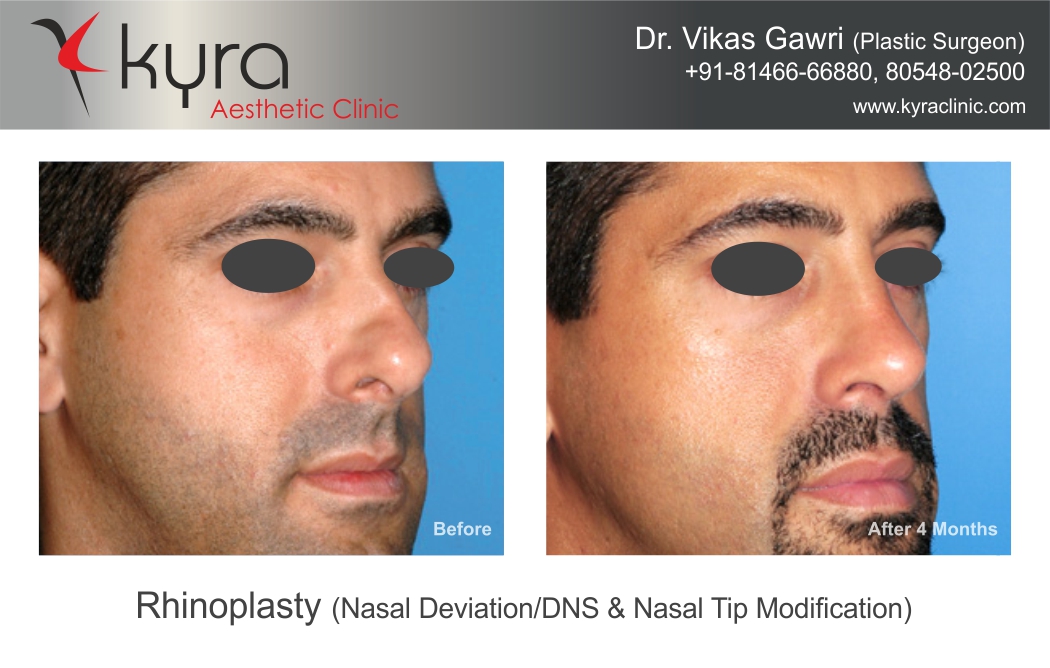 TESTIMONIALS – COSMETIC SURGERY
I always desired for a sharp nose , which could give me confidence with good looks. I got my rhinoplasty surgery done from Dr. Gawri and the result is amazing. Initially there was swelling but it gradually reduced to show the well defined nose.
My face always looked very old and gloomy. I consulted at Kyra Aesthetic Clinic and met a Skin Specialist and plastic surgeon. They advised me Fat grafting cosmetic procedure. I saw the previous cases and made up my mind.
Today, i get many compliments for my new look. Thanks Dr. Gawri
I always wanted to have a fuller Breast since my college days. I wanted to wear dresses and look attractive. I met Dr. Vikas Gawri for my Breast Implant surgery. I got the desired result and am happy to make this decision.
I was advised for Facelift surgery by a doctor in Canada. When I came to India, I contacted Dr. Vikas Gawri. Some of my friends in Punjab recommended his name. He is a expert plastic surgeon with good reputation. He did my Facelift surgery and it changed my looks. I look 10 years younger now,… thanks to Kyra Clinic Read more "Facelift"
I always wanted a muscular chest and flat tummy. I met Dr. Gawri for Liposuction procedure. He explained everything clearly and I could talk to few of his clients. Just 1 week after the procedure, I was happy to see the result. He gave me good shaped chest and abdomen by Ultrasonic Liposuction .