WHAT IS P-SHOT INJECTIONS?
PRP therapy involves injecting a concentration of platelets from your own blood into your body. The P-Shot involves taking platelet-rich plasma (PRP) from your blood and injecting it into your penis. This means your doctor takes your own cells and tissues and injects them into your penile tissues to promote tissue growth and purportedly give you better erections. In all cases, it's considered an experimental treatment.
HOW DOES THE P-SHOT WORK?
The growth factors & proteins released by the high concentration of platelets in PRP in turn activate stems cells and stimulate cellular repair and regeneration. In addition, collagen production and the formation of new blood vessels occurs and further aids in tissue repair.
Increased blood flow
Repair responses in some tissue or cells
New neural pathways being established (from new experiences and positive reinforcement)
The placebo effect
To BOOK AN APPOINTMENT
Call us or Whatsapp us at +91 81466 66880
What is the P-Shot used for?
The P-Shot has been used as an alternative treatment in cases including:
Erectile Dysfunction (ED)
Peyronie's disease, a condition in which scar tissue makes the penis curve when it's erect
Penis enhancement
General sexual function, performance, and orgasm enhancement
You'll probably have some minor side effects from the injection that should go away in about four to six days, including:
Swelling
Redness
Bruises
Infection
Scarring
How Long Does the P-Shot Procedure Take to Perform?
The PRP injection is performed in our office. It should take about 60 minutes from start to finish but we do usually allow a little extra time. You may drive yourself home after the procedure.
Are p-shot injections safe?
Unlike other treatments for erectile dysfunction, p-shots are safe for men as it doesn't cause negative side effects. The fact that the injection is created with the help of the patient's own blood plasma is why allergic reactions and unexpected side effects are highly unlikely.
Who would be an ideal candidate?
This treatment is safe for all men, so anybody can go for this treatment after undergoing a series of physical examinations and an in-depth discussion with the doctor. You'll be a good candidate if you wish to –
Increase Sexual Interest
Improve Sensation
Enhance Erection Sustainability and Quality
Are the results permanent?
The results from this treatment aren't a permanent fix, but the results are certainly more long-lasting than other treatments of sexual health dysfunction. A single shot can produce results that tend to last for at least 12-18 months.
How frequently will I need the shot?
Generally, men should schedule an appointment every year to maintain the results of the p-shot injection. However, certain candidates might need secondary initial treatments to see visible results, which tend to take place in the first 3 months of the treatment. The frequency of shots will depend on how well the injections are able to manage your sexual health concerns.
To BOOK AN APPOINTMENT
Call us or Whatsapp us at +91 81466 66880
Delhi, India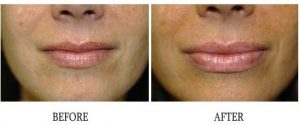 I underwent lip augmentation from kyra clinic. After surgery now my lips have become very beautiful. Thanks to Dr. Vikas.
I am 38-year-old women. I wanted attractive lips so I want to get treatment for my lips. My relative told me about the Kyra Clinic and its reputation in Punjab . Dr. Vikas Gawri convinced me with the way he explained the procedure .The staff was also very kind and professional. They provided me better facility and the treatment went smooth and painless. After surgery now my lips have become very beautiful. Thanks to Dr. Vikas.