Nose job or Rhinoplasty is one of the complicated surgeries and should be undertaken by a highly experienced surgeon. Since our nose is connected to eyes and breathing canal, it's utmost important to check the references and case studies along with the qualifications of the person who is doing your surgery.
A simple nose job can take from a few days till few months for recovery and you might have to stay on bed rest after the procedure for a while.
To BOOK AN APPOINTMENT
Call us or Whatsapp us at +91 80548 02500 – Dr. Rajni or +91 81466 66880 – Dr. Shareen
Nose job cost depends on the experience and credentials of the surgeon as well as the amenities in the hospital. An economical hospital may cost less and a premium hospital or clinic may cost much more.
It's best to consult with your surgeon if you want to undergo a nose job surgery.
People undergo a nose job (rhinoplasty) operation in the following conditions:-
Nose is too short or long
Too wide or narrow
Breathing difficulty due to an extended bone or uneven shape of septum
Uneven or hideous shape of nostrils.
Humped bridge of the nose
Too pointy or bulbous nose tip
Nose tip angle improvement
Nose bridge angle reshaping
Depending on your requirement you may require a simple non surgical nose job or liquid rhinoplasty where you can recover and join work next day of the surgery or you may end up requiring a lengthy open nose surgery where the surgeon has to do alignment of your bones.
Therefore it's best to consult your surgeon to ascertain the complete procedure required and how much will your nose job cost based on your requirements and goals.
To BOOK AN APPOINTMENT
Call us or Whatsapp us at +91 80548 02500 – Dr. Rajni or +91 81466 66880 – Dr. Shareen
TESTIMONIALS – COSMETIC SURGERY
Facelift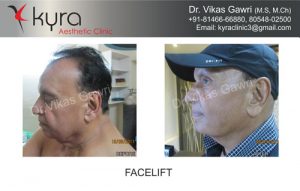 I was advised for Facelift surgery by a doctor in Canada. When I came to India, I contacted Dr. Vikas Gawri. Some of my friends in Punjab recommended his name. He is a expert plastic surgeon with good reputation. He did my Facelift surgery and it changed my looks. I look 10 years younger now,
…
I was advised for Facelift surgery by a doctor in Canada. When I came to India, I contacted Dr. Vikas Gawri. Some of my friends in Punjab recommended his name. He is a expert plastic surgeon with good reputation. He did my Facelift surgery and it changed my looks. I look 10 years younger now, thanks to Kyra Clinic