Gynaecomastia or man boobs treatment is a surgical process to remove excess fat, tissue or skin around the male chest area. It's now becoming a common surgery nowadays due to advancement in technology thus making the process safer, quicker and less painful then compared to age old surgical methods.
There are modern machines which make the process painless, without visible bleeding and scars and effects which last permanently or for a very long time.
To BOOK AN APPOINTMENT
Call us or Whatsapp us at +91 80548 02500 – Dr. Rajni or +91 81466 66880
Now you don't have to hide away in shame and be conscious when removing your shirt while swimming or taking a stroll on the beach. Enlarged breasts in men are considered unnatural and ugly by most cultures and are usually ridiculed by male friends and female partners alike.
Therefore you don't have to be harassed anymore or live in low self esteem. It's now a very easy and pain less process and you can join the office on the same day with long term or permanent results.
Man boobs treatment involves liposuction, surgical incision near nipple or lower chest and extraction of fat and fat glands from the chest by a simple minimal invasive surgery. Our team of experienced and well qualified doctors and staff and use of state of the art machinery make the process as easy as a breeze and you will get firmer and smooth masculine chest immediately. Our surgeons are experienced and undertake man boobs treatment and surgery jobs every week. The results are painless, permanent and with quick recovery time.
To BOOK AN APPOINTMENT
Call us or Whatsapp us at +91 80548 02500 – Dr. Rajni or +91 81466 66880
Facelift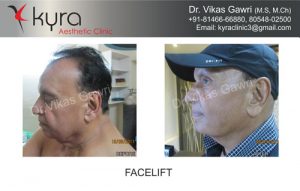 I was advised for Facelift surgery by a doctor in Canada. When I came to India, I contacted Dr. Vikas Gawri. Some of my friends in Punjab recommended his name. He is a expert plastic surgeon with good reputation. He did my Facelift surgery and it changed my looks. I look 10 years younger now,
…
I was advised for Facelift surgery by a doctor in Canada. When I came to India, I contacted Dr. Vikas Gawri. Some of my friends in Punjab recommended his name. He is a expert plastic surgeon with good reputation. He did my Facelift surgery and it changed my looks. I look 10 years younger now, thanks to Kyra Clinic