Lip Reduction Surgery also known as Reduction Cheiloplasty, Lip Reduction Surgery is one type of cosmetic plastic surgery that's performed to balance the upper and lower lips. The ultimate goal is to enhance the facial appearance by specifically modifying the lips size while they continue to maintain normal function.
Why This Procedure?
Most people opt for this surgery to primarily enhance facial harmony by balancing the lower and upper lips. The aim of this surgery is to decrease the size pf the upper or lower lip or both.
What is the Procedure?
Most lip reduction surgeries are conducted under local anesthesia and takes about 1 to 1 & half hours to complete. The procedure typically involves –
Making horizontal incisions inside the lips that are being treated.
Removing unwanted fat tissue and mucosa filler from the lips.
Closing the incisions using dis-solvable stitches.
If multiple procedures are performed along with a lip reduction, general anesthesia may be necessary.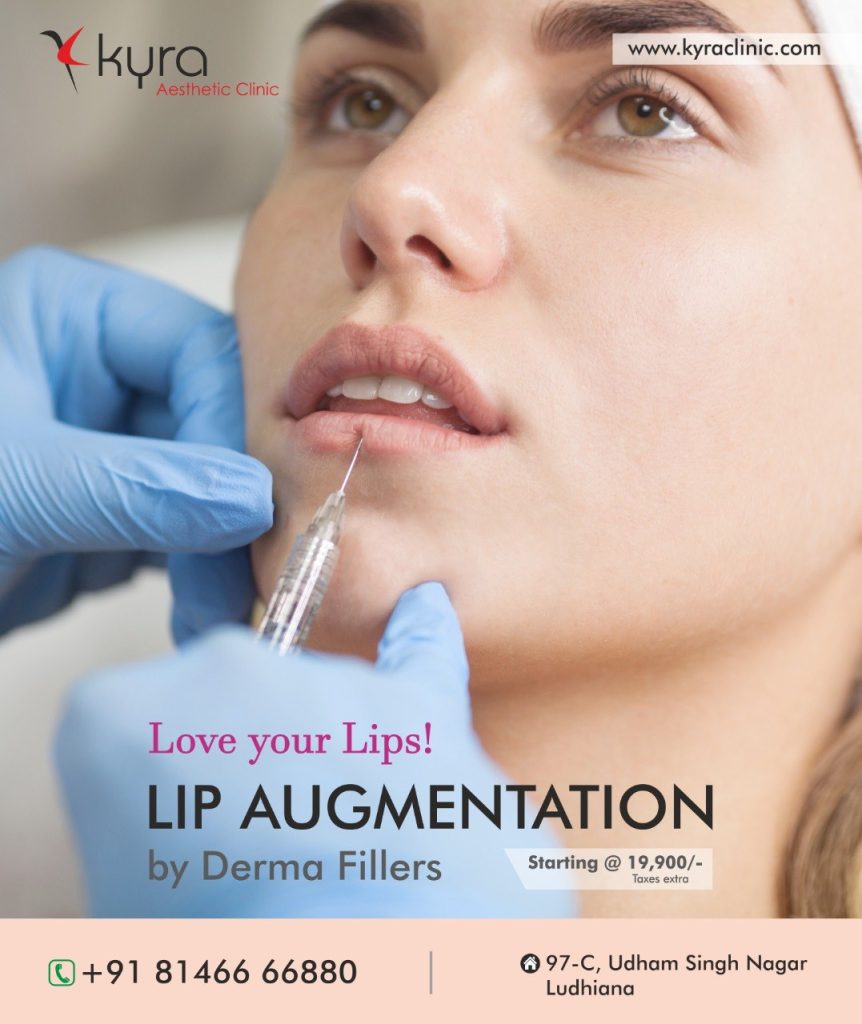 To BOOK AN APPOINTMENT
Call us or Whatsapp us at +91 80548 02500  or +91 81466 66880 – Dr. Rajni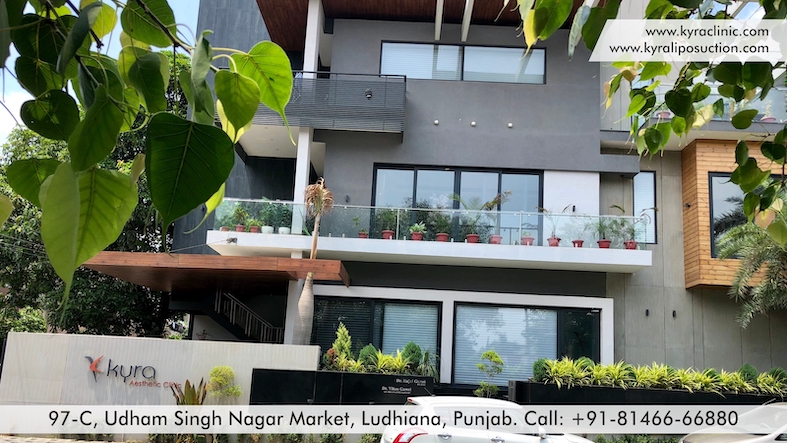 What are the Risks?
Your surgeon will explain all the risks that are associated with the surgery during the consultation. The procedure is considered safe, but most people will experience swelling after the treatment.
Some of the additional side effects include –
Bleeding
Swelling
Pain
Asymmetry infection
What Results to Expect?
You can expect minimal downtime after the surgery. There will be swelling and mild pain for a few days after surgery. Your doctor might prescribe an antibiotic, anti-inflammatory, and analgesic medication to ease the symptoms. In most cases, lips will take 1-2 weeks to heal.
As lip reduction surgery is known to restore facial balance, you will be able to see a significant change in how you look after the swelling is completely resolved at 2-3 months.
Who Needs This Procedure?
Anybody who wants to decrease the size of their lips can opt for this surgery. Most people choose to undergo this procedure to enhance their self-perception and balance their facial proportions.
Why Choose Kyra Aesthetic Clinic?
If you are keen on getting lip reduction surgery, Kyra Aesthetic Clinic is here to take care of your needs. Equipped with the latest and most advanced technology, our highly talented and experienced team of surgeons will work on materializing your aesthetic goals.
With several years of experience, Kyra Aesthetic Clinic boasts of its flawless track record of satisfied clients from all across the globe.
So, don't hesitate any longer! Book an appointment at Kyra Aesthetic Clinic to give your lips a new makeover.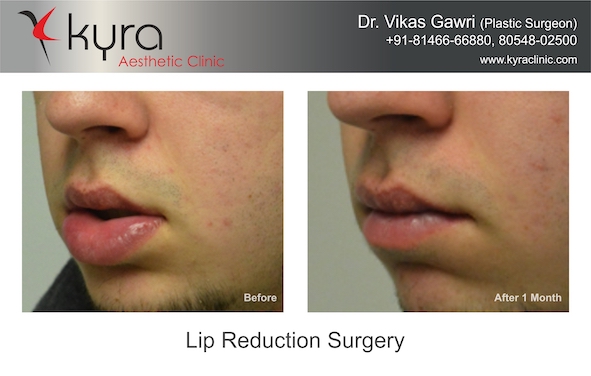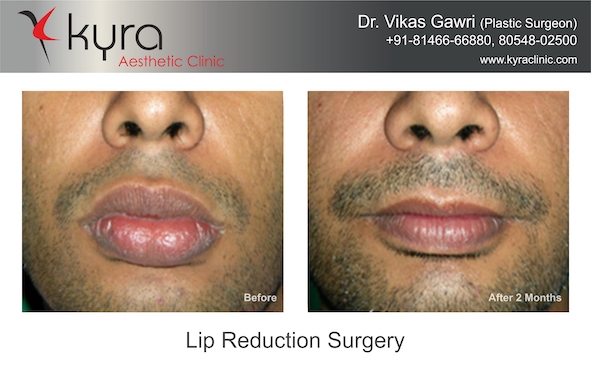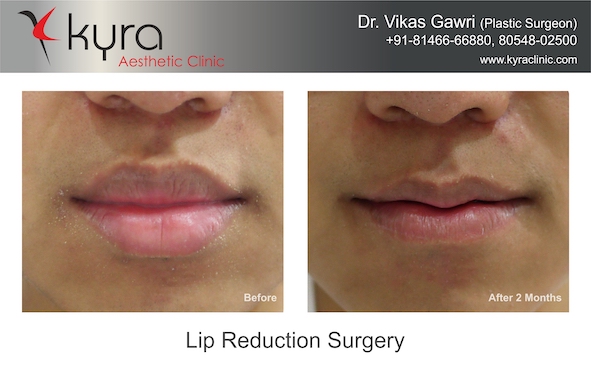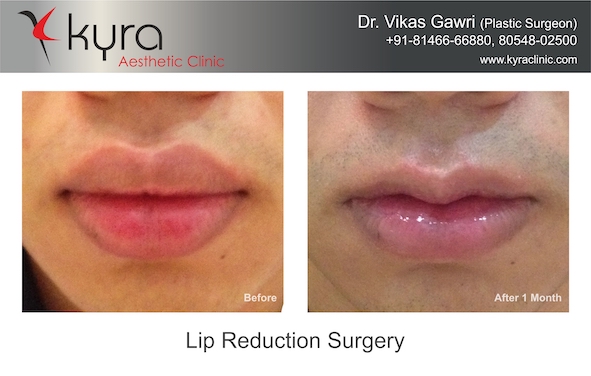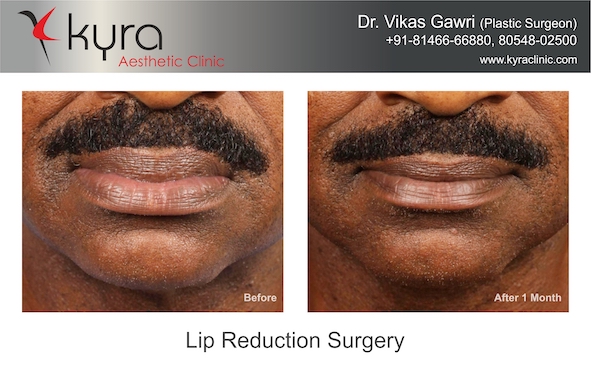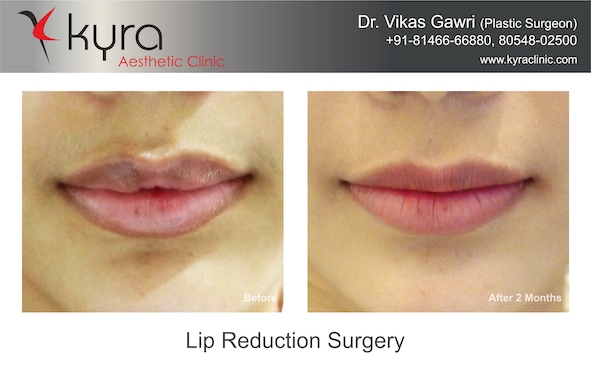 To BOOK AN APPOINTMENT
Call us or Whatsapp us at +91 80548 02500 or +91 81466 66880 – Dr. Rajni
TESTIMONIALS – COSMETIC SURGERY
Facelift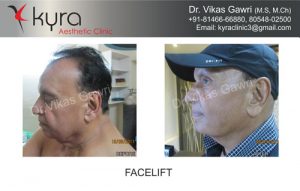 I was advised for Facelift surgery by a doctor in Canada. When I came to India, I contacted Dr. Vikas Gawri. Some of my friends in Punjab recommended his name. He is a expert plastic surgeon with good reputation. He did my Facelift surgery and it changed my looks. I look 10 years younger now,
…
I was advised for Facelift surgery by a doctor in Canada. When I came to India, I contacted Dr. Vikas Gawri. Some of my friends in Punjab recommended his name. He is a expert plastic surgeon with good reputation. He did my Facelift surgery and it changed my looks. I look 10 years younger now, thanks to Kyra Clinic