laser facial rejuvenation
Introduction
Facial Skin Rejuvenation is a non invasive treatment that uses laser energy to stimulate the Collagen Remodelling , Reduce Fine Lines and Wrinkles,Improves Texture and Open Pores, remove superficial Pigmentation and Skin Tightening.
Laser treatment  removes the old, dull top layer of the skin and initiates the production of new collagen and elastin in the dermis (lower layer of the skin) thus improving skin quality texture, firmness and anti-ageing affects which are long lasting.
The results of laser rejuvenation can be dramatic.
The most important thing to do following a laser rejuvenation treatment is to protect your skin from Sun Exposure for at least 7 days.
To BOOK AN APPOINTMENT
Call us or Whatsapp us at +91 80548 02500 – Dr. Rajni or +91 81466 66880
At kyra Aesthetic Clinic, we have different Laser technologies:
Fractional CO2 laser by DEKA :  used in Severe cases of Deep Wrinkles, Aged Skin, and Post Acne Scars. Downtime varies from 3-7 days.
Er:Glass Fraxel Laser : used in  Moderate cases of ageing, mild skin laxity and skin irregulations, mild acne scars. Downtime is 12 to 48 hours.
Nd-YAG 1064 Q-Switched –ALMA Q : used in mild cases of skin laxity, open poses, Fine lines and mild cases cases of ageing. It is preferred in cases who do not want down time. One can immediately go to work after the treatment.
All the laser treatment creates micro channels in the skin and we apply Meso Solutions to penetrate deep into dermis. These mesotherapy solutions contains many growth factors and active ingredients to improve the skin.
To BOOK AN APPOINTMENT
Call us or Whatsapp us at +91 80548 02500 – Dr. Rajni or +91 81466 66880
Acne Scars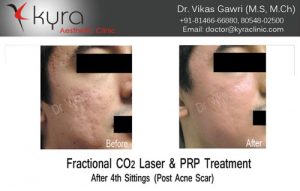 I tried all the ointments, home remedies and took medicines from different dermatologists. One of my friends recommended me to Kyra Clinic. Dr. Rajni consulted and advised me cocktail of Laser and PRP Treatment for my acne scars. I underwent 4 sessions in 6 months. I am excited to see my skin improving with every
…
I tried all the ointments, home remedies and took medicines from different dermatologists. One of my friends recommended me to Kyra Clinic. Dr. Rajni consulted and advised me cocktail of Laser and PRP Treatment for my acne scars. I underwent 4 sessions in 6 months. I am excited to see my skin improving with every session. The doctor has asked to follow after every 6 months. Thanks Dr. Rajni