Jawline Conturing
The jawline has an immense role to play in framing your facial features and shaping your face. Makeup artists have been emphasising the importance of contouring to achieve that perfectly sculpted look, which is also quite visible from the ever-growing selection of editing apps that tend to enhancing and refining jawlines. However, these are nothing but temporary fixes. Why opt for short-term benefits when you can get long-lasting, effective, and evident results non-surgically.
About the Procedure
At Kyra Aesthetic Clinic, we offer non-surgical jawline contouring treatment, which is a minimally invasive procedure that addresses multiple jawline concerns. By taking this treating, you will be able to contour your unbalanced jawline, get a better facial definition, and reduce the appearance of age-related jawline changes, such as jowls.
The treatment can be used for :-
Strengthening a short or weak chin
Improving the nose of the jawline proportion
Restoring the youthful 'V' shape
Softening the crease appearing above the chin due to age
Softening the angle of the chin
Lifting and sculpting sagging jowls and skin
To BOOK AN APPOINTMENT
Call us or Whatsapp us at +91 80548 02500 – Dr. Rajni or +91 81466 66880
Who Needs It?
Anybody unhappy with their current jawline can opt for jawline contouring to enhance the facial harmony without surgery. Both men and women can seek this treatment option; however, the outcomes they expect are totally different. Women tend to seek outcomes that slim their face or soften a prominent jawline. Whereas, men want a stronger and chiselled  jawline, often associated with masculinity.
Though the shape of the jaw is decided by the genes, some changes that occur due to ageing. Therefore, this treatment also helps in hiding visible signs of ageing.
Techniques
At Kyra Aesthetic Clinic, our specialists can look at a combination of injectables depending on your needs. Dermal fillers are commonly used because they tend to lift, volumise, and provide support to the lower facial portion. However, some of the other options that are used to achieve the desired results include :-
Anti-Wrinkle Injections
Fat-Dissolving Injections
Collagen Stimulators
How Is It Performed?
Our expert specialists will be utilising injectable dermal fillers for adding symmetry and volume to reshape your jawline. The procedure is entirely customisable, and the first step involves a consultation with the doctor to create a treatment plan that offers the desired results.
In efforts to minimise discomfort, you will be given a topical an aesthetic before the injection. The specialist will be administering the infections strategically to the jaw area during the procedure, which typically lasts for about 20 minutes.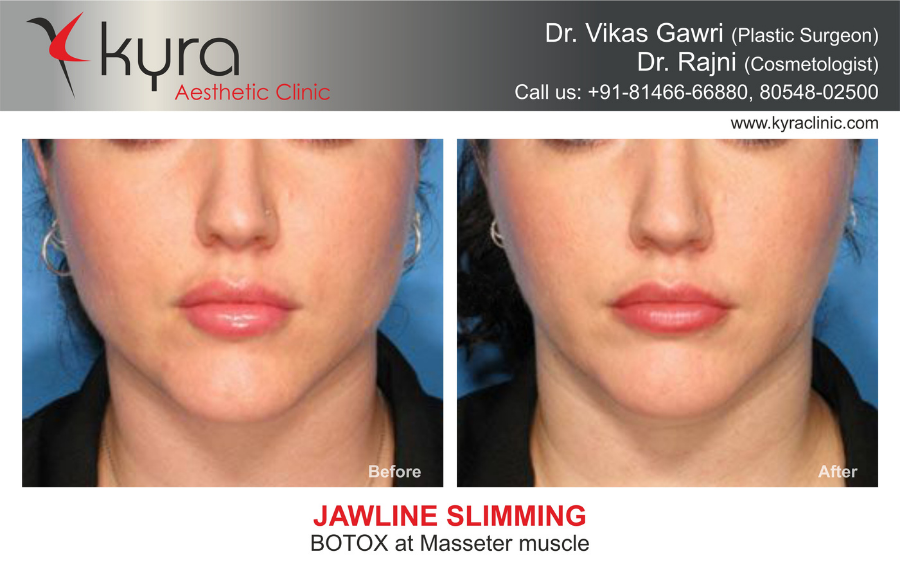 To BOOK AN APPOINTMENT
Call us or Whatsapp us at +91 80548 02500 – Dr. Rajni or +91 81466 66880
TESTIMONIALS – Non Surgical
Delhi, India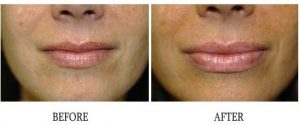 I underwent lip augmentation from kyra clinic. After surgery now my lips have become very beautiful. Thanks to Dr. Vikas.
I am 38-year-old women. I wanted attractive lips so I want to get treatment for my lips. My relative told me about the Kyra Clinic and its reputation in Punjab . Dr. Vikas Gawri convinced me with the way he explained the procedure .The staff was also very kind and professional. They provided me better facility and the treatment went smooth and painless. After surgery now my lips have become very beautiful. Thanks to Dr. Vikas.