Gynaecomastia Surgery Price
Gynaecomastia or male boob reduction surgery is a procedure to remove excess body fat and tissue around the chest area of males. It's the most effective surgery to remove man boobs and get the ideal flat chest for men. Gynaecomastia is a safe procedure for both teenagers and adults.
To BOOK AN APPOINTMENT
Call us or Whatsapp us at +91 80548 02500 – Dr. Rajni or +91 81466 66880
Nowadays with the advent of technology the surgical procedure and recovery period have become shorter with less side effects and visibility of scars.
So if you want to feel comfortable on a beach without your shirt then Gynaecomastia is the best option for getting rid of those ugly breasts and a flatter, firmer and more masculine chest.
The surgery may require you to give up on smoking and alcohol for a few weeks prior and your chest may end up requiring merely a liposuction procedure or a fat tissue removal. Gradually post operation your chest needs to be contoured and massaged regularly for up to a few weeks for a tighter flat chest. You may also need to take a few days off from work, avoid strenuous exercise and wear compression vest to let your chest take an ideal shape. The doctor may recommend avoiding excess fluid intake for a few weeks to avoid swelling and water retention.
In most cases you may not require a surgery and the doctor may recommend lifestyle changes with some medication or simple liposuction will do the trick. Therefore it's best to choose a wise, trustworthy, qualified and experienced surgeon and give it a thorough consultation and some medical tests to ascertain your case complexity.
Based on your medical condition and tests, the doctor would recommend what's best for you and how much your Gynaecomastia Cost.
To BOOK AN APPOINTMENT
Call us or Whatsapp us at +91 80548 02500 – Dr. Rajni or +91 81466 66880
Facelift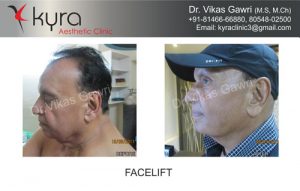 I was advised for Facelift surgery by a doctor in Canada. When I came to India, I contacted Dr. Vikas Gawri. Some of my friends in Punjab recommended his name. He is a expert plastic surgeon with good reputation. He did my Facelift surgery and it changed my looks. I look 10 years younger now,
…
I was advised for Facelift surgery by a doctor in Canada. When I came to India, I contacted Dr. Vikas Gawri. Some of my friends in Punjab recommended his name. He is a expert plastic surgeon with good reputation. He did my Facelift surgery and it changed my looks. I look 10 years younger now, thanks to Kyra Clinic