Freckles
Freckles, also called ephelides, are tiny speckled pigment deposits that appear usually on the skin's upper layer called the epidermis. This skin condition is majorly caused due to regular exposure to sunlight while indulging in outdoor activities such as swimming, running or tennis.
Freckles are unwanted deposits, which you can get removed with a precise laser procedure. At Kyra Aesthetic Clinic, we target your skin's melanin component to remove freckles via a laser procedure. Selective exposure of laser light allows the pigment to heat up and break into small particles. These broken particles are easily removed through natural exfoliation of your skin.
How is the procedure performed?
Usually, our laser procedure for freckle removal requires around 45 minutes. After proper cleansing of your face, several photos of your face will be taken before the treatment. Then, the specialist practitioner will cover your eyes and apply a thin cool gel layer. A device will be used to further cool down your skin.
With the preparation done accurately, the doctor will begin the application of laser light in pulses. This will make your freckles break down.
At the end of this treatment, your skin will be applied with a laser cream along with a sunblock cream, before you leave the clinic.
How long till the results appear?
After your treatment, you will start noticing the freckles turning darker. For several days, these dark freckle spots will move from the depth of your skin to the upper surface. Then, they will be removed by the natural exfoliation of your dead skin. Some people may require a second treatment to see a dramatic improvement. The freckles will get lighter every day and fall off.
Depending on the intensity of freckles on your skin, the doctor may recommend 4 to 5 sessions of this treatment.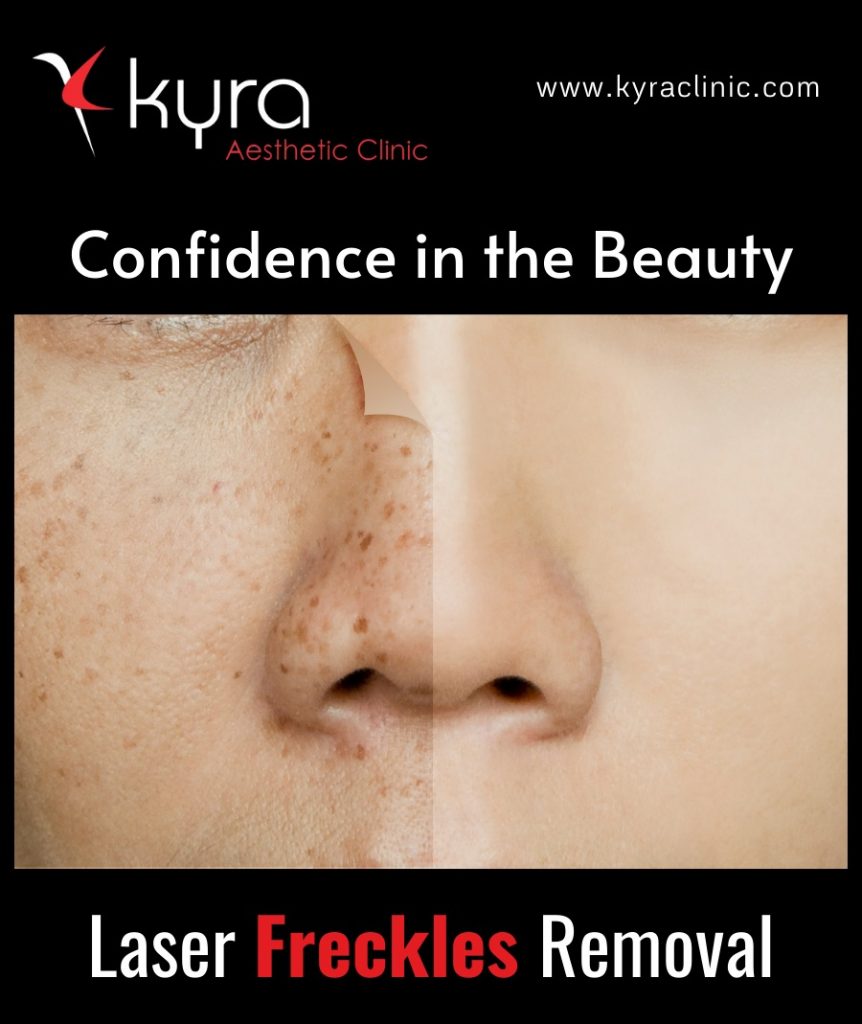 If you regularly indulge in sun-exposed activities, the specialist recommends maintenance treatments once or more times every year. This will keep your skin protected from the re-appearance of freckles.
Longevity of results
While the precise quality of our techniques makes laser removal of freckles highly effective, the longevity of the results depends on skincare and maintenance. Over time, if you expose your skin to the sun regularly, it will eventually bring back the freckles. Then, you will need another laser treatment or maybe more to remove them.
Is laser freckle treatment suitable for you?
If your skin shows the sign of freckles, you can get the laser treatment. It works successfully on everyone in the presence of our proven treatment regimen.
Combine with other laser procedures
With the consultation of our cosmetic surgeon, you can attain other laser procedures at Kyra Clinic. Freckle removal is usually paired with laser skin tightening, skin rejuvenation, resurfacing and others.
Contact for consultation!
Call our clinic to ask your queries or schedule an appointment with our specialist.
TESTIMONIALS – COSMETIC SURGERY
I tried all the ointments, home remedies and took medicines from different dermatologists. One of my friends recommended me to Kyra Clinic. Dr. Rajni consulted and advised me cocktail of Laser and PRP Treatment for my acne scars. I underwent 4 sessions in 6 months. I am excited to see my skin improving with every… session. The doctor has asked to follow after every 6 months. Thanks Dr. Rajni Read more "Acne Scars"
My son from abroad always wanted that I should get a cosmetic treatment to look young. He recommended me to Kyra Aesthetic Clinic in Ludhiana. I met Dr. Rajni and she advised me Fractional Laser Treatment. I underwent 3 treatments at gap of 1 month . The doctor also did injection treatment from my blood.… We are happy to see the tight and glowing skin. My wife also got the same treatment with me. Thanks to Dr. Rajni. Read more "Facial Rejuvenation, Mr. Sharma, 52 Years , Amritsar"
I underwent hair laser treatment from kyra clinic. I started looking smart and younger. I am very thankful to Dr. Vikas and his team. I am 29-year-old man. Due to hair loss I was looking much older than my age friends. So I decided for hair treatment and I went to Kyra clinic. Dr. Vikas understood my problem and explained the process for treatment and satified me for my queries partaining to it . After the surgery I started looking smart and younger. I am very thankful to Dr. Vikas and his team.
I got my laser hair treatment from kyra clinic. Now I look young and dynamic. I am 40-year-man and I was getting hair loss in front of my head which looked bad. I went to different clinics but when I went to Kyra clinic and meeting Dr. Vikas and understanding my problem they provide me good facility and treatment. After surgery now I look young and dynamic.
I had hair loss problem. I went to Kyra Clinic for laser hair treatment from Dr Vikas. I am happy with the results. I am 35-year-old man. I had hair loss problem and because of that I always use to feel embarrassed in social gatherings. So I went to Kyra Clinic for laser hair treatment from Dr Vikas. After laser treatment I am looking smart ,all thanks to Dr. Vikas Gawri's and his team.