Overview
As the women ages, there are atrophic changes leading to loss of fat tissues and loosening of skin from Face, Breast and also from the Vulval and Mons Pubis area. This gives a sunken or hollowed look and a particular area appears aged and wrinkled.
A Cosmetic procedure of Female Genitalia comprises of Fat Grafting and injection of PRP (Platelet rich Plasma) at Vulva and Mons Pubis area. The procedure gives fuller, firm and rejuvenated look to these areas.
The procedure is done under local anaesthesia and iv sedation.
About 75-100 ml of fat is harvested by a syringe liposuction from abdomen or inner thighs.
The harvested Fat is specially treated to purify and condense it.
The PRP is prepared with US FDA approved Arthrex Kit and Arthrex centrifuge machine to get 4-5ml of PRP.
The PRP is mixed with the Fat and both are injected into the recipient area.
The Fat injection is done by micro cannulas, through a key-hole incision into the areas around the vaginal opening.
This gives a fuller, younger and rejuvenated look and function to these areas.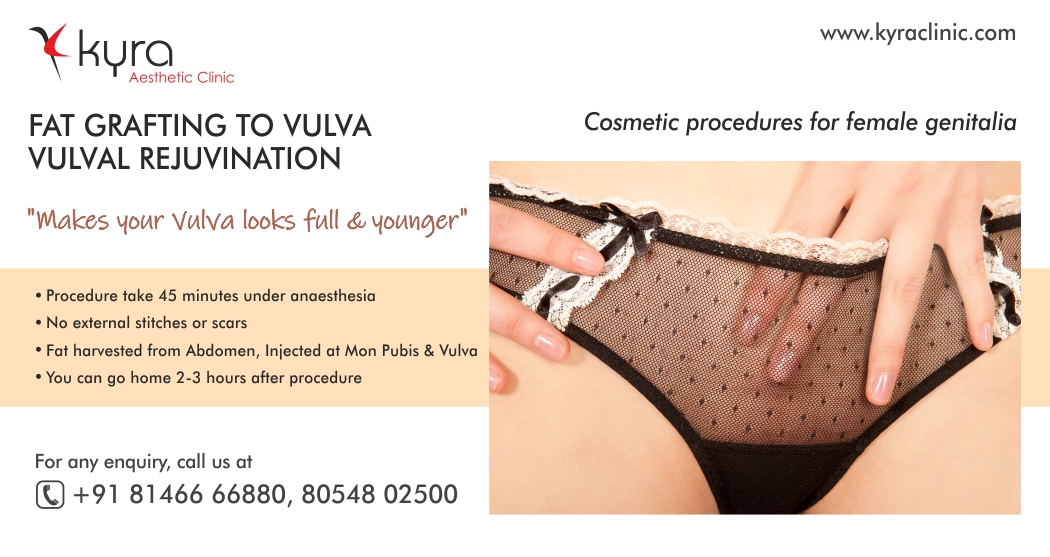 To BOOK AN APPOINTMENT
Call us or Whatsapp us at +91 80548 02500 – Dr. Rajni or +91 81466 66880 – Dr. Shareen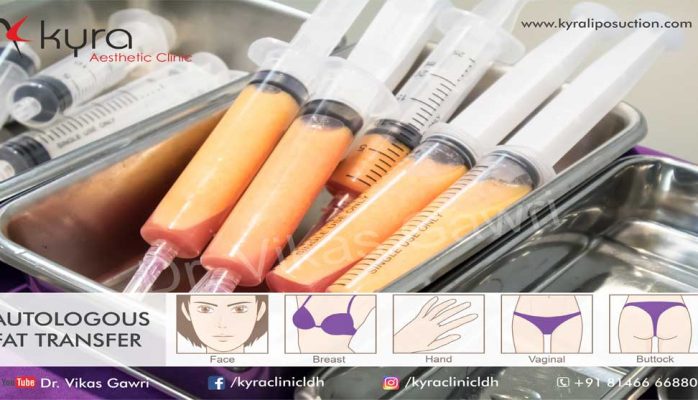 Duration
It is a minor surgical procedure and takes about 45 minutes under anaesthesia, in operation theatre.
After the procedure, the client rest in a recovery room for 3-4 hours and can go back to her home immediately afterwards. She can do all the normal activities at home . Oral antibiotic and analgesic tablets are prescribed for 5 days. Usually only one follow up visit is required after 2-3 days.
There are no stitches or marks of the surgery.
There will be some initial swelling for few days.
Fat grafted area should not to be rubbed or massaged for 2 weeks.
You can do all the normal activities at home
The followup visit is after 2-3 days.
Fat Transfer can be combined with other Cosmetic procedures of the Female Genitalia as
Labiaplasty
Vaginal Tightening
G-Spot enhancement
Clitoral unhooding
Who is the candidate for Fat Grafting to Female Genitalia?
Women with atrophy of fat and looseness of skin in the areas around vagina.
Usually these changes occur after 40 years of age.
Can be combine with cases of vaginal laxity after vaginal delivery.
Anaesthesia Required
The procedure is performed under local anaesthesia + i/v sedation.
Risks
Infection, Haematoma, Fat Cyst formation, Lumps or Bumps of Fat.
But these risks are very rare in the experience hands of a certified plastic surgeon as Dr. Vikas Gawri.
Results
Results can be seen immediately as area around the vagina looks full and the skin looks young, firm and rejuvenated.
The results are long lasting and gives a new confidence to all our clients.
To BOOK AN APPOINTMENT
Call us or Whatsapp us at +91 80548 02500 – Dr. Rajni or +91 81466 66880 – Dr. Shareen
Note:-
In all cases of cosmetic procedures on female genitalia,
we keep our clients identity confidential.
I always desired for a sharp nose , which could give me confidence with good looks. I got my rhinoplasty surgery done from Dr. Gawri and the result is amazing. Initially there was swelling but it gradually reduced to show the well defined nose.
My face always looked very old and gloomy. I consulted at Kyra Aesthetic Clinic and met a Skin Specialist and plastic surgeon. They advised me Fat grafting cosmetic procedure. I saw the previous cases and made up my mind.
Today, i get many compliments for my new look. Thanks Dr. Gawri
I always wanted to have a fuller Breast since my college days. I wanted to wear dresses and look attractive. I met Dr. Vikas Gawri for my Breast Implant surgery. I got the desired result and am happy to make this decision.
I was advised for Facelift surgery by a doctor in Canada. When I came to India, I contacted Dr. Vikas Gawri. Some of my friends in Punjab recommended his name. He is a expert plastic surgeon with good reputation. He did my Facelift surgery and it changed my looks. I look 10 years younger now,… thanks to Kyra Clinic Read more "Facelift"
I always wanted a muscular chest and flat tummy. I met Dr. Gawri for Liposuction procedure. He explained everything clearly and I could talk to few of his clients. Just 1 week after the procedure, I was happy to see the result. He gave me good shaped chest and abdomen by Ultrasonic Liposuction .