Revitalize The Appeal Of Your Hands With Fat Transfer
After our face, hands are the most visible parts of our body.
And, like any other body part, our hands lose their attractiveness as we age. But, countering the symptoms of aging is possible nowadays with advanced fat transfer techniques.
Plastic surgeons can increase the volume of fat in hands to achieve a perfect, wrinkle-free skin.
Kyra Aesthetic Clinic is the finest facility where people receive the fat transfer to hands. We have experienced surgical skills to revitalize the appeal of your hands. That too, with techniques that are minimally invasive. Our surgeon can improve the shape, volume, and looks of your hands with precise fat transfer techniques.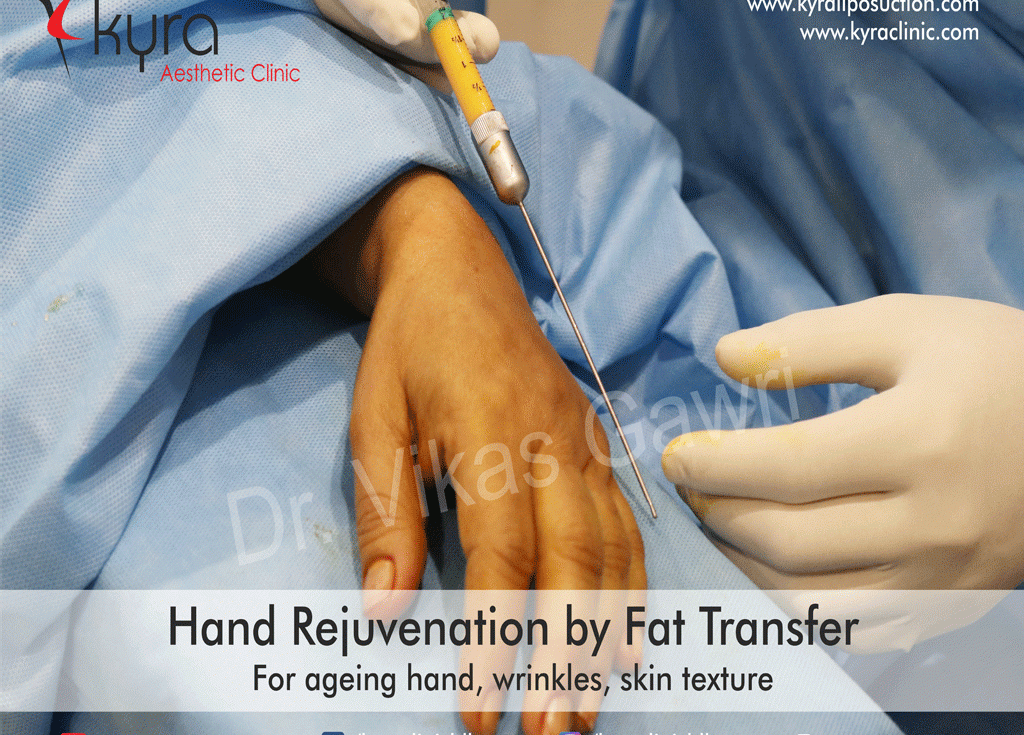 Important facts about fat transfer to hands
Injecting natural fat allows your hands to receive stem cells, which enhances the glow.
The body is capable of absorbing a certain amount of fat, so doctors fill more than the required volume of fat.
A person receives his or her own body fat, which removes any chances of allergic reactions due to any foreign material injection.
After the fat transfer, the hands become wrinkle-free and attain a higher volume.
Doctors can customize the procedure as per the requirements of a patient.
To BOOK AN APPOINTMENT
Call us or Whatsapp us at +91 80548 02500 – Dr. Rajni or +91 81466 66880 – Dr. Shareen
Fat transfer to hands procedure
The procedure of fat transfer goes through three major steps:
Collecting fat from the donor site such as the abdomen or inner thighs.
Treating and filtering the collected fat to get rid of any impurities.
Injecting the treated fat mixed with stem cells strategically into the hands of a patient.
So, the procedure is simple and our resources and expertise make it more comfortable. The procedure of fat harvesting takes place under local anesthesia, given to the donor site of a patient. After the treatment of the collected fat, local anesthesia is used once again in the hands where the fat is injected. The purification of the fat allows the fat to become safe for the donor site. The surgeon uses his skills to give a perfect shape with strategically given fat injections.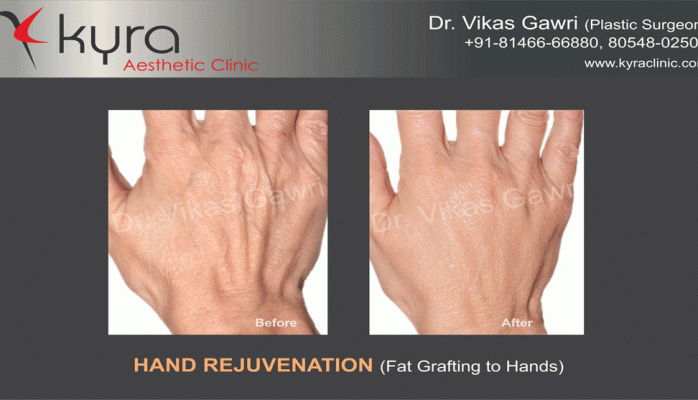 Fat transfer to hands- recovery
Right after the procedure, the results become visible with a little more than the required volume. Within a few weeks, some of the injected fat gets absorbed in the body, which creates the desired shape and volume. There is no pain associated with the recovery period.
To BOOK AN APPOINTMENT
Call us or Whatsapp us at +91 80548 02500 – Dr. Rajni or +91 81466 66880 – Dr. Shareen
Who needs fat grafting in hands?
At Kyra Aesthetic Clinic, Dr. Vikas Gawri is known for his top-notch hand skills. He has provided both men and women with high-quality results with his fat grafting procedure. The surgeon recommends this procedure for any person who desires better visual features in his or her hands. People, who are able to locate age-associated signs on their hands, should consider fat transfer. It is the safest and most effective procedure to restore the glow and volume in the hands.
Consult a specialist at Kyra!
Our surgeon will listen to all your requirements and concern to make you comfortable with the procedure. To book an appointment or any query you can call us at at +91 80548 02500 Dr Rajni or +91 81466 668800 Dr Shareen!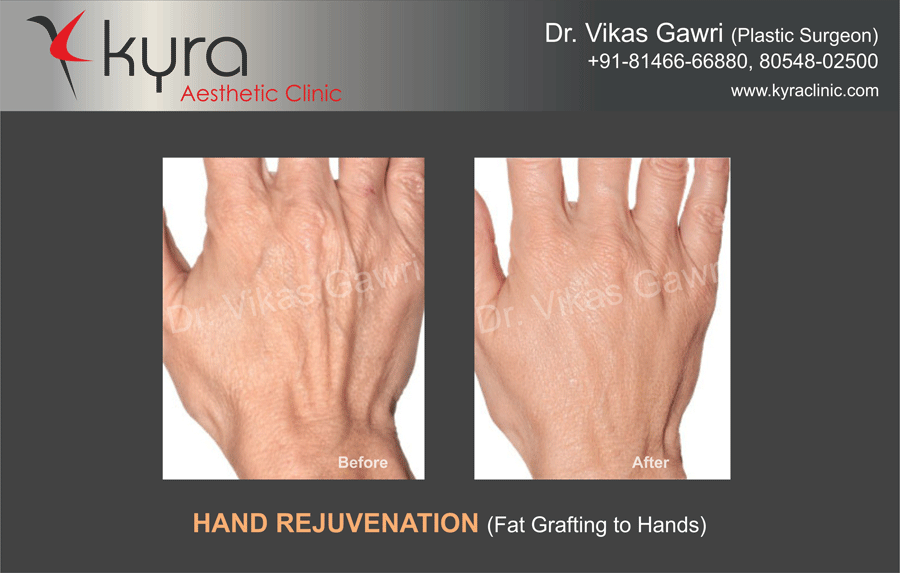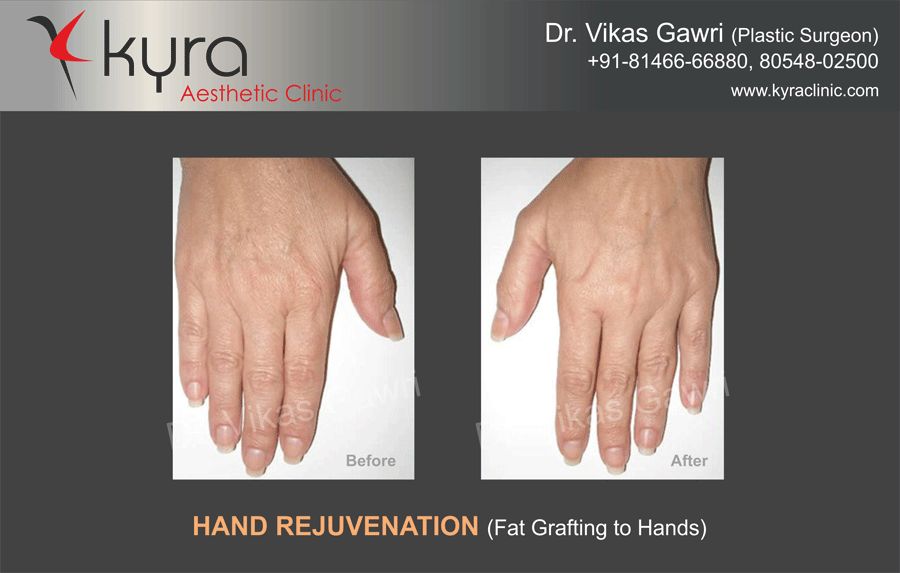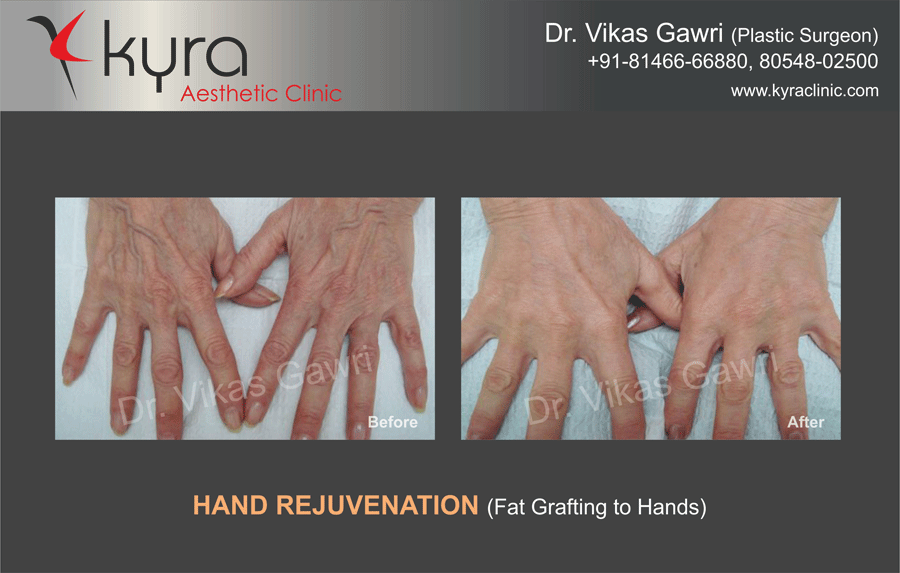 I always desired for a sharp nose , which could give me confidence with good looks. I got my rhinoplasty surgery done from Dr. Gawri and the result is amazing. Initially there was swelling but it gradually reduced to show the well defined nose.
My face always looked very old and gloomy. I consulted at Kyra Aesthetic Clinic and met a Skin Specialist and plastic surgeon. They advised me Fat grafting cosmetic procedure. I saw the previous cases and made up my mind.
Today, i get many compliments for my new look. Thanks Dr. Gawri
I always wanted to have a fuller Breast since my college days. I wanted to wear dresses and look attractive. I met Dr. Vikas Gawri for my Breast Implant surgery. I got the desired result and am happy to make this decision.
I was advised for Facelift surgery by a doctor in Canada. When I came to India, I contacted Dr. Vikas Gawri. Some of my friends in Punjab recommended his name. He is a expert plastic surgeon with good reputation. He did my Facelift surgery and it changed my looks. I look 10 years younger now,… thanks to Kyra Clinic Read more "Facelift"
I always wanted a muscular chest and flat tummy. I met Dr. Gawri for Liposuction procedure. He explained everything clearly and I could talk to few of his clients. Just 1 week after the procedure, I was happy to see the result. He gave me good shaped chest and abdomen by Ultrasonic Liposuction .