Facelift Surgery To Get Back Your Original Facial Features
You are a young, cheerful soul, but the mirror shows an aged reflection. When you want your facial features to look young once again, using a facelift procedure becomes the right choice. The medical term for a facelift is Rhytidectomy, a surgical treatment targeted to your face and upper neck. The effects of this surgery last for a minimum of 10 years or more.Kyra Aesthetic Clinic has experienced surgeons who perform precise procedures to resolve the signs of an aging face. The procedure corrects the muscle tone, volume, loosened skin fat, and fat redistribution. Doctors lift the layers of muscle, tissues, and skin. Other associated procedures involve Browlift and Eyelid surgery to correct sagging brows and eyelid.Facts about facelift procedures

A facelift procedure fixes the aged appearance created on your face because of gravity.
The improvements become visible in the form of tightened skin in your cheek area along with your nasolabial fold and area around the mouth.
The deep underlying tissues and outer skin are remodelled, reshaped and anchored to provide lifted features.
The results contain obscure to no scars. Any obscure scars take almost no effort to be camouflaged through makeup.
Different facelift procedures
Here are all facelift techniques surgeons recommend as per the requirements and evaluations of a person's face:
Short scar lift
People with less looseness in their neck area receive this procedure. The front section of a candidate's ear gets a small incision. The incision requires no further extension and the effects last longer than 10 years. It is an outpatient procedure, during which, a patient stays under the effect of general or local anaesthesia. The bandages need to stay on for 2 days, while the suture takes 7-8 days for removal.
Mid facelift
This type of surgical procedure is limited to a patient's cheek area. A small incision created right in the ear's front area does the work. The procedure requires general or local anaesthesia with 7-8 days to remove the suture.
Lower facelift
This surgical procedure covers the jowl area, which covers the jawline and sagging skin around that area. Professional surgeons create a precise incision to remodel and reshape the muscles, tissues and skin layers systematically to achieve the desired lift.
MACS facelift
MACS or Minimum Access Cranial Suspension is provided to lift the layers in your cheeks, neck and jowl areas. After the lift, the same areas get suspended to cover bones and muscles. This procedure is popular due to less dissection and provides long-lasting results for more than 10 years.
Endoscopic facelift
An endoscopic facelift focuses on lifting a wide range of facial parts. Mostly, this facelift is combined with Endoscopic forehead and neck lift to achieve an overall effect.
Thread or feather lift
Multiple types of thread lift procedures exist, including extremely small-sized incisions. However, the effects of this procedure stay effective for only about a year or so. This procedure is not for people who need skin tightening.
Call now for a consultation!
Laser Hair Reduction
Laser Tattoo Removal
Laser Peel
Laser Toning
Carbon Peel
Laser For Pigmentations
Laser Vein Treatment
Fractional Co2
Laser Facial Rejuvenation
Laser Resurfacing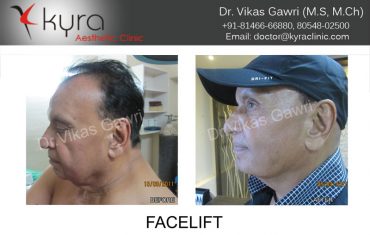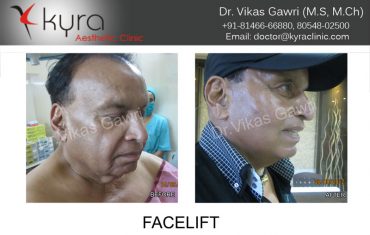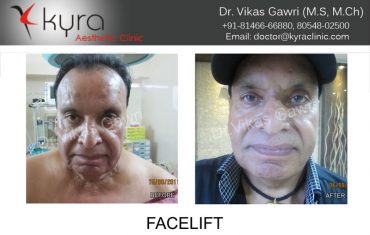 TESTIMONIALS – COSMETIC SURGERY
I was very much concerned about the way my abdomen looked, loose skin and wrinkles all over, Was not able to wear sarees/crop-tops etc. I got my tummy tuck surgery which totally redefined my looks. All credit goes to Dr. Vikas. Also got fat grafting to my face done here. I am Totally Satisfied.
I have a big tummy which makes me difficult to sit on job for longer hours. I got my Tummy Tuck surgery at Kyra Clinic. It changes my life. I feel more active and energetic now.
I have fatty arms. I got liposuction done and achieved fine arms.
I had a loose breast after my second baby. I wanted to have full breast as before. I got operate. I got the desirable result and will highly recommended Dr. Vikas Gawri for the surgery.
I had a small and flat breast. is a great cosmetic surgeon. After Breast implant done by him successfully, I have a wonderful and attractive body.