Cost of Liposuction in India
Kyra Aesthetics Clinic is one of the prominent destinations in India for affordable and high-quality cosmetic procedures under the exemplary leadership of Dr. Vikas Gawri.
Apart from his amiable personality and strong connections in the cosmetic industry, Dr. Vikas Gawri is renowned for his hands-on experience in performing liposuction procedures to offer the best outcomes to clients.
A protruding belly or sagging skin around the Thighs Liposuction, Neck Liposuction, or Arms Liposuction are problems that can be easily corrected by opting for a Waterjet Liposuction or Ultrasonic Liposuction technique. Liposuction can be a serious issue among men, and our cutting-edge treatment methods are aptly suited to provide the results you desire, right at the comfort of our clinic.
When it comes to the cost of the liposuction procedure, several factors are taken into consideration. During the consultation, the client has to discuss their needs, undergo a thorough examination, and choose between the different liposuction treatment plans that best suit their interests. While the overall cost can greatly vary from patient to patient, the average price estimate is usually between Rs. 50,000 and Rs. 1,00,000.
If you are interested in finding out if liposuction is the right cosmetic treatment for you, book a personal consultation with Dr. Vikas Gawri today!
To BOOK AN APPOINTMENT
Call us or Whatsapp us at +91 80548 02500  or +91 81466 66880 – Dr. Rajni
To BOOK AN APPOINTMENT
Call us or Whatsapp us at +91 80548 02500 or +91 81466 66880 – Dr. Rajni
Facelift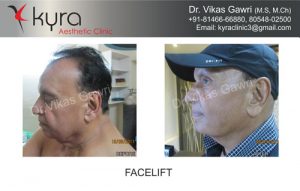 I was advised for Facelift surgery by a doctor in Canada. When I came to India, I contacted Dr. Vikas Gawri. Some of my friends in Punjab recommended his name. He is a expert plastic surgeon with good reputation. He did my Facelift surgery and it changed my looks. I look 10 years younger now,
…
I was advised for Facelift surgery by a doctor in Canada. When I came to India, I contacted Dr. Vikas Gawri. Some of my friends in Punjab recommended his name. He is a expert plastic surgeon with good reputation. He did my Facelift surgery and it changed my looks. I look 10 years younger now, thanks to Kyra Clinic