Cheeks Enhancement and Lift Surgery
The cheek area on your face defines the youthfulness. A limited volume is considered attractive with vibrancy. Due to aging and other factors, the cheek areas experience a deflation and start looking flat. This flattened look makes the outer skin layer appear hollowed or saggy. As a result, a person looks old and tired.
For people suffering from hollowed or saggy cheeks, Kyra Aesthetic Clinic offers cheek enhancement and lift surgery. We have experienced surgeons and a well-equipped facility to ensure top-level surgery results and comfortable experience for you.
Cosmetic cheek enhancement
With a lift provided to your cheeks via a surgical procedure, you attain more volume and a lift, depending on the original condition. If needed, the surgeon makes several cheek alterations as well as lower eyelid adjustments to resolve the condition of a tired, dull-looking face.
What could a cheek enhancement and lift surgery do for you?
Cheek enhancement is performed to restore a 3-dimensional projection of the middle area of your face and create a youthful contour. For enhancement, a surgeon might transfer some fat to your cheeks. The results look natural, which makes this surgical procedure highly popular among men and women.
A small incision is made by an experienced surgeon to conduct alterations and adjustments during the surgery. The results are permanent without any permanent side effects. Hence, you can trust this approach to make your facial features look younger once again.
Our surgeon studies even the minute hollowness and heaviness present in your mid-face area. With this evaluation, he prepares a strategy and approaches your cheek enhancement and lift accordingly.
How is a cheek lift surgery performed?
A cheek lift surgery requires small incisions along with your ear and hairline. The surgeon keeps the incisions precisely small to avoid any visible scars. The elevation of sagging tissues provides the needed level of lift. In the same procedure, the surgeon reduces the nasolabial lines, visible around your mouth. The cheek tissue gets a lift with the help of sutures. This provides a fuller, healthier and younger look after full recovery.
Techniques utilized in cheeks enhancement and lift procedure
In a traditional method, the incision is created in nasolabial folds or lower lash to reach cheek tissues. These incisions are called trans conjunctival incisions.
Another method is known as an endoscopic incision, in which, the incision is made behind your hairline. It stays hidden from the direct view of your face and allows complete access to facial muscles during the surgery. Hence, he can provide a diagonal and vertical lift to your cheeks with precision.
With a percutaneous cheek lift surgery, you acquire skin lift with really small incisions conducted by the expert. This method is minimally invasive that helps to diminish age lines around your nose and mouth.
The surgeon leverages this method simply to adjust the position of the fat pad. A significantly small incision along the temple hairline and two extremely tiny holes on your cheek are created. These incisions and punctures help to place the needles in correct positions to create fine sutures.
Contact us for a personal consultation!
Laser Hair Reduction
Laser Tattoo Removal
Laser Peel
Laser Toning
Carbon Peel
Laser For Pigmentations
Laser Vein Treatment
Fractional Co2
Laser Facial Rejuvenation
Laser Resurfacing
TESTIMONIALS – COSMETIC SURGERY
Delhi, India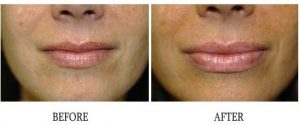 I underwent lip augmentation from kyra clinic. After surgery now my lips have become very beautiful. Thanks to Dr. Vikas.
I am 38-year-old women. I wanted attractive lips so I want to get treatment for my lips. My relative told me about the Kyra Clinic and its reputation in Punjab . Dr. Vikas Gawri convinced me with the way he explained the procedure .The staff was also very kind and professional. They provided me better facility and the treatment went smooth and painless. After surgery now my lips have become very beautiful. Thanks to Dr. Vikas.