Gynaecomastia or Man Boob occurs to roughly half of male population in the world at some point of their life and the prominent reason for this condition is hormonal changes during puberty and later on continued or aggravated due to unhealthy lifestyle, junk food, substance abuse or lack of exercise.
To BOOK AN APPOINTMENT
Call us or Whatsapp us at +91 80548 02500 – Dr. Rajni or +91 81466 66880
Much of the fat on man breasts can be due to genetics as well therefore before opting for surgery one should also look for the reasons and possible solutions for Gynaecomastia.
A side effect of a medication you are taking can also be one reason and you should consult your doctor for that possibility. In that case your doctor can recommend you a substitute or another medicine to control the fat accumulation over your chest.
You should also try a healthy, smoke free lifestyle, cut down on salt, sugar, alcohol and opt for a clean high protein diet with regular exercise and see if helps.
Gynaecomastia if curable, even if you have hypothyroidism or unnatural hormonal imbalance it can be cured by medication.
Else you can simply opt for a simple minimal invasive surgical procedure to remove excess fat and tissue over your chest. Most of the time moderate fat gland and tissue removal does the trick and results are generally permanent with no side effects and visible scars. We have latest machines and expert doctors to give you best results in a non invasive way thus causing you minimal pain, bleeding and visible scars post surgery.
To BOOK AN APPOINTMENT
Call us or Whatsapp us at +91 80548 02500 – Dr. Rajni or +91 81466 66880
Facelift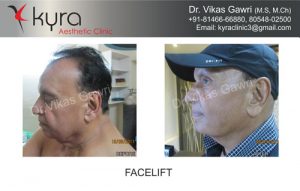 I was advised for Facelift surgery by a doctor in Canada. When I came to India, I contacted Dr. Vikas Gawri. Some of my friends in Punjab recommended his name. He is a expert plastic surgeon with good reputation. He did my Facelift surgery and it changed my looks. I look 10 years younger now,
…
I was advised for Facelift surgery by a doctor in Canada. When I came to India, I contacted Dr. Vikas Gawri. Some of my friends in Punjab recommended his name. He is a expert plastic surgeon with good reputation. He did my Facelift surgery and it changed my looks. I look 10 years younger now, thanks to Kyra Clinic