Brow Lift Surgery Performed By Specialist Surgeons
Does your face give a grumpy, sad or tired look, even when you feel cheerful? Is your forehead region showing signs of sagging skin? Then, you need to think about getting rid of the forehead and brow area sagging. The furrows and frown lines visible between your brows need a surgical lift for complete removal.A brow lift surgery is also referred to as forehead rejuvenation or forehead lift. This cosmetic procedure lifts your eyebrows, which makes your face look more cheerful and attractive. Kyra Aesthetic Clinic is where you will receive a forehead lift for a youthful appearance and smoother feel. Your upper eyelid skin is raised with precision to create a balanced, smart and alert look.Significance of brows and brow lift

With aging, deep creases start appearing on the forehead along with low brows, which creates a tired face.
Using the brow lift procedure, a person can obtain a dramatic impact on his or her face.
The brows express the mood of a person, including the eyes and forehead.
The tissues around the forehead and brows come down with aging, which forms scowl lines and forehead lines.
The position of the brows is adjusted that softens the forehead wrinkles as well.
There are different ways to approach the brow lift.
To BOOK AN APPOINTMENT
Call us or Whatsapp us at +91 80548 02500 – Dr. Rajni or +91 81466 66880 – Dr. Shareen
Commonly, there are three procedures as options for a brow lift- indirect brow lift, direct brow lift, and endoscopic brow lift. The endoscopic brow lift procedure involves the sectioning of muscles with the help of an endoscope, which creates scowling. The skin gets anchored to the scalp area behind the hairline, using metal or absorbable screws. Throughout the procedure, the patient stays under the influence of local or general anaesthesia along with sedatives.At Kyra Aesthetic Clinic, an experienced surgeon gives you brow lift surgery. Various segments of your skin, as well as underlying muscles, are removed along with the tissues that create wrinkles and deep frowning. In some cases, the surgeon might recommend the conjunction of a brow lift with a facelift procedure and/or nose reshaping. Recovery after brow lift surgery After a week of surgery, the staples or sutures are removed in general conditions. Some swelling and bruises are possible, but they diminish within 2 to 3 weeks. Our surgeon recommends ice compresses and eye exercises to recover from the swelling and regain original mobility. After two weeks of the brow lift procedure, a female patient can begin wearing eye makeup. You will be prescribed antibiotics to manage the recovery process. Normal activities become possible after one or two weeks of recovery. The doctor might call you for an evaluation after several months of the procedure.
Specialist of brow lift surgeries
Dr. Vikas Gawri is highly experienced in providing precise brow lift results in India. He and a team of professionals perform the finest techniques for patients at Kyra Aesthetic Clinic.
Call us now to discuss your requirements and schedule a face to face meeting with our surgeon. A case-specific strategy will be created for your brow lift.
To BOOK AN APPOINTMENT
Call us or Whatsapp us at +91 80548 02500 – Dr. Rajni or +91 81466 66880 – Dr. Shareen
TESTIMONIALS – COSMETIC SURGERY
Facelift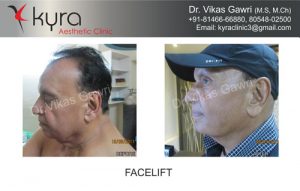 I was advised for Facelift surgery by a doctor in Canada. When I came to India, I contacted Dr. Vikas Gawri. Some of my friends in Punjab recommended his name. He is a expert plastic surgeon with good reputation. He did my Facelift surgery and it changed my looks. I look 10 years younger now,
…
I was advised for Facelift surgery by a doctor in Canada. When I came to India, I contacted Dr. Vikas Gawri. Some of my friends in Punjab recommended his name. He is a expert plastic surgeon with good reputation. He did my Facelift surgery and it changed my looks. I look 10 years younger now, thanks to Kyra Clinic