Nose Job or Rhinoplasty is done to reshape a crooked or uneven shaped nose by making changes in skin, cartilage or bones. By Rhinoplasty you can increase or decrease the size of the nose, fixe humps on nasal bridge, make changes to the tip of the nose for example lifting or narrowing it, alter the shape of nostrils or change the angle of septum, nose bridge or tip.
To BOOK AN APPOINTMENT
Call us or Whatsapp us at +91 80548 02500 – Dr. Rajni or +91 81466 66880 – Dr. Shareen
Nose being the most visible organ on your body, making it aesthetically pleasing through surgery does have a positive effect on your overall personality and self esteem.
There is no such thing as perfect nose job therefore best nose jobs are the ones which will make overall improvement on your nose aesthetics, symmetry and remove birth defects or medical problems like difficulty in breathing.
Nose Job is a complex procedure and you should not be casual about choosing your surgeon, apart from disappointment you might also face financial burden, unbearable pain, risk of permanent damage, infections, swelling or even vision loss.
Therefore choose the best nose jobs surgeon with 15+ years of experience, 3000+ cases of cosmetic surgery, worldwide clientele and state of the art clinic.
Dr. Vikas Gawri of Kyra Aesthetic Clinic has also been rewarded as India's most admired Cosmetic Surgeon, India's most Trusted Healthcare Brand, India's most Trusted Aesthetic Clinic and Certificate of Excellence.
Apart from that Kyra provides longstanding results which last a lifetime. You can check the website for before and after photos and testimonials of satisfied clients.
To BOOK AN APPOINTMENT
Call us or Whatsapp us at +91 80548 02500 – Dr. Rajni or +91 81466 66880 – Dr. Shareen
TESTIMONIALS – COSMETIC SURGERY
Facelift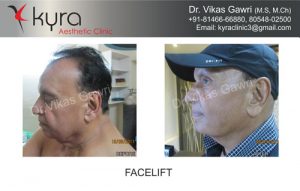 I was advised for Facelift surgery by a doctor in Canada. When I came to India, I contacted Dr. Vikas Gawri. Some of my friends in Punjab recommended his name. He is a expert plastic surgeon with good reputation. He did my Facelift surgery and it changed my looks. I look 10 years younger now,
…
I was advised for Facelift surgery by a doctor in Canada. When I came to India, I contacted Dr. Vikas Gawri. Some of my friends in Punjab recommended his name. He is a expert plastic surgeon with good reputation. He did my Facelift surgery and it changed my looks. I look 10 years younger now, thanks to Kyra Clinic