Rethink the Business of Hair Removal
With two handpieces supporting two technologies LightSheer DUET enables you to treat legs or back comfortably in 15 minutes or less, making hair removal profitable without anesthetics and gels.
How Lasers Work?
Laser hair removal works by passing a beam of light through the skin. The laser targets dark pigment called melanin in the hair. When the beam strikes the hair follicle , the intense heat destroys the hair follicle instantly. Hair removal laser treatment is the best form of hair removal.
How Vacuum Assisted Technology Works
Vacuum gently draws skin into the handpiece, skin is stretched thin and target is pulled closer to the energy source. Energy is applied to target in which melanocytes are spread apart and blood flow is constricted.
Target is damaged and skin is released.
Advantages Of High-Speed Vacuum Assisted Technology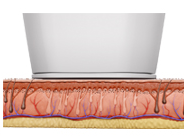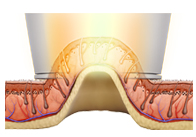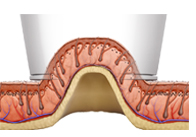 How ChillTip™ Works
Skin is cooled before and during treatment.
Skin is compressed. Laser beam applied to skin and target is damaged
Advantages Of ChillTip™ Technology