SmartXide DOT® is the only CO₂ laser that works through pulsed emission, utilizing two innovative technologies: SmartPulse and SmartStack.
The SmartPulse technology and the SmartStack function guarantee maximum reliability in controlling the depth of vaporization and the non-ablative thermal effect on the skin. Minimal thermal damage to the surrounding tissue guarantees rapid recovery for the patient.
SmartXide DOT® is indicated to treat even the most complex cases, such as scarring, surface pigmentation and deep wrinkles, tailoring treatments and downtime to the patient's needs.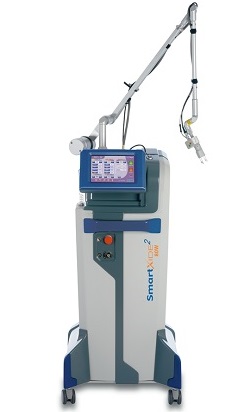 EASE OF USE
The lightweight and ergonomic design of the UltraFine Fractional Scanner allows the Matrix to rapidly and effective treat damaged skin. The operator can select from multiple settings including size, shape, density and duration; to tailor the energy applied to the specific needs of each patient. Scanner provides an 18mm spot size and can complete treat full faces in 15 minutes.
MICROABLATIVE DENSITY OPTIONS
The UltraFine Fractional Scanner provides practitioners with the flexibility to choose the area of skin left untreated. MicroAblative Column (MAC) density options include 200 microns, 1-millimeter and 2-millimeters.
FRACTIONAL SCANNER PATTERN SIZE & SHAPE
The flexible scanner has the ability to change pattern shapes quickly. The LCD display on the scanner indicates the pattern size and shape, density and duration.