OVERSEAS PATIENTS AT KYRA CLINIC
Dr. Vikas Gawri is one of the top Aesthetic Plastic Surgeon in India known for his skillful hands and aesthetic mind to shape your Face and entire Body. He considers your entire body & plans a Cosmetic procedure for Face or Body Contouring (Liposuction & Fat Grafting) to give you a shapely figure.
Dr. Vikas Gawri and his colleague doctors are master and experienced in 3D-Liposuction, Fat Grafting, Rhinoplasty, Breast surgery, non surgical Face lift & Aesthetic Laser Treatments. They will advice you sincerely with their expert opinion and guide you all through the voyage of your restorative procedures. He is Nationally and Internationally Certified in Advanced Cosmetic Surgeries. He listens to his clients to understand their desires and makes a treatment plan accordingly.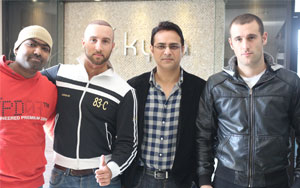 At Kyra Clinic, we have patient base from the whole way across the world. All people of any age come to us for various Aesthetic procedures and laser treatments. We get clients from USA, Canada, Europe, UK, Australia, New Zealand, Dubai and every single other nation. We offer methods with least downtime and best outcomes. The patient normally stays 3-7 days in Ludhiana city in the different hotels around Kyra Clinic. We have devoted group of specialists, supervisors & travel desk to pick all over foreign clients from New Delhi airport. Indian Doctors are renowned all through the world for their diligent work, commitment and expert aptitudes.
At Kyra Clinic, we have State of Art Infrastructure, Latest Medical Equipment and Well Trained Staff to guarantee Quality and Safety of our patients. Kyra Clinic is ensured for All Standards of Sterilization, Aseptic safety measures and zero Infection rate at our center.
ACCOMMODATION & TRANSPORT
Once you reach New Delhi/Amritsar Airport, it is our responsibility that you have a safe and hassle free experience in India.
At the same time we are also committed to give you best results in your cosmetic procedure.
One of our representative from Kyra Clinic, along with a personal SUV car, will be at the airport to pick you up.
He will be at the airport with your name placard to receive you and bring you comfortably to our clinic or hotel in Ludhiana, Punjab. The cost for this travel will be US $100 from New Delhi Airport & $50 from Amritsar Airport.
We can arrange your stay in a hotel at limited rates as under:
3 Star Hotel – $50 per day.
5 Star Hotel – $100 per day.
All the transport from the hotel in Ludhiana to our clinic will be free of expense.
As we always go for prior booking, you need to deposit 20% of the procedure cost by bank transfer in our bank account.
Rest of the installment, you can pay us when you arrive at our facility.
For the cost estimate in your case – you need to send us your photos of the concerned areas as chest, mid-region, thighs, arms, back, face and so forth.
For best counsel, Dr. Gawri will audit your photos sent to us at [email protected] , as mentioned by our counselor.
Dr. Gawri additionally converses with his clients on a telephonic conversion to understand their desires & expectations, anticipated stay and follow up visits required.
Dr. Rajni, Skin Consultant, is a busy practitioner known for her Non Surgical Facelift and Laser Treatments. She has an experience to understand the each wrinkle on your face and strives to make you look younger. Along with Dr. Gawri, she is an expert in Derma Fillers injection, Threadlift, Skin Treatments tailored to each case.